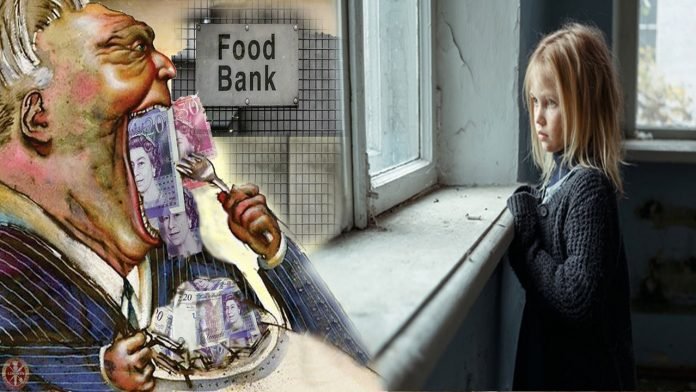 Tory policy 101, hit the poorest hardest.
Plans to reverse the £20 uplift in Universal Credit will go ahead at the end of the month, Health Secretary Sajid Javid has confirmed.
The weekly increase was introduced temporarily to help claimants weather the storm of the coronavirus pandemic.
In March 2020, as we were faced with the economic fallout from the pandemic, the Government recognised that our social security rates were too low. The lifeline families needed to keep them from being swept into poverty had been allowed to wear thin and threadbare. The Government did the right thing and increased Universal Credit (UC) and Working Tax Credit by £20 a week.
However, this £20 a week is scheduled to be cut in October. Ministers plan to start phasing out the increase from the end of September, based on individual claimants' payment dates, around 6 million low-income families will lose £1,040 from their annual income. It would create serious financial hardship and leave 500,000 people to be swept into poverty – including 200,000 children.
Despite opposition, Sajid Javid said plans would go ahead.
Speaking on Trevor Phillips On Sunday on Sky News, the former chancellor said: "The increase, which was temporary, will be ended as planned at the end of this month."
Mr Javid said: "We are going to end the temporary increase in Universal Credit "
Recipients could lose £1,040 annually if Chancellor Rishi Sunak goes ahead with the cut.
A cut of £20 a week to Universal Credit, scheduled for 6 October, will impose the biggest overnight cut to the basic rate of social security since the modern welfare state began, more than 70 years ago.
The JRF states: Social security plays a vital role in our society, whether we're in a national crisis or in 'normal' times. Our social security system should protect families from harm. It should help people keep their head above water if they lose their job, if their income is too low or insecure, if they are sick or if their circumstances change. It should protect people from poverty and bring stability, opening up options and opportunities for them to improve their prospects.
In the years leading up to the COVID-19 pandemic, cuts and freezes to social security had already left many families living with constant insecurity. Unable to meet their everyday needs, they are being pulled deeper into poverty.
The JRF states: Around 6 in 10 of all single-parent families will be affected by this, and despite the Government's commitment to 'levelling up' the impact of the cut will be the greatest across the North of England, Wales, the West Midlands and Northern Ireland.
The Government is rightly saying that it wants to support people back into work as we emerge from the crisis. But working families make up the majority of families who will be affected by the cut to Universal Credit and Working Tax Credit.
Despite the introduction of the National Living Wage and record employment, poverty among workers and children was rising in the years before the pandemic. The cuts and freezes to social security over those years played a significant part in this. When we entered the pandemic, the main rate of out-of-work support was at its lowest level in real terms since around 1990 and its lowest ever as a proportion of average wages.
It is widely accepted (including by those who were in Government at that time) that those cuts went too far, and the incomes of the lowest-income families were squeezed too much. The current Government's decision to increase UC by £20 a week was a recognition that previous levels were no longer adequate. Cutting the system back to those levels and repeating past mistakes would make no sense.
Throughout the covid pandemic, this government have carried out a policy of what Martin Luther King, Jr. called "Socialism for the rich and rugged free enterprise capitalism for the poor"
Covid has been the cover for the greatest wealth swindle in history. We have seen the biggest transfer of public money pass to the wealthy elite in the form of bailouts and government-backed guaranteed loans, not to mention the corrupt dealings we have seen with Tory cronyism, of course, the books must now be seen to be balanced and it's the poor that will pay in cuts to UI and rises in NI.
SNP members backed a call for the UK Government to abandon "cruel and frankly irresponsible" plans.
The party's conference overwhelmingly backed a motion urging Government ministers to not end the boost.
Meanwhile, analysis from Labour suggests the cut would take £2.5 billion from the economies of the North of England and the Midlands.
The party will call a vote on the planned cut as part of an opposition day debate in the Commons on Wednesday.
However, Chancellor Rishi Sunak has previously denied that ending the uplift would push more people into poverty.
A Government spokesman said: "As announced by the Chancellor at the Budget, the uplift to Universal Credit was always temporary.
"It was designed to help claimants through the economic shock and financial disruption of the toughest stages of the pandemic, and it has done so.
"Universal Credit will continue to provide vital support for those both in and out of work, and it's right that the Government should focus on our Plan for Jobs, supporting people back into work and supporting those already employed to progress and earn more."
Support the JRF Keep the lifeline campaign by writing to your MP, using the provided template.
#StopTheCut, #UniversalCredit, #KeepTheLifeline
Support Labour Heartlands
Help Us Sustain Ad-Free Journalism
Sorry, I Need To Put Out the Begging Bowl
Independent Journalism Needs You
Our unwavering dedication is to provide you with unbiased news, diverse perspectives, and insightful opinions. We're on a mission to ensure that those in positions of power are held accountable for their actions, but we can't do it alone. Labour Heartlands is primarily funded by me, Paul Knaggs, and by the generous contributions of readers like you. Your donations keep us going and help us uphold the principles of independent journalism. Join us in our quest for truth, transparency, and accountability – donate today and be a part of our mission!
Like everyone else, we're facing challenges, and we need your help to stay online and continue providing crucial journalism. Every contribution, no matter how small, goes a long way in helping us thrive. By becoming one of our donors, you become a vital part of our mission to uncover the truth and uphold the values of democracy.
While we maintain our independence from political affiliations, we stand united against corruption, injustice, and the erosion of free speech, truth and democracy. We believe in the power of accurate information in a democracy, and we consider facts non-negotiable.
Your support, no matter the amount, can make a significant impact. Together, we can make a difference and continue our journey toward a more informed and just society.
Thank you for supporting Labour Heartlands
Just click the donate button below