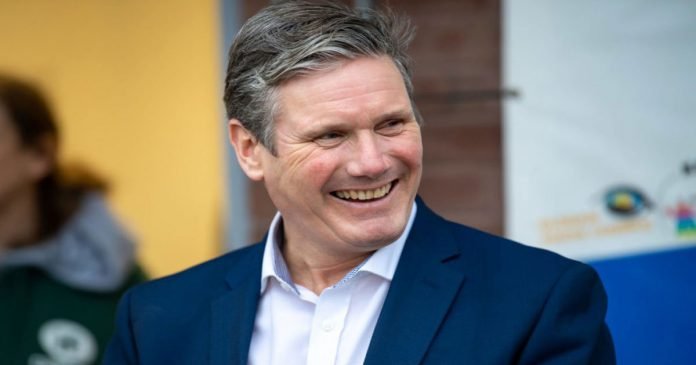 Former leader Ed Miliband stood in for Starmer at prime minister's questions
Sir Keir Starmer has tested positive for Covid-19 — just hours before he was due to face Boris Johnson at prime minister's questions.
The Labour leader has had to self-isolate four times previously since the pandemic began, with the last time being in July after one of his children tested positive although he tested negative.
It is understood Starmer tested positive on a routine lateral flow test and is not feeling unwell. He was pictured earlier on Wednesday in Westminster with Reeves and the shadow chief secretary to the Treasury, Bridget Phillipson.
Labour sources said both had tested negative and would not need to isolate as they are double vaccinated.
The rules have changed for fully vaccinated people so they no longer have to self-isolate if they are a close contact of someone who tests positive but must do so if they test positive themselves.
With deputy leader Angela Rayner on bereavement leave, the shadow business secretary Ed Miliband stood in for the Labour leader at the despatch box on Wednesday.
It is also expected that the shadow chancellor, Rachel Reeves, will respond to Rishi Sunak's Budget and spending review due to the Labour leader's isolation.
Former Labour leader Ed Miliband, now the shadow COP26 president, stood in for Sir Keir at Prime Minister's Questions, which took place just before Chancellor Rishi Sunak announces the budget.
Support Labour Heartlands
PLEASE HELP US KEEP GOING AD-FREE
This is a "Pay as You Feel" website.
Hey there! Thanks for stopping by. If you've enjoyed reading the articles on Labour Heartlands so far, We would be incredibly grateful if you could consider making a small donation. Labour Heathlands is not your typical news outlet. We are not here to simply regurgitate the daily news cycle, that's for the rest of them. Our focus is on delving deeper, uncovering the untold stories and shedding light on the issues that the mainstream media chooses to ignore.
Our unwavering commitment to journalistic integrity means that we are not influenced by any external forces. We are not beholden to PR companies, advertisers or press barons, and we refuse to let anyone dictate what we report on. Our editorial independence is sacrosanct, and our only allegiance is to the truth.
While we do not align ourselves with any particular political party, we stand firmly against corruption, injustice and the erosion of truth and the rule of law. We believe that accurate information is the lifeblood of a democracy and that facts are not up for debate.
Once again, thank you for your support – We truly couldn't do this without you!
PLEASE HELP US KEEP GOING AD-FREE