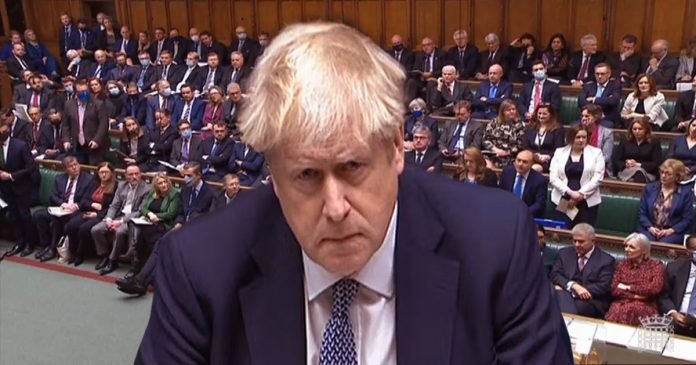 Boris Johnson will face a Commons inquiry over whether he lied to parliament after Downing Street withdrew an attempt to force Conservative MPs to delay the new Partygate investigation.
A Labour motion to launch a parliamentary investigation into whether Johnson lied to MPs about Downing Street parties passed without a vote on Thursday afternoon. Hours earlier, government whips had pulled an amendment that would have delayed any vote to start the inquiry until after the Sue Gray report was published.
Nigel Evans, the deputy Speaker, called the vote. There were no objections. The motion was nodded through without a vote.
That means MPs have voted to trigger a privileges committee inquiry into claims that Boris Johnson misled MPs over Partygate.
Sir Keir Starmer accused Conservative MPs of failing to stand up for the values of "honesty and integrity" and said "Britain deserves better" than Mr Johnson.
Asked if a general election should be called now, Sir Keir Starmer avoided the question however he stated:
"I think the prime minister's lost trust, I don't think he has the moral authority to lead, and I think he should go. "Obviously I can't force that – it's for his own MPs to reflect on the situation they are in and decide for themselves whether they're still prepared to go on defending the indefensible. I don't think they should. I think they should call on him to go.
Sir Ed Davey, the Lib Dem leader, believes Boris Johnson is too "distracted" by the Partygate allegations to lead the country.
Defending Mr Johnson in the debate, Cabinet Office Minister Michael Ellis said the prime minister did not mislead the Commons, but made comments about partygate revelations "in good faith".
He added that Mr Johnson "has always been clear that he is happy to face whatever inquiries Parliament sees fit".
"He has responded to the event for which he has received a fixed-penalty notice," Mr Ellis said.
"He made clear that he did not think at that time, that the event was in contravention of COVID rules, however, he has apologised for his mistake, paid his fine and accepted the findings of the Metropolitan Police.
"There is a difference between a deliberate and an inadvertent situation and I think most people would accept that."
There had been speculation in Westminster that Tory MPs were not prepared to wait any longer for an investigation into Johnson's conduct.
Meanwhile, two more Tory MPs called for Johnson to quit on Thursday, including the influential Brexiter Steve Baker.
Johnson says he has 'absolutely nothing' to hide
Speaking to Sky News' political editor Beth Rigby in India, the prime minister insisted he had "absolutely nothing, frankly, to hide" when trying to explain his decision to drop the government's amendment to the Labour motion.
"People were saying it looks like we are trying to stop stuff. I didn't want that. I didn't want people to be able say that," Mr Johnson said.
He added that he remains confident of leading the Tories into the next general election.
Here is the text of the motion, tabled by Labour but backed by six other opposition party.

That this House
(1) notes that, given the issue of fixed penalty notices by the police in relation to events in 10 Downing Street and the Cabinet Office, assertions the Rt hon Member for Uxbridge and South Ruislip has made on the floor of the House about the legality of activities in 10 Downing Street and the Cabinet Office under Covid regulations, including but not limited to the following answers given at Prime Minister's Questions: 1 December 2021, that "all guidance was followed in No. 10", Official Report vol. 704, col. 909; 8 December 2021 that "I have been repeatedly assured since these allegations emerged that there was no party and that no Covid rules were broken", Official Report vol. 705, col. 372; 8 December 2021 that "I am sickened myself and furious about that, but I repeat what I have said to him: I have been repeatedly assured that the rules were not broken", Official Report vol. 705, col. 372 6 Thursday 21 April 2022 OP No.147: Part 1 Business Today: Chamber and 8 December 2021 "the guidance was followed and the rules were followed at all times", Official Report vol. 705, col. 379, appear to amount to misleading the House;
and (2) orders that this matter be referred to the Committee of Privileges to consider whether the Rt hon Member's conduct amounted to a contempt of the House, but that the Committee shall not begin substantive consideration of the matter until the inquiries currently being conducted by the Metropolitan Police have been concluded.
Scotland Yard confirmed that the investigation would carry on and officers would continue recommending fines – but the force will not put out media notices on referrals until after the polls on 5 May.
But Number 10 has pledged to confirm if the prime minister or cabinet secretary receive any fines before next month's elections.
So far, more than 50 fines have been issued in relation to lockdown-breaking parties in Downing Street and across Whitehall.
Last week the prime minister, Chancellor Rishi Sunak and Mr Johnson's wife Carrie Johnson were all issued fixed-penalty notices for attending a lockdown-busting event to mark the prime minister's 56th birthday.
Support Labour Heartlands
PLEASE HELP US KEEP GOING AD-FREE
This is a "Pay as You Feel" website.
Hey there! Thanks for stopping by. If you've enjoyed reading the articles on Labour Heartlands so far, We would be incredibly grateful if you could consider making a small donation. Labour Heathlands is not your typical news outlet. We are not here to simply regurgitate the daily news cycle, that's for the rest of them. Our focus is on delving deeper, uncovering the untold stories and shedding light on the issues that the mainstream media chooses to ignore.
Our unwavering commitment to journalistic integrity means that we are not influenced by any external forces. We are not beholden to PR companies, advertisers or press barons, and we refuse to let anyone dictate what we report on. Our editorial independence is sacrosanct, and our only allegiance is to the truth.
While we do not align ourselves with any particular political party, we stand firmly against corruption, injustice and the erosion of truth and the rule of law. We believe that accurate information is the lifeblood of a democracy and that facts are not up for debate.
Once again, thank you for your support – We truly couldn't do this without you!
PLEASE HELP US KEEP GOING AD-FREE