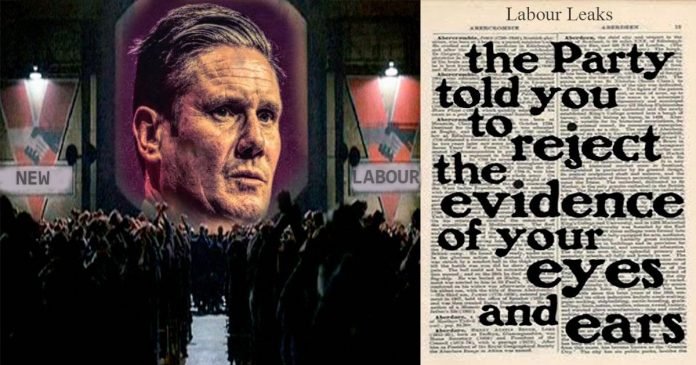 And if all others accepted the lie which the Party imposed — if all records told the same tale — then the lie passed into history and became truth. George Orwell 1984
With not much to go on the new buzzword to describe Sir Keir Starmer is 'Forensic' the word is supposed to reflect his arguably questionable time as Director of public prosecutions.
We are supposed to swallow the idea of Sir Keir Starmer being 'Forensic,' a word that conveys an image of applying a scientific method and technique to an investigation but the reality is, it is an excuse for delay and indecisiveness. Unless of course, the issue at hand is blatant and safe for Starmer to take a position, one way or another. In Starmer's case, Forensic is a word that does little, except excuse of course both his bland style of politics and the time he takes in responding to immediate political situations, it now seems the word forensic has become Synonyms for 'non-committal'.
Starmer's tardiness can be seen in his response to COVID-19 issues or in his inability to act and support the teachers union addressing their concerns about children's safety in going back to school too early. Sir Keir Starmer's strategy is to play it safe and in the case of the Labour, leaks to hope he can differ long enough to make it all go away. Unfortunately for Sir Keir Starmer this treachery carried out by staffers and others within the Labour party machinery will not go away and right now the wound created is seeing the Labour Party's membership haemorrhage.
"The party told you to reject the evidence of your eyes and ears. -1984
If members don't understand the implication and implicit ethos of what the staff of the Labour Party GLU have done then they should read the leaked documents: link.
In short, the documents suggest staff sabotaged Labour's election chances; worst still is the abuse of members who didn't know they were signing up to be surveilled under a "new Stasi system". If members don't understand the implication and implicit ethos, of what those staff did. Then that is a terrifying reality to contemplate.
In a free democratic country, no matter your political views, people should find this terrifying.
Grasping the full gravity of the Labour leaks and what they revealed, it should be understood, "If her majesty's opposition has 'intentionally' thrown two elections, that's not just a matter for Labour, but for the whole country. You don't have a democracy if you do 'NOT' have an opposition party trying to win."
Sir Keir Starmer has no excuse, facts will not change, the evidence is credible. All that is left is for him to act. However, not one staffer named in the report has been suspended or reprimanded. These same staffers carried out a witchhunt on Labour members that expressed a Left-wing opinion in politics. In their own words, they created a NEW STASI to spy on their own members.
Instead of acting on the evidence, Sir Keir Starmer is hunting the whistleblower he is ignoring the evidence.
According to Sqwawkbox, there is a Whitewash underway as Starmer names anti-left on the panel to investigate leaked sabotage allegations. The appointments to the panel to investigate the scandal of right-wing staff alleged to have undermined the party's electoral efforts and obstructed disciplinary processes continue an abysmal response to the leaked Labour report and its findings.
Starmer's investigation looks more like a pretext for action against the left of the party, as two out of three of its areas of focus involve investigating those who commissioned and created the report – and those who leaked it when no action was taken:
"We will, therefore, commission an urgent independent investigation into this matter. This investigation will be instructed to look at three areas. First, the background and circumstances in which the report was commissioned and the process involved. Second, the contents and wider culture and practices referred to in the report. Third, the circumstances in which the report was put into the public domain."
However, Labour Party members nationwide have expressed their outrage at the betrayal based on the allegations in the leaked report into the party's handling of anti-Semitism. But more so at the way staffers worked to undermine the Labour Party's general election campaign of 2017.
The leaked 860-page investigation, "The work of the Labour Party's Governance and Legal Unit (GLU) in relation to antisemitism, 2014-2019," paints a devastating picture of the filthy operations of the Blairite right.
The report highlights blatant sabotage and treachery carried out by staffers who worked not only against the prospect of Jeremy Corbyn becoming Prime minister but of the Labour Party becoming the government and in doing so carrying out the pledges to stop austerity make food banks redundant and change the damning universal credit system.
The report draws on roughly 10,000 emails, thousands of messages exchanged on the party's internal messaging service and 400,000 words of messages in two WhatsApp groups for senior party staff. As hundreds of thousands of workers and youth signed up to the Labour Party, with illusions that Corbyn would lead a fight against austerity and war, the staff at Labour's head office were running, in their own words, a "Stasi system" to purge left-wing sentiment.
The leaked Labour report should have been an explosive scandal
But the media buried it because they were complicit.
Open democracy described the situation accurately saying: Most people now agree that the media campaign against Jeremy Corbyn in the two years leading up to the last election plumbed new lows of viciousness, misinformation and character assassination. In some respects that was to be expected: The Right reacted at first with incredulity at the prospect of somebody with a coherent progressive agenda becoming prime minister – and then used every dirty trick in the book to prevent it happening.
Corbyn had talked about renationalising railways, about supporting the NHS, about scrapping education fees, writing off student loans. He'd talked about phasing out Trident and other nuclear weapons and suggested a culture of negotiation over one of war. And, the sin of sins, he clearly didn't believe in the religion of the markets.
All these were popular positions with the public, which made him especially dangerous to the right: how were they going to fight this? They certainly didn't ever want to debate the issues with him – actually, they wanted to draw public attention as far away from those as possible.
So their best strategy was to destroy him by relentless character assassination. Many of us expected the dirty tricks, but what we didn't expect – or at least I didn't – was the monolithic unanimity of the opposition. It wasn't only the usual suspects – The Mail, Telegraph and Murdoch Press – but at times The Guardian, The BBC, the Head of The Board of Deputies and a bevvy of 'useful idiot' columnists. The propaganda campaign was so successful that they managed to scare themselves nearly to death: like Chicken Little, their whole sky was about to fall in.
You don't have a democracy if you do 'NOT' have an opposition party trying to win.
The deck was stacked against Corbyn from Day One, but at least we had the consolation that Labour was the biggest political party in Europe, with a lot of committed people who were prepared to get out on the streets for it. It's only in the last few days we've learned that within the Senior Management Team of the Labour party itself there was a secret plot to prevent Corbyn from becoming prime minister by ensuring that Labour lost the election. Half of 'our' team was actually batting for the other side! Let's remind ourselves, first of all, that Corbyn was very popular with the actual membership of the party: people wanted a change, and Corbyn represented that. He also represented integrity, selflessness, consistency and commitment in a profession increasingly notable for their absence. But the backroom boys and girls in the Labour party had made up their minds that they knew better, and it's clear now that from the very beginning they worked day and night to undermine him – and any MP who supported him such as Chris Williamson.
Reading the exchange of messages between the plotters is pretty sickening. When the polls showed Labour losing, they cheered. When they showed Labour gaining, they mourned. When the accusations of antisemitism hit the party, they raised their glasses to celebrate – not because they were appalled by antisemitism but because they knew it was a big stick to thrash Corbyn with. Using their media contacts, they fuelled the anti-Corbyn propaganda machine, planting stories and misinformation designed to paint him as black as possible – all this while their wages were being paid by the subscriptions of party members, the very people who'd elected him as Leader.
This should be the political story of the year – but most of the media were complicit in it, so it's been quietly forgotten. It's a story about the corruption of public life, something we British hate to admit to.
This isn't about whether you support Corbyn or not. It isn't about whether you support Labour or not. It's about whether you support democracy.
We will continue to ensure the UK grasps the full gravity of the Labour leaks. If the opposition has intentionally thrown two elections, that's not just a matter for Labour but for our country.
You don't have a democracy if you do NOT have an opposition party trying to win.
People should understand this is not just a case of 'sore loser'…
In the 2017 general election, The Labour Party and Jeremy Corbyn was just 2,227 votes away from a chance to be Prime Minister
Corbyn was just 2,227 votes away from becoming Prime Minister in the general election, new analysis has revealed.
If the Labour leader had won seven marginal Conservative seats and formed a so-called "progressive alliance" with all other smaller parties – barring the Democratic Unionist Party (DUP) – it would have been enough to command a working majority.
Related articles:
The Labour Party is institutionally treacherous
#LabourLeaks: The Labour Party's GLU created a 'new Stasi system to spy on members'
Sir Keir Starmer repeating a lie to create the 'illusion of truth'
Life after the Labour Party: Activists are challenging the status quo. Grassroots movements are growing.
Support Labour Heartlands
Help Us Sustain Ad-Free Journalism
Sorry, I Need To Put Out the Begging Bowl
Independent Journalism Needs You
Our unwavering dedication is to provide you with unbiased news, diverse perspectives, and insightful opinions. We're on a mission to ensure that those in positions of power are held accountable for their actions, but we can't do it alone. Labour Heartlands is primarily funded by me, Paul Knaggs, and by the generous contributions of readers like you. Your donations keep us going and help us uphold the principles of independent journalism. Join us in our quest for truth, transparency, and accountability – donate today and be a part of our mission!
Like everyone else, we're facing challenges, and we need your help to stay online and continue providing crucial journalism. Every contribution, no matter how small, goes a long way in helping us thrive. By becoming one of our donors, you become a vital part of our mission to uncover the truth and uphold the values of democracy.
While we maintain our independence from political affiliations, we stand united against corruption, injustice, and the erosion of free speech, truth and democracy. We believe in the power of accurate information in a democracy, and we consider facts non-negotiable.
Your support, no matter the amount, can make a significant impact. Together, we can make a difference and continue our journey toward a more informed and just society.
Thank you for supporting Labour Heartlands
Just click the donate button below