A BAD WORKMAN BLAMES HIS TOOLS
Sir Keir Starmer is preparing to replace his shadow chancellor, Anneliese Dodds, in a shake-up of his frontbench team.
Starmer, who will mark his first anniversary as Labour leader next Sunday, is due to demote several underperforming shadow ministers after the local elections in an attempt to get on the front foot and challenge Boris Johnson reports The Times.
The Times report that Dodds is respected, but will be moved on after failing to effectively communicate the party's "vision", an impossible task when most commentators and political pundits could only ascertain that 'Labours vision' under Starmer was to sell 'Covid Bonds' to kick start the economy once the pandemic was over, apparently from all the money people had saved during lockdown!
It's hardly fair to blame others when the polls show it's Starmer that is so unpopular but we all know 'a bad general blames his army' or like his Dad should have told him "a bad workman always blames his tools."
Starmer is a relatively new politician and has only been an MP for 6 years, promoted very quickly by Jeremy Corbyn to the front bench where the minimum he should have learnt was what 'collective responsibility' means, instead he has taken the 'It's Not Me, It's Them' approach to Leadership.
Labour's economic vison
Its hard to sell a bad idea but its even harder to sell no idea.
It's hardly fair to blame Dodds for not being able to sell Labour's vision or more accurately Starmer's vision.
Even if Sir Keir Starmer had anything vaguely interesting to say it was lost in the sleep-inducing tempo of the speech. If the long pauses were designed for effect, it failed, it looked more like the autocue had been set up wrong. It was simply excruciating to watch.
People hoped Sir Keir Starmer would pull something out of the bag, after all the build-up to the announcement, 'Starmer's Britain' his vision. The liberal media press selling headlines suggesting a spirit of 1945 speech, unfortunately, in this alternative Labour party, it seems we must have lost the war.
The main policy the Labour leader put forward was a British Recovery Bond.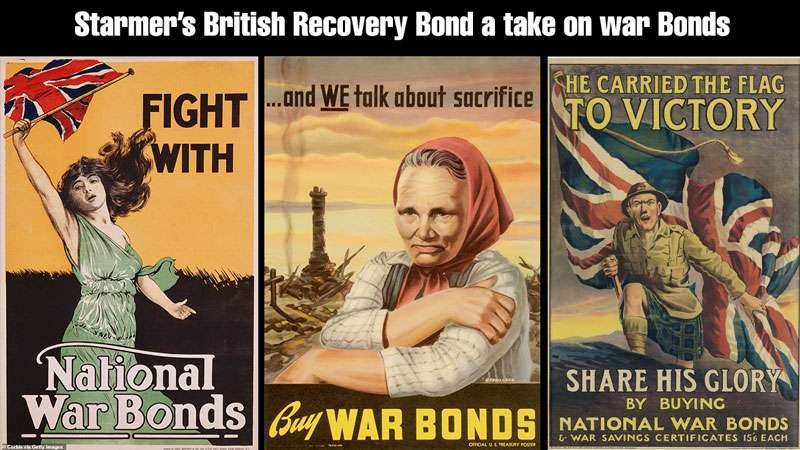 A Labour government would offer people a savings account with the government at a competitive interest rate – similar to the previous National Savings and Investments bonds.
The cash raised would then be spent on rebuilding the country post-Covid.
It comes off the back of figures from the Bank of England, which showed households had accumulated over £125bn in excess savings by November 2020 – estimated to hit £250bn by June 2021 – but with only around 5% of the savings expected to be spent, with much of the rest sitting in savings accounts.
Sir Keir Starmer said this money could be used to "invest in local communities, jobs and businesses", as well as providing security for savers and giving "millions of people a proper stake in Britain's future".
The Conservatives said the policy was the same as one proposed by the Northern Research Group of Tory MPs, although that group's "Northern Recovery Bond" plan is not government policy.
Sir Keir Starmer pledged to provide the British public with a "stake" in the nation's future by offering savers the chance to invest in a new Covid recovery bond should he become Prime Minister.
His life changing 'Buy War Bonds' scheme missed the mark with millions of Labour supporters who not only struggle from day to day, in normal circumstances but who have seen no help, no reprieve and definitely no savings during this covid crisis. But of course, Starmer was not aiming for Labour's core voters, he was aiming for the centre ground and even then his 'Bond scheme' landed like a dud.
Read more… Starmer's vision of Britain looks very conservative
Dodds is far more qualified but you can't make a silk purse out of a sow's ear.
"There is no alternative" (TINA) was a slogan often used by the Conservative British prime minister Margaret Thatcher. The phrase was used to signify Thatcher's claim that the market economy is the only system that works, and that debate about this is over.
Starmer's economic vision is lacking and after putting so much effort into denouncing Labour's vision for change and the economic policy's put forward in the 2019 manifesto, Starmer has really painted himself into a corner. Now the only policies will be versions of watered down Tory policies, it seems we are back to the politics of TINA.
Allies of Starmer say Dodds, an Oxford-educated economist, is highly intelligent but has failed to communicate effectively the party's vision. Rachel Reeves, the shadow Cabinet Office minister, is the favourite to replace her and has become one of Starmer's closest confidantes. Reeves, who also went to Oxford and is an economist, has won plaudits for exposing Tory cronyism in the awarding of government personal protective equipment (PPE) contracts during the pandemic.
According to the Sunday Times, Rachel Reeves and Lisa Nandy are both in the frame to replace Ms Dodds, who was initially handed the job due to her strong economic credentials, but is seen as having struggled to get the party's arguments across.
A source told the paper: 'Nandy is one of the party's best communicators and has not been in a role that has enabled her to utilise her talents to the full and needs a more public-facing role.'
A Britain elects for put the Conservatives on 44 per cent, with Labour lagging on 36 per cent.
The local elections will be the first real electoral test of how much – if any – progress Starmer has made in his first year as leader much of which as been spent in fighting a civial war with the Left while supporting the Tories during the covid crisis.
Support Labour Heartlands
PLEASE HELP US KEEP GOING AD-FREE
This is a "Pay as You Feel" website.
Hey there! Thanks for stopping by. If you've enjoyed reading the articles on Labour Heartlands so far, We would be incredibly grateful if you could consider making a small donation. Labour Heathlands is not your typical news outlet. We are not here to simply regurgitate the daily news cycle, that's for the rest of them. Our focus is on delving deeper, uncovering the untold stories and shedding light on the issues that the mainstream media chooses to ignore.
Our unwavering commitment to journalistic integrity means that we are not influenced by any external forces. We are not beholden to PR companies, advertisers or press barons, and we refuse to let anyone dictate what we report on. Our editorial independence is sacrosanct, and our only allegiance is to the truth.
While we do not align ourselves with any particular political party, we stand firmly against corruption, injustice and the erosion of truth and the rule of law. We believe that accurate information is the lifeblood of a democracy and that facts are not up for debate.
Once again, thank you for your support – We truly couldn't do this without you!
PLEASE HELP US KEEP GOING AD-FREE