Starmer called his vision a fork in the road but it looked more like a parallel path to Toryland
Even if Sir Keir Starmer had anything vaguely interesting to say it was lost in the sleep-inducing tempo of the speech. If the long pauses were designed for effect, it failed, it looked more like the autocue had been set up wrong. It was simply excruciating to watch.
People hoped Sir Keir Starmer would pull something out of the bag, after all the build-up to the announcement, 'Starmer's Britain' his vision. The liberal media press selling headlines suggesting a spirit of 1945 speech, unfortunately, in this alternative Labour party, it seems we must have lost the war.
Many hoped he would deliver something to give hope, to rally the troops, a vision of a fairer more equal society, a challenge to the rigged system. A promising to smash the status quo. Yes, I know that was the other guy (Corbyn) and Starmer's not here to challenge the status quo but to maintain the establishment. But at least we hoped he could have understood the challenges people had faced over the last decade of Tory rule and the devastating pandemic of the last year. We had expectations, instead, he gave us more mediocre.
Opposing the cut to Universal Credit, refusing to back an increase in council tax and an end to the public sector pay freeze have widespread support but are not earth-shattering pronouncements.
More significantly for the party's long haul to Labour's 2024 manifesto, he promised a sharply more pro-business stance, saying: "If we're honest, for too long Labour has failed to realise that the only way to deliver social justice and equality is through a strong partnership with business.
"Under my leadership, that mindset will change.
"I believe in the power of active, enterprising government, working alongside British business."
Firms were not there "just to be tolerated or taxed" said Starmer, "because I know that government can't do this on its own." He praised business for offering "a source of pride, dignity and prosperity" for millions of people.
This all stank of Lord Mandelson brought onboard to woo big business, with the Labour leader seemingly set on crafting an "unashamedly pro-business agenda" and a commitment to individual prosperity and growth.
Mandelson, a former European trade commissioner, is one of Labour's staunchest supporters of the free market, and once declared himself "intensely relaxed about people getting filthy rich as long as they pay their taxes."
Labour Heartlands members expressed their views on the relationship between the people and business:
The economic crisis resulting from this coronavirus should have brought a new contract between business and the people, after all, it has been the people's money through government handouts that have kept the vast majority of businesses ticking over, no matter if it as been the £10,000 cash grant for small businesses or the massive million-pound bailouts for others. A contract of investment into local community projects from business that have received public money would have gone a long way to building a new relationship, going forward, a real stakeholder economy where business invest in community and community supporting business.
The Conservatives said Sir Keir had stolen most of his ideas from them.
Chancellor Rishi Sunak will set out the government's plans to haul the UK economy out of the deepest recession in 300 years in his Budget speech next month.
But Sir Keir Starmer said the Conservatives were "incapable of seizing this moment", adding: "All we can expect from this government is more of the same. Labour would choose a different path."
Labour may be taking a different path but its the same destination, Toryland
The main policy the Labour leader put forward was a British Recovery Bond.
A Labour government would offer people a savings account with the government at a competitive interest rate – similar to the previous National Savings and Investments bonds.
The cash raised would then be spent on rebuilding the country post-Covid.
It comes off the back of figures from the Bank of England, which showed households had accumulated over £125bn in excess savings by November 2020 – estimated to hit £250bn by June 2021 – but with only around 5% of the savings expected to be spent, with much of the rest sitting in savings accounts.
Sir Keir Starmer said this money could be used to "invest in local communities, jobs and businesses", as well as providing security for savers and giving "millions of people a proper stake in Britain's future".
The Conservatives said the policy was the same as one proposed by the Northern Research Group of Tory MPs, although that group's "Northern Recovery Bond" plan is not government policy.
Sir Keir Starmer pledged to provide the British public a "stake" in the nation's future by offering savers the chance to invest in a new Covid recovery bond should he become Prime Minister.
His life changing 'Green shield stamp' scheme missed the mark with millions of Labour supporters who not only struggle from day to day, in normal circumstances but who have seen no help, no reprieve and definitely no savings during this covid crisis. But of course, Starmer was not aiming for Labour's core voters, he was aiming for the centre ground and even then his 'Bond scheme' landed like a dud.
Starmer said "that many Britons have "saved for the first time" during the coronavirus pandemic, if they held onto their jobs but reduced outgoings because they were working from home and unable to spend on travel or going out."
Someone should open the doors for Starmer and bring him into the real world. The working class did not work from home, that's the middle classes, the working class where either collecting your bins, serving you in Asda or Tesco, Lidle or Aldi. For a large percentage, they were laid off getting 80% of their wages while paying 100% of their bills.
It's hard to understand how anyone could see this pandemic as some sort of money-saving opportunity, how did that work out for the 1.3 million people across the health service, those on the front line fighting to save others every day?
For many working from home, it's hard to understand how being at home has helped save money. The fact is it's cost more to work from home unless of course, your employer paid for the excess heating, electricity, gas etc. We also tend to eat more at home. The coast of entertaining the kids, of supplying them with internet devices because the government have failed in their promises to do so while the Labour Party have only played lip service in holding them to account on. Maybe Starmer could get Marcus Rashford on that job too.
What about the millions of self-employed, not the tradespeople that could still work but others that had no way of doing their jobs, market traders small shop keepers and so on. Who made up their wages?
Little facts matter. Coronavirus: Domestic electricity use up during the day as the nation works from home. Home energy use is up by up to 30% during the middle of the day, a new analysis by energy firms revealed. Much of the population is working from home and schools have closed, meaning home computers and televisions are busier than ever.
The only people to make money out of this pandemic are the cronies Starmer sits opposite at Westminster. Oh, and again the whole bunch of parliamentarians that awarded themselves an extra £10,000 to work from home.
Starmer continued to reach out to the centre, the affluent middle class, promising homeownership saying: People want a government "That can build a new generation of affordable homes – and not stand idly by while millions are denied the dream of homeownership."
The comparison of a real socialist is striking. Tony Benn Housing and debt:
"Thatcher was a much cleverer woman than we give her credit for. What she said was: 'you can buy your council house, so you'll be a property owner, you may not be able to get a wage increase, but you can borrow'. And the borrowing was deliberately encouraged because people in debt are slaves to their employers."
But I suppose Starmer needs to appease the banks and any home build schemes must come with a mortgage, creating a new generation of debt slaves.
Missing is Labour's last promise to tackle Britain's housing crisis by "building for the many", setting aside £75bn over five years to fund the most dramatic increase in council home construction since the second world war.
Jeremy Corbyn pledged that by the end of its first term in office, a Labour government would build 100,000 council houses a year, and 50,000 social homes through housing associations – all of them to high environmental standards. Pointing out that only 6,287 council homes were built in 2018-19.
Starmer all about 'TINA'
Margaret Thatcher's fondness for the slogan "There is no alternative" abbreviated to TINA, she used to describe her belief that despite capitalism's problems, "there is no alternative" to it as an economic system, and that neoliberalism must push back against socialism. The phrase became something of a rallying cry of arguments in favour of free markets, free trade, and capitalist globalization, with Thatcher and her followers believing that it is the only way which modern societies can advance themselves.
Tony Blair continued Thatcher's work declaring:
"I always thought my job was to build on some of the things she had done rather than reverse them.
"Many of the things she said, even though they pained people like me on the left… had a certain creditability."
Its very certain Starmer would expand on these policies to having shown his vision of Britain encapsulate TINA.
Real visionary of Labour
It was in the aftermath of the second world war that the Municipal Dream came alive, with Boughton elevating housing as the issue 'central to the post-war rebuilding.' Britain's stock of 12.5million houses had been greatly damaged during the war and the total reduced by 700,000. One in three homes were severely damaged and in need of repair. The Attlee government also faced a 33% increase in births and an 11% increase in marriages. The 1945 Labour manifesto did not shy away from the challenge ahead:
"Housing will be one of the greatest and one of the earliest tests of a Government's real determination to put the nation first. Labour's pledge is firm and direct – it will proceed with a housing programme with the maximum practical speed until every family in this island has a good standard of accommodation. That may well mean centralising and pooling of building materials and components by the State, together with price control. If that is necessary to get the houses as it was necessary to get the guns and planes, Labour is ready. And housing ought to be dealt with in relation to good town planning – pleasant surroundings, attractive lay-out, efficient utility services, including the necessary transport facilities."
LET US FACE THE FUTURE – HOUSES AND THE BUILDING PROGRAMME, 1945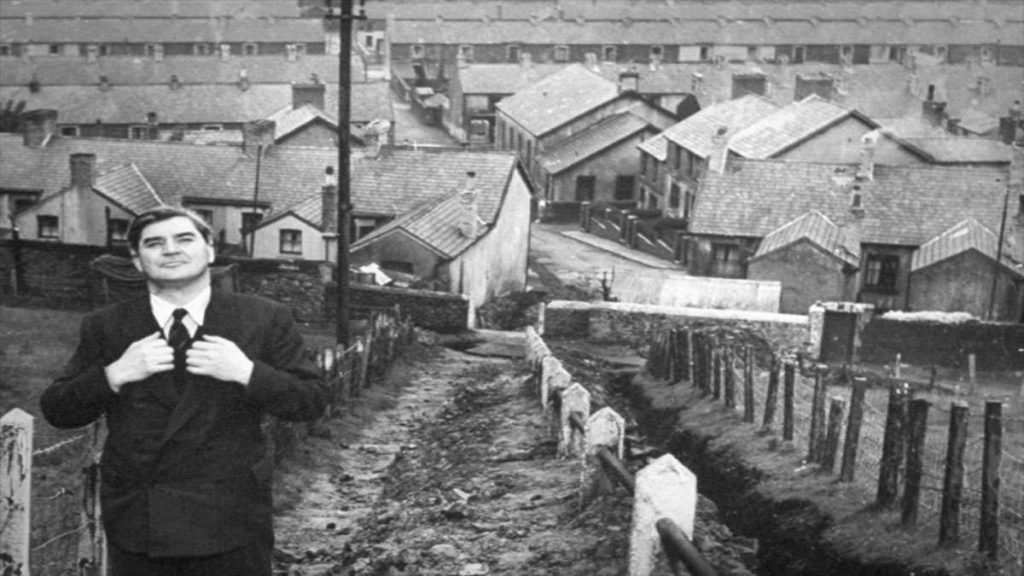 By handing the housing programme to Nye Bevan, Attlee put faith in an idealist who used his own slum experience to demand change. Boughton recounts Bevan's vision of a 'full life' where the individual is 'aware of the problems of their neighbours…drawn from different sections of the community' where 'the doctor, the grocer, the butcher and the farm labourer all lived in the same street.' In his first speech as housing minister, Bevan lamented the 'evil' notion that local authorities built for one group and speculators built for another. Boughton argues that Bevan's plans 'embodied much of the social idealism of the post-war era' which above all aimed to ensure that 'income groups living in the new towns would not be segregated.' Between 1945 and 1951 804,921 council homes were built and the Housing Act 1949 stipulated that council housing should no longer be designated for the most vulnerable.
The last guy offered hope.
Even if you did not like Corbyn the guy did paint a picture we could all buy into.
Jeremy Corbyn had many faults we can all point out in retrospect however his passionate vision of a fairer more equal society was not one of them. His speeches on the ground or on-line would pull in tens of thousands, not the 2000 tops Starmer managed.
No one could ever knock Corbyn for his inclusiveness he spoke to everyone, and that's why people listened:
"As we build towards a general election we offer an alternative, a different way of doing things, where you ignore nobody, you forget nobody, you build a sense of inclusion, of decency, and moral respect within our society." -Jeremy Corbyn
"From his support for a publicly owned railway, his restoration of workers' rights, removed by the Tories and not brought back under New Labour, and his commitment to running the economy in the interests of 99% of the people rather than the rich elite as favoured by the Tories, -Jeremy Corbyn offered the country a genuinely radical alternative government."
There was no hope in Starmer's vision, it was Tory-lite it was mandioca, and it failed to address the concerns of the people.
This was an opportunity to bring Labour supporters and members like me back on board. It failed and even in that failure, there was nothing spectacular just a hard-fought battle with keeping awake.
Support Labour Heartlands
Help Us Sustain Ad-Free Journalism
Sorry, I Need To Put Out the Begging Bowl
Independent Journalism Needs You
Our unwavering dedication is to provide you with unbiased news, diverse perspectives, and insightful opinions. We're on a mission to ensure that those in positions of power are held accountable for their actions, but we can't do it alone. Labour Heartlands is primarily funded by me, Paul Knaggs, and by the generous contributions of readers like you. Your donations keep us going and help us uphold the principles of independent journalism. Join us in our quest for truth, transparency, and accountability – donate today and be a part of our mission!
Like everyone else, we're facing challenges, and we need your help to stay online and continue providing crucial journalism. Every contribution, no matter how small, goes a long way in helping us thrive. By becoming one of our donors, you become a vital part of our mission to uncover the truth and uphold the values of democracy.
While we maintain our independence from political affiliations, we stand united against corruption, injustice, and the erosion of free speech, truth and democracy. We believe in the power of accurate information in a democracy, and we consider facts non-negotiable.
Your support, no matter the amount, can make a significant impact. Together, we can make a difference and continue our journey toward a more informed and just society.
Thank you for supporting Labour Heartlands
Just click the donate button below