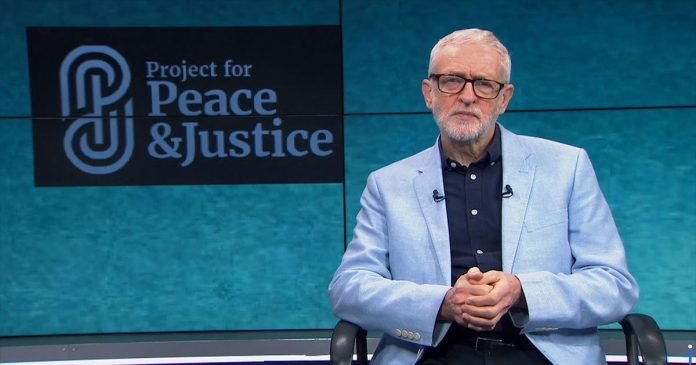 Jeremy Corbyn announces new Peace and Justice Project
Jeremy Corbyn, former Labour Party leader, today announces plans for a new organization to support social justice, peace and human rights, in Britain and across the world.
The Peace and Justice Project will be launched next month, on 17th January 2021, in an online event, featuring panellists including former ANC leader Ronnie Kasrils, young climate activist Scarlett Westbrook, Labour peer and former teachers' leader Christine Blower, Unite general secretary Len McCluskey and Labour MP Zarah Sultana.
The Peace and Justice Project will provide a platform for campaigns, work with social movements and trade unions, commission research on solutions to common global problems, and build networks for progressive change, both in the UK and internationally.
The Mission Statement
To bring people together for social and economic justice, peace, and human rights, in Britain and across the world.
The Peace and Justice Project will back campaigns, commission reports and develop progressive networks in Britain and across the world.
The Peace and Justice Project will work with labour and social movements and provide platforms to those campaigning for change for the many, not the few.
From wars and pandemics to economic and environmental crises, the events of recent years have exposed the failure of our systems. Inequality, insecurity and human rights abuses have increased. Domestic and international problems and injustices can no longer be separated. We need to build solidarity beyond borders and across communities, and solve our common problems together.
The former Labour leader's new project will focus on combating poverty, inequality and unaccountable corporate power; and promoting peace, global cooperation and climate justice; self-determination, democracy and human rights.
The Peace and Justice Project aims to bring people together to support social and environmental justice, peace and internationalism.
Jeremy Corbyn said: "The aim of the Peace and Justice Project will be to bring people together, for social justice, peace and human rights, in Britain and across the world.
It's there to create space, hope and opportunity for those campaigning for social justice and a future that works for the many, not the few.
We will work with unions and social movements to build a network of campaigners, grassroots activists, thinkers and leaders, to share experiences and generate ideas about solutions to our common problems.
We will combine research and analysis with campaigning and organizing. And we can build on the popular socialist policies developed in the Labour Party over the past five years.
This year, many of us have felt powerless in the face of forces beyond our control. It doesn't have to be like that. Things can, and they will, change."
Rafael Correa, former president of Ecuador, said: "Coronavirus has shown again how neoliberalism is incapable of dealing with the huge crisis our societies face.
Now, more than ever, we need to be united in our struggles across the world against neoliberalism and inequality.
We need to build a world where corporate power is replaced with real democracy, where people have access to full rights, key services like health and education, and a life with dignity.
I welcome the creation of Jeremy Corbyn's new Peace and Justice Project, and I look forward to working with him for a world where people come before capital."
JOIN HERE: Peace and Justice Project website
For media enquiries related to the Peace and Justice Project, please contact Nathan Akehurst at media@thecorbynproject.com (07584 300240).
For media enquiries related to Jeremy Corbyn's work as an MP please contact Matt Willgress at matthewwillgress@hotmail.co.uk (07960 431137).
Support Labour Heartlands
WAIT! BEFORE YOU GO
PLEASE HELP US KEEP GOING AD-FREE
This is a "Pay as You Feel" website.
Your support for Labour Heartlands is greatly appreciated. As an independent nonprofit news outlet, we rely on our members to hold the powerful accountable. Our kind of reporting is essential to democracy, but it is not easy, cheap, or profitable.
To continue providing impactful journalism, we need your help. It's getting really hard for us all. Becoming one of our donors. It's simple and doesn't have to cost a lot. With as little as £2, £3, or £5 a month, you can support the journalism you rely on.
While we do not align ourselves with any particular political party, we stand firmly against corruption, injustice, and the erosion of truth and the rule of law. We believe that accurate information is the lifeblood of a democracy and that facts are not up for debate.
Your contribution, no matter how small, goes a long way in helping us continue our mission. Together, we can make a difference.
Thank you, The Labour Heartlands Team
PLEASE HELP US KEEP GOING AD-FREE