The Labour movement is thriving outside the Labour Party
It's one year since the Labour Party witnessed one of its most catastrophic defeats.
The general election of 2019 was lost not on policy or leadership but on a promise made by the Tories of 'GET BREXIT DONE!'
Three words witnessed the crash of what could have been the greatest shift in social mobility for the working class since we won the vote.
Corbyn had promised so much but the biggest promise was to address the rigged system that kept the proverbial Iron Heel of oppression from weighing heavy on the working class.
Corbyn's pendulum shift to the Left should have been the gateway to what ultimately would become a more equal society, access to education from cradle to grave, a fully funded NHS, a boom in the building trade allowing for a life choice of secure social housing or a personal choice of private property. The breaking of monopoly capitalism would have opened up a green industrial future investing back into nationally owned Utilities, Rail and mail.
Three little words brought this hope crashing down, three words the Labour Party could not counter with any conviction. Because the Labour Party had built up its own momentum of opposing those three words. Sir Keir Starmer had pushed his second referendum policy into the Labour Party against arguments and advice from Left wing frontbenchers like Ian Lavery, John Trickett Laura Smith and countless backbencher Labour Heartlands MPs that could clearly see the policy was a vote loser no matter the argument. However that one election losing policy did win Starmer the power he wanted and the Leadership of the Labour Party.
"From the beginning of time, there have been two flames burning in the human heart. The flame of anger against injustice, and the flame of hope you can build a better world. And my job is to go round fanning both flames."
"It sounds very innocent," said Tony Benn, shortly before he died in 2014, "But if you have given people confidence that they can do something, that is a real achievement. I look back and think: 'Have I always explained things to people truthfully? Have I always said what I meant and meant what I said?' And as a result of that, have I encouraged people to have confidence in themselves? All I would want on my gravestone would be: 'Here Lies Tony Benn: He Encouraged Us.'"
Today one year on: New hope.
While the Labour Party is dying from internal wounds while hemorrhaging its support. The wider Labour movement is thriving.
There has been a revival in the organisations and Parties outside the franchised name of the Labour Party. Movements like Resist led by Chris Williamson and the Workers Party led by George Galloway have been creating a home for 21st-century socialism.
A platform for people who want to make a real difference to their communities, both groups are changing the political landscape and the machinery of politics by shifting power to the people in truly transformative ways.
Of course, the Socialist Party is another Left-wing Party have had a massive revival with the "TUSC" a coalition involving organisations and individuals all playing their own part in a range of struggles to defend working class people in the workplaces and in our communities – they are also prepared to collaborate together with other Left-wing groups and parties to stand in elections if there are no other candidates reflecting those struggles on the ballot paper".
The Communist Party have also been making inroads over recent years with a growing membership of younger people. Communists are waging the struggle for socialism in trade unions and communities across Britain, in the Women's movement, alongside anti-racists, anti-fascists and peace campaigners.
Project for Peace and Justice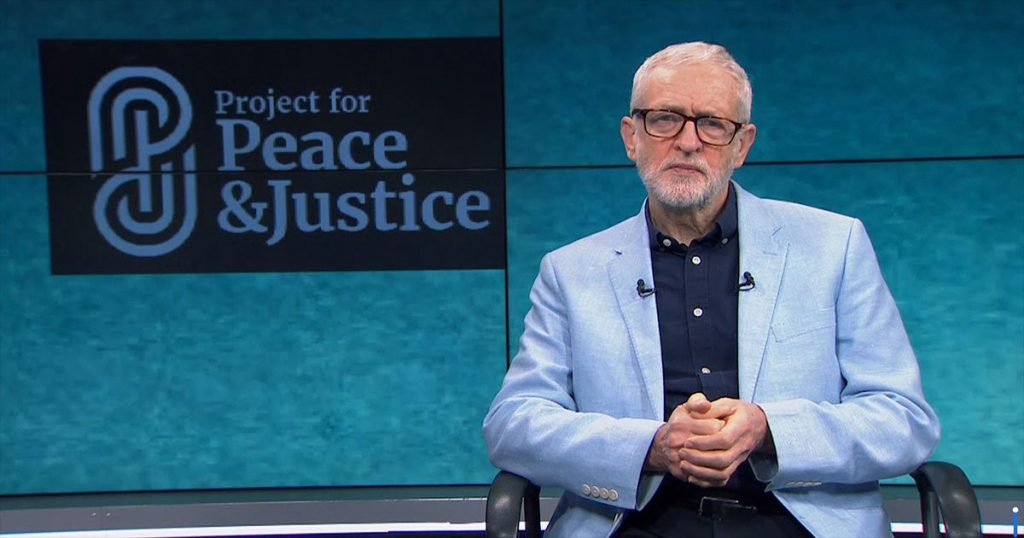 Jeremy Corbyn: The Flame of hope.
With the announcement of Jeremy Corbyn's new Project for Peace and Justice, he has offered new hope to thousands of Corbynistas and good people wanting to make a difference here in the UK and around the world offering support for the oppressed and forgotten around the world.
The new project aims to bring people together for social and economic justice, peace, and human rights, in Britain and across the world.
The Peace and Justice Project will back campaigns, commission reports and develop progressive networks in Britain and across the world.
The Peace and Justice Project will work with labour and social movements and provide platforms to those campaigning for change for the many, not the few.
From wars and pandemics to economic and environmental crises, the events of recent years have exposed the failure of our systems. Inequality, insecurity and human rights abuses have increased. Domestic and international problems and injustices can no longer be separated. We need to build solidarity beyond borders and across communities, and solve our common problems together.
The former Labour leader's new project will focus on combating poverty, inequality and unaccountable corporate power; and promoting peace, global cooperation and climate justice; self-determination, democracy and human rights.
The Peace and Justice Project aims to bring people together to support social and environmental justice, peace and internationalism.
This one year on from Labour's general election defeat offers new hope and feels more like an oasis in a barren desert.
You can join Jeremy Corbyn's Project for Peace and Justice: Here
You can join George Galloways workers Party: Here
You can join Chris Williamson's Resist movement: Here
You can join the Communist Party: Here
You can join the Socialist Party: Here
Related articles: Jeremy Corbyn officially launches new 'Project for Peace and Justice'
Two flames burning in the human heart: Now we must take those flames and rebuild within the unions
It's an Exodus: Sir Keir Starmer humiliation as Labour Party membership plummets by 57,000 protests at Jeremy Corbyn suspension gathers pace
Support Labour Heartlands
WAIT! BEFORE YOU GO
PLEASE HELP US KEEP GOING AD-FREE
This is a "Pay as You Feel" website.
Your support for Labour Heartlands is greatly appreciated. As an independent nonprofit news outlet, we rely on our members to hold the powerful accountable. Our kind of reporting is essential to democracy, but it is not easy, cheap, or profitable.
To continue providing impactful journalism, we need your help. It's getting really hard for us all. Becoming one of our donors. It's simple and doesn't have to cost a lot. With as little as £2, £3, or £5 a month, you can support the journalism you rely on.
While we do not align ourselves with any particular political party, we stand firmly against corruption, injustice, and the erosion of truth and the rule of law. We believe that accurate information is the lifeblood of a democracy and that facts are not up for debate.
Your contribution, no matter how small, goes a long way in helping us continue our mission. Together, we can make a difference.
Thank you, The Labour Heartlands Team
PLEASE HELP US KEEP GOING AD-FREE