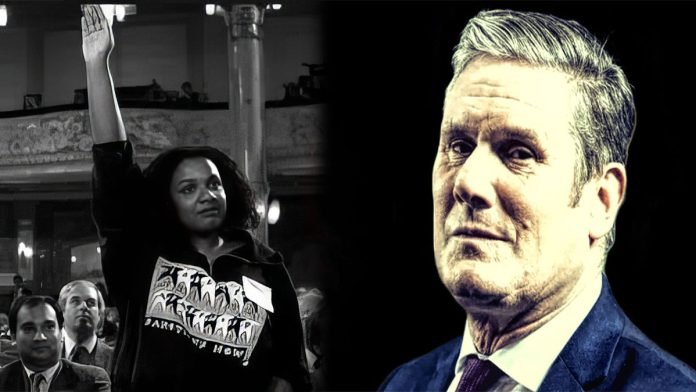 The Kafkaesque ordeal of Diane Abbott lays bare the hypocrisy festering at the heart of Starmer's Labour.
The sorry saga of Diane Abbott's suspension exposes the injustice thriving under Sir Keir Starmer's leadership. Britain's first black female MP faces expulsion for vague charges of antisemitism, while damning revelations about racism within Labour are brushed aside.
The party once dedicated to equality now crushes dissent with zealous persecution. Due process and natural justice are discarded to purge outspoken leftists from Labour's ranks. No defence nor apology can redeem those accused of contradicting the party line.
The Forde Report's findings are clear – Labour failed to address endemic racism and bullying within its own ranks. Black members faced grotesque abuse from white staffers, as the leaked dossier proved. Yet results of the investigation were buried to protect the party's image.
In this inverted reality, the victims of racism are accused while the perpetrators escape sanction. Abbott is denounced as antisemitic for an ambiguously worded letter. But the racist bullies exposed by Forde remain in their posts. This contorted logic would impress Orwell's Ministry of Truth.
Through this warped lens, Abbott's lifetime campaigning against racism is erased. Baseless charges supersede real records of achievement. She is cast as a heretic by a high inquisitor more concerned with doctrinal purity than truth or justice.
As a Black woman, and someone on the left of the Labour Party, I have unfortunately been forced to reach the conclusion that I will not get a fair hearing from this Labour leadership. pic.twitter.com/jZjVCJxeVW

— Diane Abbott MP (@HackneyAbbott) September 19, 2023
Starmer proclaimed Abbott guilty without trial or evidence. Her apology and retraction were dismissed out of hand. Such arbitrariness would make Stalin nod in approval. But from a Party pledged to fairness, it represents astonishing hypocrisy.
The day after Abbott's suspension, Starmer said during a visit to a community project in Camberwell, south London: "In my view what she said was to be condemned, it was antisemitic. Diane Abbott has suffered a lot of racial abuse over many, many years … that doesn't take away from the fact that I condemn the words she used and we must never accept the argument that there's some sort of hierarchy of racism. I will never accept that, the Labour Party will never accept that, and that's why we acted as swiftly as we did yesterday."
While the 860-page dossier, leaked while Jeremy Corbyn was leader, was intended to be a part of the party's submission to an ongoing investigation by the Equality and Human Rights Commission into anti-Semitism, it advertently raised concerns of anti-Black racism too.
It included private WhatsApp conversations between officials who used a string of insults to describe senior Black MPs and officials, including senior MP Diane Abbott who was referred to as "repulsive".
"The criticisms of Diane Abbott are not simply a harsh response to perceived poor performance – they are expressions of visceral disgust, drawing on racist tropes, and they bear little resemblance to the criticisms of white male MPs elsewhere in the messages," the Forde report concluded.
It is within this background that Abbott has continued to face prejudices against her case.
The treatment of Abbott confirms an uncomfortable truth – under Starmer, Labour has abandoned its principles. Due process, equality, democratic norms – all are expendable in this regime's crusade against the left.
Orwell warned that autocracies demand loyalty over integrity. The party told you to reject the evidence of your eyes and ears, he wrote in 1984. Labour now demands the same unthinking obedience.
Abbott endures expulsion for thoughtcrime after a show trial from Labour's Kafkaesque disciplinary machine. But the same apparatus protects the real bigots in its ranks. This farcical inversion of justice would have puzzled Orwell. As would Labour's demand for loyalty over integrity, truth and due process.
The treatment of Diane Abbott — Britain's first female Black MP — is a disgrace.

The latest stitch-up represents yet another flagrant attack on local democracy.

A lifelong anti-racist campaigner, Diane deserves so much better. So do party members being treated with contempt. pic.twitter.com/qMyV5bYk3c

— Jeremy Corbyn (@jeremycorbyn) September 19, 2023
This purge aims to break the historic link between Labour and the working class. No longer a grassroots movement, the party becomes a vehicle for elite interests and establishment ideology. A realignment is underway, overseen by Starmer and his corporate backers.
For those who still cling to Labour's original mission, these developments should set alarm bells ringing. The silencing of Diane Abbott is not an anomaly, but part of a deliberate strategy. Only the conformist and obedient have a place in Starmer's brave new Labour.
It is now a place where workers' concerns fade before focus group messaging. Socialist ideals wither as Labour courts corporate backing. Behind slogans of pragmatism and electability lurks profound betrayal of the party's origins. At conference, Blairites clink champagne glasses while Abbott faces the gulag.
Such is Labour's descent under Starmer's leadership. The silenced and marginalized members can only watch in dismay as their party slouches towards irrelevance. Starmer's hollow New Labour may delight bankers and consultants, but it is a melancholy fate for a once principled party.
A melancholy end for a once great party.
Support Labour Heartlands
Help Us Sustain Ad-Free Journalism
Sorry, I Need To Put Out the Begging Bowl
Independent Journalism Needs You
Our unwavering dedication is to provide you with unbiased news, diverse perspectives, and insightful opinions. We're on a mission to ensure that those in positions of power are held accountable for their actions, but we can't do it alone. Labour Heartlands is primarily funded by me, Paul Knaggs, and by the generous contributions of readers like you. Your donations keep us going and help us uphold the principles of independent journalism. Join us in our quest for truth, transparency, and accountability – donate today and be a part of our mission!
Like everyone else, we're facing challenges, and we need your help to stay online and continue providing crucial journalism. Every contribution, no matter how small, goes a long way in helping us thrive. By becoming one of our donors, you become a vital part of our mission to uncover the truth and uphold the values of democracy.
While we maintain our independence from political affiliations, we stand united against corruption, injustice, and the erosion of free speech, truth and democracy. We believe in the power of accurate information in a democracy, and we consider facts non-negotiable.
Your support, no matter the amount, can make a significant impact. Together, we can make a difference and continue our journey toward a more informed and just society.
Thank you for supporting Labour Heartlands
Just click the donate button below