The Rupert Murdoch Succession: Lachlan Murdoch Inherits the Media Kingdom
News broke that ancient media mogul Rupert Murdoch is finally relinquishing his throne, passing the sceptre to offspring Lachlan Murdoch. After nearly seven decades of kingly reign, the nonagenarian Murdoch is officially abdicating. Royal sycophants assure this changes nothing – the kingdom shall remain as always, corrupt.
Rupert Murdoch has poisoned democracy worldwide for over half a century. As the Machiavellian media mogul finally departs, his malign impact remains intact. Murdoch simply passes the baton to spawn who share his absence of ethics.
From slimy tabloids to partisan propaganda channels, the Murdoch empire debases public discourse everywhere it spreads. The phone hacking scandals, promotion of bigotry, and ideological warfare against progressivism define this corporation. And its disregard for truth continues unabated.
Murdoch's unsavoury tabloids have trafficked in xenophobia, invasion of privacy, and baseless rumours, war and attacks on the working class for decades. While Murdoch's Fox News operates as a shameless propaganda outlet, radicalising viewers with racism, conspiracy theories, and partisan misinformation.
This radicalisation divides people and corrupts public discourse, undermining democracy and truth in favour of Murdoch's ideological agendas.
By peddling propaganda masquerading as news, Murdoch has poisoned political dialogue and normalised the degradation of media ethics. His outlets cultivate fear, bigotry and partisan hostility in readers and viewers, damaging the fabric of societies worldwide. And he continues evading accountability for this harmful dissemination of disinformation.
Murdoch's tabloids have long engaged in unethical practices like phone hacking, libellous rumours, and illegally obtaining private information. His U.K. papers carried out thousands of phone hacking incidents, including deplorably tapping the voicemail of the mother of a murdered girl.
Murdoch's tabloids have published blatant lies, like the infamous false headline that a talk show guest fed his pet hamster to a guest to the disgusting attacks on the people of Liverpool after Hillsborough.
In 2011, the outrage and condemnation over the phone hacking scandal led Mr Murdoch to close the News of the World tabloid, which left him "humbled and very shaken".
Journalists working for the paper had accessed the voicemail of murdered teenager Milly Dowler, giving her parents false hope that she may still be alive. Celebrities, royals and politicians claimed to be victims of phone hacking, with the government ordering the highly critical Leveson Inquiry to examine press standards.
The vilification of Jeremy Corbyn
Murdoch's outlets also brazenly shift political support based on self-interest. In Britain, his papers served as propaganda arms for Margaret Thatcher before switching to back Tony Blair's New Labour. But subsequently, they turned against Labour, likely due to its criticism of Murdoch's growing monopoly. His papers viciously attacked Labour leader Ed Miliband and later Jeremy Corbyn using jingoism and distorted claims.
Murdoch's tabloids have frequently engaged in political hatchet jobs, like their unprecedented attacks on Labour leader Jeremy Corbyn. Headlines brazenly called Corbyn a terrorist sympathizer, threat to national security, and Marxist extremist attempting a hard-left takeover. This hysterical fearmongering distorted Corbyn's moderate social democratic policies.
The Sun was forced to make a front page apology to Jeremy Corbyn after a story which falsely claimed the Labour leader only agreed to be initiated as a Privy Councillor because his party stood to gain financially.
However, other articles were extremely disturbing highlighting the Sun's guter press image.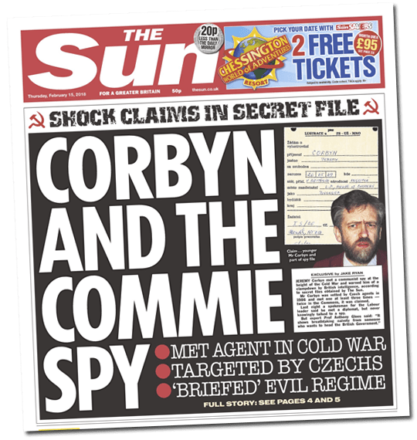 The Sun falsely claimed Liverpool fans engaging in hooliganism caused the 1989 stadium crush that killed 97 people.
Murdoch's tabloid smeared the victims of the Hillsborough stadium tragedy, falsely claiming Liverpool fans were responsible through hooliganism. This libellous reporting deeply offended the city. Many in Liverpool still refer to The Sun only as "The Scum" or "#Scum," a fitting pejorative for its malicious lies.
The Hillsborough smears sparked a city-wide boycott of The Sun that persists today, over 30 years later. This organised rejection highlights the backlash against Murdoch papers' amoral propaganda and their power to injure.
This libellous reporting insulted victims and impeded justice until their names were finally cleared decades later. But the damage from Murdoch Papers' malicious lies remains.
These examples demonstrate how Murdoch's outlets use their massive reach to deliberately ruin reputations and prevent political change that threatens their interests. Their propaganda turns truth on its head in service of Murdoch's reactionary agenda. And they evade accountability for ruining innocent lives and enabling injustices.
Murdoch's political kingmaking and bullying of dissenters is an affront to ethical journalism. His seizing of outsized media control makes democratic societies vulnerable to his whims.
Again changing one Murdoch for another in this abdication does nothing to remedy these harms.
This background of misconduct and flip-flopping partisanship demonstrates that Murdoch operates purely for power and profits, never advancing democracy or truth.
Equally concerning is the direct political influence Murdoch exerts through propaganda arms like Fox.
The network's misinformation crusade helped enable travesties like the Iraq War, climate denialism, and Trumpism. And via donations and lobbying, Murdoch advances an agenda of tax cuts for the rich, deregulation, and an empowered oligarchy. Such plutocratic policies immiserate the masses.
Of course, a touch of satire is always a fitting finale. But what the elder Murdoch, the former king, conveyed to his employees might have given them pause during their New York bagel breakfasts. His letter read:
"Our companies remain robust, and so do I," he wrote. "We have every reason to be optimistic about the upcoming years – I certainly am, and I intend to be an active part of them. However, the struggle for freedom of speech and, ultimately, freedom of thought, has never been more intense."
Well here's a bit of truth…
Murdoch's departure from various boards follows a turbulent year at Fox's TV network, marked by a $787.5 million settlement in Dominion Voting Systems' defamation lawsuit, which stemmed from false claims about the 2020 election between President Joe Biden and Donald Trump. Fox also faces an ongoing lawsuit from Smartmatic, another voting machine company, seeking approximately $2.7 billion in damages.
Personally, he also announced he was divorcing his fourth wife, the supermodel Jerry Hall, in 2022. Then, in April, he abruptly called off his engagement to Ann Lesley Smith, 66, after just two weeks, with one source citing Mr Murdoch's alleged discomfort with her evangelical views.
Murdoch's continued role behind the scenes at Fox News was highlighted in the months leading up to the Dominion settlement. In his deposition for the lawsuit, Murdoch said some of the network's anchors parroted false claims in the months following the election.
Until the settlement, Dominion was calling for Murdoch, his son, and other top Fox talent and executives to take the stand if a trial occurred. At the time, Fox had opposed having the elder Murdoch — as well as other top Fox executives — appearing in person, citing his age. A Delaware judge rejected the argument and said Fox wouldn't have been able to argue hardship given Murdoch's engagement that was later called off and his publicly discussed travel plans.
Since July 2022, Murdoch had worked from his home in Montana rather than going into Fox or News Corp. offices, according to a securities filing.
Fox News also saw top talent Tucker Carlson exit earlier this year, followed by a dip in ratings for a period before he was replaced.
Murdoch's departure also comes a year ahead of the upcoming U.S. presidential election. News Corp. owns newspapers The Wall Street Journal and New York Post, among other publications, while Fox is the parent company of right-leaning TV networks Fox News and Fox Business.
So while Murdoch departs, his legacies of sleaze, lies and demagoguery remain. The reins now pass to heirs like Lachlan Murdoch, indoctrinated in the Murdoch method of manipulating politics and public opinion for personal gain. Under this next generation, the absence of integrity and abundance of cynicism will persist.
The shareholders rejoice, as billions in profits keep flowing from degradation packaged as news. But for citizens worldwide, the Murdoch cancer on democracy continues metastasising. The messaging may modernize with new platforms, but the mission of misinformation and division remains.
Until governments check the antidemocratic consolidation of media power, the Murdoch dynasty retains its mighty influence behind the scenes. Their brand of corporate propaganda, philosophically bankrupt and devoid of ethics, has polluted political discourse for too long.
Stepping down changes nothing. The damage Rupert Murdoch has inflicted endures, and his legacy of corruption has been firmly passed on. Only breaking up this media monopoly can redeem democracy from Murdoch's poison. Rats may abandon the ship, but it remains a vessel of pestilence spreading darkness across seas of human progress.
Fox shares rose almost 2% after the news, while News Corps shares rose a more modest 0.6%.
Professor Anat Alon-Beck, a corporate law expert, said that ultimately market reaction to Lachlan's promotion will depend on whether Fox has a "solid and smart" plan that ensures "that the company's leadership isn't jeopardised just because the most powerful person, CEO, leaves the role".
While Lachlan was the expected choice to replace his father, it is unclear what will happen when the elder Murdoch dies.
Any transfer of shares from Murdoch to his six adult children could potentially set the stage for a battle for the future of the media empire.
While commoners naively hoped this changing of the guard might bring openness and integrity to the Murdoch media fiefdom, wise oligarchs scoff at such fantasy.
"The serfs wish for unrealistic things, like journalism in service of truth rather than blind loyalty to House Murdoch," chuckled a News Corp advisor. "Foolish peasants – real change is for fairy tales."
So rest assured that Lachlan, like his noble forebear, will continue profiting from rage-bait, phone hacking, and monetizing bigotry. The gilded Murdoch lineage is secure, as is its diligent slavishness to wealth and power. Only the inbred faces on the coins shall shift.
The moral: dynasties are inherently virtuous, especially when combined with vast unaccountable media control. We welcome our new Murdoch overlord!
Support Labour Heartlands
Help Us Sustain Ad-Free Journalism
Sorry, I Need To Put Out the Begging Bowl
Independent Journalism Needs You
Our unwavering dedication is to provide you with unbiased news, diverse perspectives, and insightful opinions. We're on a mission to ensure that those in positions of power are held accountable for their actions, but we can't do it alone. Labour Heartlands is primarily funded by me, Paul Knaggs, and by the generous contributions of readers like you. Your donations keep us going and help us uphold the principles of independent journalism. Join us in our quest for truth, transparency, and accountability – donate today and be a part of our mission!
Like everyone else, we're facing challenges, and we need your help to stay online and continue providing crucial journalism. Every contribution, no matter how small, goes a long way in helping us thrive. By becoming one of our donors, you become a vital part of our mission to uncover the truth and uphold the values of democracy.
While we maintain our independence from political affiliations, we stand united against corruption, injustice, and the erosion of free speech, truth and democracy. We believe in the power of accurate information in a democracy, and we consider facts non-negotiable.
Your support, no matter the amount, can make a significant impact. Together, we can make a difference and continue our journey toward a more informed and just society.
Thank you for supporting Labour Heartlands
Just click the donate button below