The EU admits it allowed China to censor coronavirus material before it was published
EU officials have backed a decision to accept China's censorship of a letter that ran in a Chinese newspaper. A sentence referencing China as the origin of the coronavirus outbreak was removed before publication.
The European Union on Thursday defended its decision to consent to Chinese censorship of a letter co-written by the bloc's 27 ambassadors, ahead of its publication in Chinese media.
The opinion piece appeared in China's English-language newspaper China Daily on Tuesday, but a sentence that linked the initial source of the coronavirus outbreak to China was removed.
Censored op-ed marked anniversary of EU-China relations
EU ambassadors submitted the opinion piece to mark the 45th anniversary of diplomatic relations between the EU and China. The full version appeared on the websites of EU embassies to China.
The EU had claimed it had "very serious concerns" about the request to censor the article. Yet it agreed to its publication claiming it meant the bloc could communicate with the Chinese audience on other key EU issues, such as climate change, human rights and the pandemic response, said EU foreign affairs spokesperson Virginie Battu-Henriksson in Brussels.
"China has state-controlled media. There is censorship, that's a fact," Battu-Henriksson said.
The EU, nevertheless, regretted that the article had not been published in full, she added.
Other European politicians were 'Shocked' that censorship went ahead
German politician Norbert Roettgen said he was "shocked" that the EU had allowed the censorship to go ahead.
"Speaking with one voice is important, but it has to reflect our shared European values and interests," he tweeted on Thursday.
But the European Commission's chief spokesman, Eric Mamer, disagreed. He said the decision to go ahead with publishing the doctored article "did not mean we consider censorship to be acceptable."
China has come under fire from the EU and the US for lack of transparency about the coronavirus pandemic that originated in the country. However, the EU was recently forced to deny reports that it caved into Chinese pressure and toned down a report on coronavirus disinformation.
A comparison between the original and the one published was uploaded onto the EU embassy website.
The section of the article that was deleted pointed towards China as the origin of the coronavirus pandemic.
The removed part read: "The outbreak of the coronavirus in China and its subsequent spread to the rest of the world over the past three months, has meant that our pre-existing plans have been temporarily side-tracked," the removed passage said.
The revelation comes just a week after EU officials were criticised for allegedly toning down references to China in a report on disinformation linked to COVID-19 under pressure from authorities in Beijing.
The EU is no stranger to censorship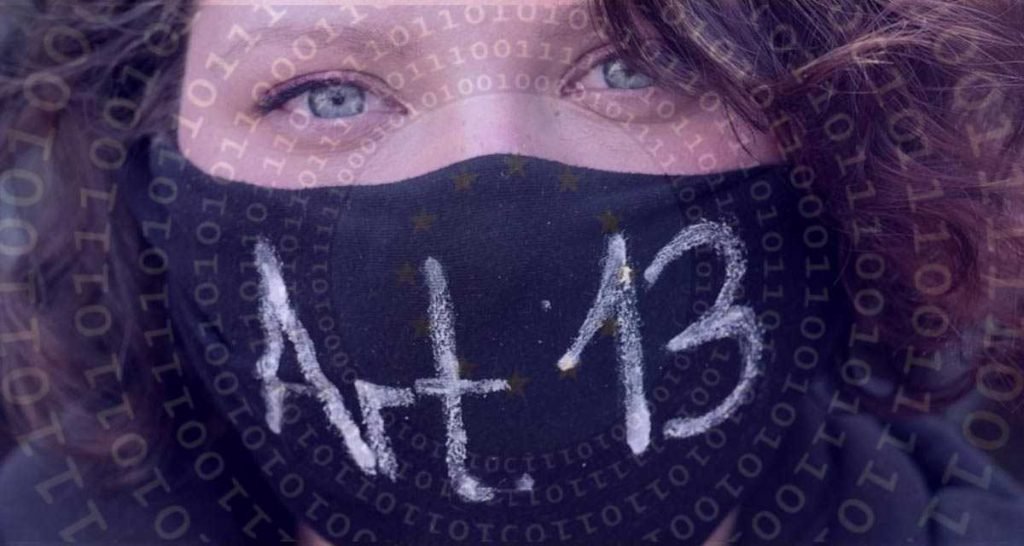 EU Internet Censorship Will Censor the Whole World's Internet
On the 26 March, the European Parliament voted in favour of adopting controversial upload filters (Article 13/17) as part of the copyright Directive. This vote comes after what was an intense campaign for human rights activists, with millions of signatures, calls, tweets and emails from concerned individuals, as well as Europe-wide protests.
Despite the mobilisation, 348 Members of the European Parliament (MEPs) gave their support to the proposed text which includes concerning restriction to freedom of expression. Noticeably, 274 stood up with citizens and voted to reject upload filters. The proposal to open the text for amendments was rejected by five votes difference. The amendments proposing the deletion of Article 13 were not even subject to a vote.
Article 13 of the copyright Directive contains a change of internet hosting services' responsibility that will necessarily lead to the implementation of upload filters on a vast number of internet platforms. With dangerous potential for automatised censorship mechanisms, online content filtering could be the end of the internet as we know it.
So far, platforms such as YouTube and Facebook have had to delete copyrighted works from their sites as soon as they receive a complaint. According to Article 17 of the new directive, operators must ensure that copyrighted works are not uploaded without permission. Alternatively, they must seek licences for the material uploaded by third parties and, in principle, develop mechanisms to prevent works from being made available in the first place where the rights holders have proven their claims.
In practice, given the amount, variety and speed with which new content is uploaded, this could only be achieved by automatically scanning and filtering all content in advance. Anyone who inserts images, excerpts from texts, videos or music to their own content, or modifies such content to create new content from it, can fall victim to the upload filters just as much as someone actually violating copyright law. In addition, upload filters can be politically manipulated so that, for example, texts or videos that are directed against austerity, militarism and war, report on labor disputes and strikes or contain terms such as socialism or "Marxism" are censored.
None of this is the result of an oversight, but is the real purpose of the "reform."
The European governments and giant tech companies fear growing social opposition and are already censoring left-wing and progressive content on a massive scale. Facebook regularly deletes accounts that oppose war and police violence. In Germany, tens of thousands of posts have been deleted since the so-called Network Enforcement Act (NetzDG) came into force. Google, in consultation with German government circles, has modified its search algorithms in order to suppress left-wing and progressive websites—including, above all, the World Socialist Web Site.
Faced with the "Yellow Vest" protests in France, the mass protests in Algeria and the growth of class struggle internationally, the ruling class is feverishly seeking ways to suppress all independent opposition. Already last autumn, the EU agreed to intensify internet censorship and threatened opposition parties with sanctions and punishments. This most recent authoritarian measure has been pushed through in direct opposition to the expressed will of the population.
On the weekend before the vote, more than 100,000 across Europe took to the streets against the new directive and the infamous upload filters. More than 40,000 people demonstrated in Munich on Saturday and more than 10,000 in Berlin. Further protests took place in Malmö, Helsinki, Amsterdam, Bucharest, Krakow, Lisbon and Thessaloniki. An online petition on change.org, "Stop the censorship machine—Save the internet," was signed by more than 5.1 million people. Last Thursday, the German Wikipedia site went offline for a day in protest.
A controversial pamphlet, entitled Areopagitica was written by John Milton in 1644. It argues against the censorship of books before their publication, and is often held up as the first impassioned plea for free speech.
Milton celebrates the vitality of books and condemns their destruction, saying one might 'as good almost kill a Man as kill a good Book' (p. 4). Ironically, two of Milton's books were later suppressed and burnt in the reign of Charles II.
Milton says that we should be trusted to read different ideas in print and use reason to choose between them, rather than having temptation removed through censorship: 'What wisdom can there be to choose … without the knowledge of evil?' 
In the 17th century as the first English newspapers appeared Milton argued that having to pass through censorship before reaching the public has a vast impact on what is said, and even what is thought. Having a gatekeeper makes it easier for the rich and powerful—those with connections in high places—to speak and to silence others.
An internet where the creator of a new web space for conversation is required to pay huge fees to media giants before even launching is no different from the world Milton feared, where the free circulation of information remains the privilege of publishing corporations and media moguls. The internet is a legacy that can decisively shape our future for the better within a broadly defined 'common good. Let's make sure it remains a free, innovative, and inclusive voice for all.
Support Labour Heartlands
WAIT! BEFORE YOU GO
PLEASE HELP US KEEP GOING AD-FREE
This is a "Pay as You Feel" website.
Your support for Labour Heartlands is greatly appreciated. As an independent nonprofit news outlet, we rely on our members to hold the powerful accountable. Our kind of reporting is essential to democracy, but it is not easy, cheap, or profitable.
To continue providing impactful journalism, we need your help. It's getting really hard for us all. Becoming one of our donors. It's simple and doesn't have to cost a lot. With as little as £2, £3, or £5 a month, you can support the journalism you rely on.
While we do not align ourselves with any particular political party, we stand firmly against corruption, injustice, and the erosion of truth and the rule of law. We believe that accurate information is the lifeblood of a democracy and that facts are not up for debate.
Your contribution, no matter how small, goes a long way in helping us continue our mission. Together, we can make a difference.
Thank you, The Labour Heartlands Team
PLEASE HELP US KEEP GOING AD-FREE