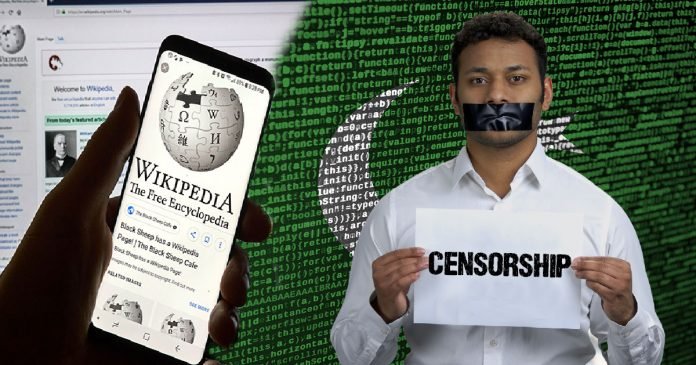 Wikipedia has been blocked in Pakistan which claims they hosting "blasphemous content".
Wikipedia was blocked in Pakistan on Saturday after authorities censored the online encyclopedia for hosting "blasphemous content."
On Wednesday said the website had until late Friday to heed the warning, without elaborating on the content in question.
The move was announced on Saturday after the free online encyclopaedia was given a 48-hour deadline to remove some material.
The Pakistan Telecommunication Authority (PTA) said Wikipedia failed to comply with its ultimatum.
Social media giants Facebook and YouTube have also been blocked in the past by the Pakistan Telecommunication Authority over content deemed blasphemous, a highly sensitive issue in Muslim-majority Pakistan.
PTA spokesperson Malahat Obaid said Wikipedia failed to respond to "repeated correspondence" over the removal of "blasphemous content".
"They did remove some of the material but not all," he added, confirming that the website would remain blocked until "all the objectionable material" was removed.
Details of the material in question have not been revealed.
Internet censorship in Pakistan
Blasphemy is a sensitive issue in Muslim-majority Pakistan, and social media giants have previously been banned for posting content deemed sacrilegious.
The Wikimedia Foundation said if the ban continued it would "deprive everyone access to Pakistan's knowledge, history, and culture".
Wikipedia has been blocked in Pakistan.

Today, Pakistan's Telecommunications Authority blocked @Wikipedia and other Wikimedia projects in the country.

Follow the thread for more information 🧵⬇️ (1/4)https://t.co/8xM73if9B2

— Wikimedia Foundation (@Wikimedia) February 4, 2023
Wikipedia description of Censorship as the suppression of speech, public communication, or other information. This may be done on the basis that such material is considered objectionable, harmful, sensitive, or "inconvenient". Censorship can be conducted by governments, private institutions and other controlling bodies.
Censorship by religion is a form of censorship where freedom of expression is controlled or limited using religious authority or on the basis of the teachings of the religion. This form of censorship has a long history and is practised in many societies and by many religions. Examples include the Galileo affair, Edict of Compiègne, the Index Librorum Prohibitorum (list of prohibited books) and the condemnation of Salman Rushdie's novel The Satanic Verses by Iranian leader Ayatollah Ruhollah Khomeini. Images of the Islamic figure Muhammad are also regularly censored. In some secular countries, this is sometimes done to prevent hurting religious sentiments.
Attack on freedom of speech
The Wikimedia Foundation, the non-profit fund managing Wikipedia, said the block "denies the fifth most populous nation in the world access to the largest free knowledge repository."
"If it continues, it will also deprive everyone access to Pakistan's knowledge, history, and culture," a statement said.
The regulator's decision triggered an outcry, and free speech campaigners have highlighted a pattern of rising government censorship of Pakistan's printed and electronic media.
"There's just been a concerted effort to exert greater control over content on the internet," digital rights activist Usama Khilji said.
Free speech campaigners have raised concerns over the move, saying there seemed to be "a concerted effort to exert greater control over content on the internet".
"The main purpose is to silence any dissent," said digital rights activist Usama Khilji.
"A lot of times blasphemy is weaponised for that purpose," he added.
In 2010 Pakistan blocked YouTube because of its "growing sacrilegious content.
Facebook was blocked in 2010 following a row over an internet campaign inviting people to draw images of the Prophet Muhammad.
Dating apps including Tinder and Grindr were also previously banned for disseminating "immoral content".
Support Labour Heartlands
PLEASE HELP US KEEP GOING AD-FREE
HELP US GROW.
This is a "Pay as You Feel" website.
This blog has no source of state, corporate or institutional finance whatsoever. It runs entirely on voluntary subscriptions from its readers – many of whom do not necessarily agree with every article, but welcome the alternative voice, insider information and debate.
You can have access to all of our online work for free. However if you want to support what we do, you could make a small donation to help us keep writing and staying ad-free. The choice is entirely yours.