'I am responsible… BUT…': Flustered Boris desperately blames voters and the media for focusing on sleaze and Partygate rather than Omicron as he faces Tory threats to oust him after losing 23,000 majority in by-election 'earthquake'
Flustered Boris Johnson desperately complained that voters and the media have been focusing on sleaze and 'Partygate' rather than Omicron as he faces Tory meltdown over the staggering by-election defeat.
The PM admitted he is 'responsible for everything the government does' as he was asked during a bad-tempered interview whether he was personally to blame for the 'earthquake' result in North Shropshire overnight, where a 23,000 Conservative majority was wiped out.
He conceded that the public is 'frustrated' and he had to 'accept the verdict' of voters who flocked to the Lib Dems.
But Boris Johnson went on to moan about the coverage of stories about sleaze and alleged lockdown breaches in Downing Street, suggesting people were not hearing what he had to say on their own 'priorities'.
'If I may say respectfully, Omicron is a very serious threat to us now,' Mr Johnson said as he was repeatedly pressed on how he was going to turn things around.
I'm focused on vaccination effort, says PM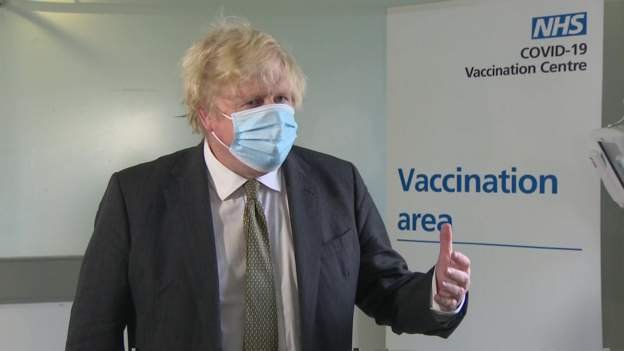 Asked whether he should resign if it would help the Conservative Party, the prime minister replies: "what we're focusing on is getting the job done."
He says he is "focused on" speeding up the government's vaccination programme.
"I think that is what people would want me to be focused on right now," he adds.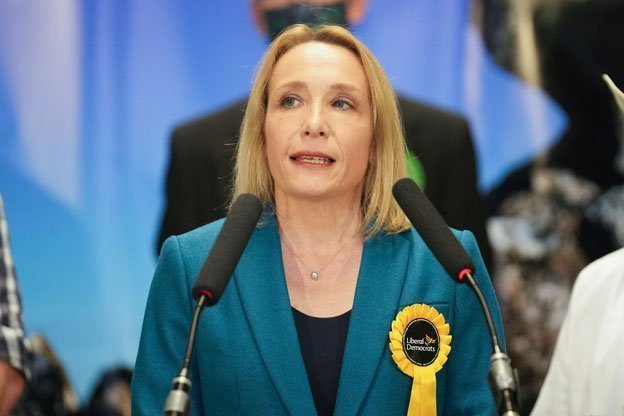 In her winning speech Ms Morgan, who has a majority of 5,925, accused Mr Johnson of being 'unfit to lead', adding: 'Tonight, the people of North Shropshire have spoken on behalf of the British people.
'They have said loudly and clearly: "Boris Johnson, the party is over".
'Your government, run on lies and bluster, will be held accountable. It will be scrutinised, it will be challenged and it can and will be defeated.'
One more strike and he's out.
The astonishing result immediately fuelled a seething uprising against Boris Johnson, who suffered one of the biggest Commons rebellions ever over Covid measures this week, and has been battling allegations of sleaze and lockdown-busting parties in Downing Street.
The North Shropshire outcome hits at the heart of Mr Johnson's sole selling point for many MPs – that he is an election winner.
A veteran Tory today declared it is "last orders time" for Boris Johnson and "one more strike and he's out."
Sir Roger Gale, 78, even threatened a leadership challenge against the Prime Minister in the wake of the disastrous North Shropshire by-election.
Helped by tactical Labour voters and an incessant campaign on Tory sleaze, the Lib Dems overturned a 22,949 majority and won the seat on a 34% swing.
The ultra-safe seat had only ever voted Tory – but became a focus of sleaze after MP Owen Paterson broke Parliament's lobbying rules and the PM tried to save him.
Ladbrokes put Boris Johnson odds-on – 4/5 – to be out of Downing Street by the end of 2022.
North Thanet MP since 1983 Sir Roger told BBC Radio 4's Today programme: "The electorate wanted to send a very clear message to Downing Street that they were dissatisfied with the management of this government.
"I think this has to be seen as a referendum on the Prime Minister's performance.
"One more strike and he's out," said Sir Roger Gale
"And I think the Prime Minister is now in last orders time.
"Two strikes, already, one earlier this week in the vote in the Commons, now this.
"One more strike and he's out."
Asked if there could genuinely be a change of leader in short order, Sir Roger – who was suspended from Parliament for trying to "improperly influence" two top judges – replied: "The Conservative Party has a reputation for not taking prisoners. If the Prime Minister fails the Prime Minister goes.
"We got rid of a good Prime Minister to install Mr Johnson.
"Mr Johnson has to prove he's capable of being a good Prime Minister, and at the moment it's quite clear the public don't think that's the case."
Geoffrey Clifton-Brown, Treasurer of the 1922 Committee of Tory backbenchers, said: "The voters of North Shropshire are giving us a severe message and we must heed that message with humility."
He told Times Radio Boris Johnson has "got to go away for Christmas, come back in the new year, start to deal with all these issues – own goals, wallpaper, whatever."
But Sir Geoffrey said he was "absolutely not at the moment" submitting a letter of no confidence in the PM.
Tory MP Charles Walker – who has been a vehement critic of the government's Covid measures – said "the Prime Minister has got weeks, months, a year to sort himself out." But he disagreed with Sir Roger.
He said it's been "a really bad morning" but "it doesn't mean the end and it certainly doesn't mean leadership challenges.
"The Conservative Party is not going to have a leadership challenge as we're heading into potential further restrictions around Covid… that would be completely self-indulgent."
It would take 54 letters to the backbench 1922 Committee to spark a leadership election.
Another Tory who has privately been a furious critic of Boris Johnson also told the Mirror a leadership challenge was still unlikely.
"It's certainly not an ideal Christmas present for the Conservative Party," they said. "Clearly the noises off and the whiff of 'do as I say, not as I do' has had an effect – the electorate don't like hypocrisy."
But they added: "Perhaps this is a signal now that normal politics has resumed. It's unusual for a government in mid-term to win or hold by-elections."
The Lib Dems certantly raked in the disatified Tory vote but with Labour denying there was any deal with the Lib Dems on the By-election the result should also be a little worrying to Labour who also polled -12.4 percent falling to third place.
Results like this should serve as a wake-up call for Starmer and his team Labour won't win an election and change people's lives without radical and transformative policies like a Green New Deal with expanded public ownership, putting people and planet before profit.
North Shropshire, parliamentary by-election result:

LDEM: 47.2% (+37.2)
CON: 31.6% (-31.1)
LAB: 9.7% (-12.4)
GRN: 4.6% (+1.4)
REFUK: 3.8% (+3.8)

LDem GAIN from Con.

— Britain Elects (@BritainElects) December 17, 2021
North Shropshire Parliamentary Election results.
2015
Conservatives: 27,051
Labour: 10,547
Lib Dems: 3,148
2017
Conservatives: 32,642
Labour: 17,287
Lib Dems: 2,048
2019
Conservatives: 35,444
Labour: 12,495
Libs Dems: 5,643
2021
Lib Dems: 17,987
Conservatives: 12,032
Labour: 3,686
The Lib Dem victory in North Shropshire underlines the message in the polls that the Conservatives are suffering in the wake of "party gate", says election expert Sir John Curtice.
Just one other by-election since 1945 has seen a bigger swing against the Conservative party – but the other remarkable thing about this is that the Lib Dems have won a seat that was not natural territory for the party, he says.
North Shropshire, Curtice says, "had a 60% Leave vote" and that all parties have learned that "for the first time since 2010, the Liberal Democrats are once again the party of by-election protest even for Conservative voters".
"This is not just a bit of normal by-election protest, this is a very substantial by-election protest," he says.
Labour Heartlands suggest the country will no longer tolarate a fool in office neither will we tolerate a goverment that treats its people like fools.
Support Labour Heartlands
PLEASE HELP US KEEP GOING AD-FREE
HELP US GROW.
This is a "Pay as You Feel" website.
This blog has no source of state, corporate or institutional finance whatsoever. It runs entirely on voluntary subscriptions from its readers – many of whom do not necessarily agree with every article, but welcome the alternative voice, insider information and debate.
You can have access to all of our online work for free. However if you want to support what we do, you could make a small donation to help us keep writing and staying ad-free. The choice is entirely yours.