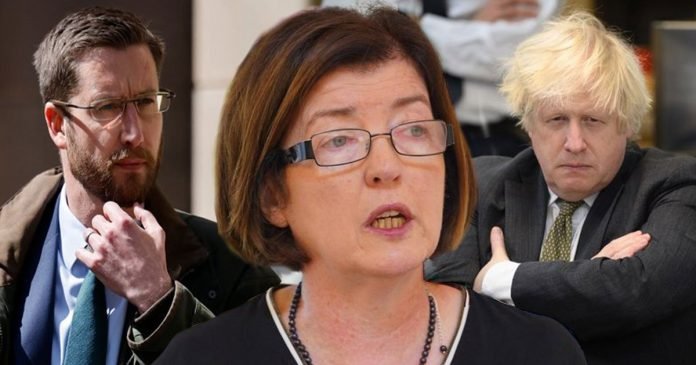 Top civil servant Simon Case quits No 10 party probe amid rule breach claims
Boris Johnson has sacked the chair of the Number 10 parties probe after it emerged his department held a rule-breaking gathering last year.
Simon Case had been due to report on claims Covid rules were broken at events for staff last year.
But his role was put into doubt after reports a party was held in his office while London was under Covid rules.
The revelation plunged the Boris Johnson's administration into further chaos, as he scrambles to hold on to his job.
Just two weeks ago, Cabinet Secretary Simon Case was tasked with "establishing the facts" surrounding gatherings held at Number 10 and across Whitehall in December last year, while London was under Covid-19 restrictions.
But it emerged tonight that he and his team sent out digital invitations to a "Christmas Party" in a room in the Cabinet Office on December 17 last year – the day before the alleged Number 10 party he was charged with investigating.
A Cabinet Office source confirmed the Cabinet Secretary's private office held a 'virtual quiz' on December 17, starting at 5.30pm and lasting an hour.
About 15 people were invited to the gathering at 70 Whitehall, near Downing Street, although it is understood not everyone turned up.
Responding to the claims, a government spokesperson said: "Staff in the cabinet secretary's private office took part in a virtual quiz on 17 December 2020.
"A small number of them, who had been working in the office throughout the pandemic and on duty that day, took part from their desks, while the rest of the team were virtual.
"The cabinet secretary played no part in the event, but walked through the team's office on the way to his own office.
"No outside guests or other staff were invited or present. This lasted for an hour and drinks and snacks were bought by those attending. He also spoke briefly to staff in the office before leaving."
Mr Case did not take part in the event, the source said, but it's understood he walked through the private office while it was taking place, so would have been aware it was happening.
Alcohol and snacks were enjoyed by those present, which were provided by staff themselves.
Mr Case spoke to staff briefly at the end of the event, and then left, in laymans terms all but for an addressed invite, he attended.
No 10 said the probe would be concluded by senior civil servant Sue Gray.
Number 10 last night confirmed Mr Case had "recused himself" from the remainder of the probe to be replaced by Sue Gray, an official at Michael Gove's Department for Levelling Up, Housing and Communities.
It is believed Ms Grey was not invited to or attended any of the Tory chrismas parties.
Ms Gray is the second permanent secretary at the Department for Levelling Up, Housing and Communities.
A spokesperson for No 10 said: "To ensure the ongoing investigation retains public confidence the cabinet secretary [Simon Case] has recused himself for the remainder of the process".
They said Ms Gray would "ascertain the facts and present her findings to the prime minister".
Having served as head of the ethics team in the Cabinet Office, she has experience of investigating ministers, officials and advisers.
In 2012, her inquiry into "plebgate" led to the resignation of then-chief whip Andrew Mitchell. Mr Mitchell admitted using bad language towards a Downing Street police officer, but denied calling him a "pleb".
And in 2017, one of her investigations forced Damian Green to step down as a minister after he was found to have made "inaccurate" statements over what he knew about claims pornography was found on his office computer in 2008.
Last year she applied to become head of the Northern Ireland Civil Service, but was rejected – something she attributed to being "too much of a challenger".
A Number 10 spokesperson said: "She will ascertain the facts and present her findings to the Prime Minister."
Support Labour Heartlands
PLEASE HELP US KEEP GOING AD-FREE
HELP US GROW.
This is a "Pay as You Feel" website.
This blog has no source of state, corporate or institutional finance whatsoever. It runs entirely on voluntary subscriptions from its readers – many of whom do not necessarily agree with every article, but welcome the alternative voice, insider information and debate.
You can have access to all of our online work for free. However if you want to support what we do, you could make a small donation to help us keep writing and staying ad-free. The choice is entirely yours.