Germany's Ethics Council on Wednesday said it was in favour of mandatory vaccinations for all adults over the age of 18.
German Lawmakers have extended plans for mandatory vaccinations from health care workers to the general adult population. A narrow majority of experts on Germany's leading ethical body has said it should be expanded mandatory vaccinations to all adults, under certain conditions.
A majority of 13 out of the 24 members, were in favour of the expansion of the mandate to all vaccine-eligible adults living in Germany. An even larger majority of 20 members, were in favour of the widening of an already existing mandate — in areas where particularly vulnerable people are being cared for — to all vulnerable individuals.
However, the body said it rejected the use of physical force.
It justified its decision by emphasizing that high vaccination rates are crucial to moving to a controlled endemic situation with the COVID-19 virus and that the situation seemed particularly pressing at present.
"Currently, the German health care system is reaching its limits in many places. Viral variants such as omicron and expected further variants of the virus are forcing experts to constantly reassess their estimates of the future course of the pandemic."
'Not a panacea for the pandemic'
However, the body said the widening of vaccine mandates was only a part of both curbing the pandemic in the short term and, in the long run, ending it.
"Its extension can therefore only be justified if it is able to mitigate or prevent serious negative consequences of possible future pandemic waves, such as high mortality, long-term adverse health effects on significant parts of the population, or an imminent collapse of the health care system," the group said.
"Mandatory vaccination cannot break the current fourth wave in the short term. Similarly, mandatory vaccination cannot be a panacea for the pandemic; it can only be considered as part of a comprehensive, evidence-based, differentiated and forward-looking overall pandemic strategy."
The Ethics Council said the expansion of mandatory vaccination must be flanked by a range of measures that would also improve vaccine takeup.
These include boosting the infrastructure nationwide to deliver shots, providing easily accessible vaccination services and ensuring sufficient vaccine supplies.
The body said there should be direct invitations to those obliged to be vaccinated, as well as a data-secure national vaccination register, and recommended continuous evaluation and accompanying research. 
The body also said mandatory vaccination must be combined with target-group-specific, culturally sensitive, multilingual and easy-to-understand information, including via social media.
It added that there should be efforts to bridge social divides between those who had received the jab and those who had not.
"In implementing compulsory vaccination, political actors and state authorities should consciously work to avoid division between vaccinated and non-vaccinated people."
What is the German Ethics Council?
The Ethics Council comprises 26 experts from various fields. That includes Protestant and Catholic theologians, members of the Central Council of Jews in Germany, doctors, biologists and lawyers.
Its members are appointed by the German president to advise policymakers and create public awareness of complex and controversial issues.
The council's proposals are not binding.
rc/rt (AFP, Reuters, dpa)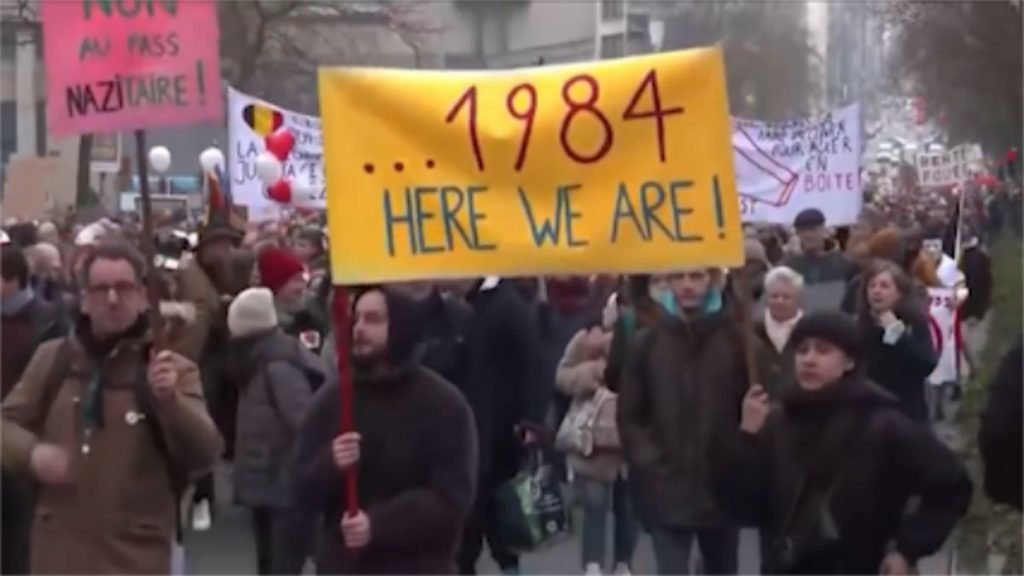 With the mass protest around Europe many resulting in violence this will be seen as tinder to a very flammable situation.
A study shows that vaccine hesitancy is stronger in Western Europe where populist parties, both left and right, receive more votes (Kennedy study 2017). These common characteristics of the far-right and far-left politics are clearly reflected during the pandemic. Anti-vaccination as a conspiracy theory is a common feature of right-wing while now due to new stricter rules left-wing activists are protesting over the attack on our liberties.
Given that same information available from the government, the methods of infection increase indoors with mass gatherings, therefore no amount of Covid Passports will make people immune from contracting the virus, under such circumstances, Covid will only increase, mass gatherings of any sort are going to result in infections.
One thing that is clear to those that guard our liberties, the Covid passports by design or stealth, brings us one step closer to Tony Blairs National ID scheme another boot stamping on our liberties here in the UK, of course for that we can thank Starmer for backing the Tories, yet again.
Other Left-wing MPs had the foresight to see that door opening and what it might entail. Jeremy Corbyn voted against both compulsory vaccines for NHS staff and the introduction of vaccine passports. Tweeting: "Tonight I will oppose both compulsory vaccines for NHS staff, and the introduction of vaccine passports. Both measures are counterproductive and will create division when we need cooperation and unity."
WHAT ARE MANDATORY VACCINATIONS, CAN THIS HAPPEN IN THE UK?
A mandatory vaccination scheme is where you are required by law to get vaccinated and face punishment if you do not do so.
This is different from employers requiring their staff to be vaccinated sometimes called 'no jab, no job'.
In England, the Public Health (Control of Disease) Act 1984 specifically prevents Ministers from creating new rules which would make vaccines mandatory. This means that any mandatory vaccination scheme would require Parliament to pass a new law. Ministers can't just change existing regulations or introduce them using 'statutory instruments' (changes to the law which do not go through Parliament). Read more at Liberty human rights.
As the UK Covid-19 vaccine roll out has gathered pace, and the use of "vaccine passports" continue to be debated, an increasing number of social media users are voicing their opposition to these moves and claiming they are an infringement of their rights under the Nuremberg Code.
The Nuremberg Code is a set of ethical research principles, developed in the wake of Nazi atrocities—specifically the inhumane and often fatal experimentation on human subjects without consent—during World War Two. 
What is the Nuremberg Code?
The Nuremberg Code was a direct response to atrocities Nazi doctors performed in concentration camps during WWII. They perpetrated this so-called medical experimentation on people with no capacity to consent, and this frequently led to lifelong disability, or death.
The doctors who performed these experiments were tried in Nuremberg in 1947.
The doctors' defence argued their experiments were not significantly different to other research practices. So two American doctors working for the prosecution produced a document that aimed to draw together what made for ethical research.
This document identified three ethical, legal, and scientific requirements for conducting human experiments, which were later expanded to ten. This ten-point document became known as the Nuremberg Code.
It details the process of seeking legally valid voluntary consent, covers the need to establish the humanitarian nature and purpose of the experiment, as well as ensuring the scientific integrity and obligations of the investigator to the subjects' welfare.
However, the Nuremberg Code is no longer used to guide research ethics. The World Medical Association's Declaration of Helsinki replaced it in 1964. And there's been more ethical guidance since.
It is important to note that the Nuremberg Code is not the only set of ethical guidelines for human experimentation. For example, social media users could have drawn on the more recent Declaration of Helsinki (adopted in 1964, last updated 2013), UNESCO's Universal Declaration on Bioethics and Human Rights (2005) or the International Ethical Guidelines for Health-Related Research Involving Humans (fourth version published 2016) to make similar (albeit also incorrect) claims. 
But what is specific to the Nuremberg Code is the direct association with the atrocities committed by the Nazis during World War Two, and the emotional response this triggers. Although the social media posts don't explicitly say it, by evoking the Nuremberg Code to talk about the Covid-19 pandemic, they link the horrors of concentration camps to the current vaccine roll out.
Information is power, understanding what can and can not be done to you and your body is important.
What is needed to combat covid is good reliable information that creates public buy-in not public forced in.
Support Labour Heartlands
Help Us Sustain Ad-Free Journalism
Welcome to the Heartlands of Independent Journalism
At Labour Heartlands, we are committed to delivering independent news, views, and opinions. Our mission is to hold those in power accountable, and we can't do it without your support. As a non-profit independent organisation, we rely on our donors to keep our journalism ad-free and impactful.
Like everyone else, we're facing challenges, and we need your help to stay online and continue providing crucial journalism. Every contribution, no matter how small, goes a long way in helping us thrive. By becoming one of our donors, you become a vital part of our mission to uncover the truth and uphold the values of democracy.
While we maintain our independence from political affiliations, we stand united against corruption, injustice, and the erosion of free speech, truth and democracy. We believe in the power of accurate information in a democracy, and we consider facts non-negotiable.
Your support, no matter the amount, can make a significant impact. Together, we can make a difference and continue our journey toward a more informed and just society.
Thank you for supporting Labour Heartlands
Just click the donate button below