The Metropolitan Police have launched an investigation into parties held in No 10 during the coronavirus pandemic.
Commissioner Cressida Dick said they were looking into "potential breaches of Covid-19 regulations" in Downing Street and Whitehall since 2020.
Boris Johnson told the Commons he welcomed the investigation as it would "give the public the clarity it needs" over the allegations.
His spokesman also said the PM did not believe he had broken the law.
Dame Cressida said the investigation was launched after the Cabinet Office inquiry team, led by civil servant Sue Gray, passed information to the force.
Ms Gray's report into lockdown parties across government had been expected to be published this week.
But the PM's spokesman confirmed parts of that inquiry would now not be published until after the police investigation is completed, though other parts could still be made public.
Dame Cressida would not say which parties were being investigated by the force, and while breaches of regulations can result in fixed penalty notices, the police inquiry did not mean they would be issued "in every instance and to every person involved".
Labour's deputy leader Angela Rayner renewed calls for Mr Johnson to resign in light of the inquiry, calling him a "national distraction".
Asking an urgent question in the Commons, she said "potential criminality has been found in Downing Street", and that the need for a police investigation into No 10 parties was "a truly damning reflection on our nation's very highest office".
But Paymaster General Michael Ellis called for MPs to "let the investigation run its course and not pre-empt its conclusions".
Mr Johnson – who was in the Commons to deliver a statement on the situation in Ukraine – said: "I welcome the Met's decision to conduct its own investigation because I believe this will help to give the public the clarity it needs and help to draw a line under matters.
"But I want to reassure the House and the whole country that I and the government are focused 100% on dealing with the people's priorities, including the UK's leading role in protecting freedom around the world."
The news comes after fresh allegations of a birthday party being held for the prime minister in June 2020.
Downing Street has admitted that staff gathered inside No 10 to celebrate Mr Johnson's birthday when the first Covid lockdown was still in place.
But ministers have disputed the number of people attending, and called for "patience" while Ms Gray's inquiry is carried out to establish the facts.
Downing Street has said discussions are ongoing about which parts of the Sue Gray report into lockdown parties can be published.
This morning, No 10 said any part of the investigation now being probed by police could not be published until the Met's investigation was completed.
But now Downing Street says there are talks about "what is suitable to publish".
The PM's official spokesman said No 10 was not seeking to block publication, adding: "We would want it to be published as soon as possible."
It's all getting bit like Labour's Forde report, people are asking if any truth will see ever see the light of day.
Has the Sue Gray inquiry been delayed on the say so of the Met – or the government? When would Sue Gray report?
The public is rightly asking in what should be one of the UK's most secure areas with CCTV in every knock and cranny, has Matt Hancock can attest, how long and how deep does an investigation need to go, or rather how much cajoling and coercion is needed to distance high ranking Tories including Boris Johnson from the actual parties.
Ian Watson a BBC political analyst says: Some of the Tory rebels have reached their own verdict, quilty or not and are hopeful that the mere prospect of Johnson's activities being subject to a police investigation will encourage others to join them in submitting letters of no confidence sooner rather than later.
One of them said MPs should see this as a political problem, not a police problem.
But I have spoken to a few MPs who were poised to send their letters and emails when the Sue Gray inquiry reported. And they are now willing to wait for the Met.
That buys time for the PM. One of his colleagues said Mr Johnson would be hoping people would get bored of the issue – especially in the face of potential conflict in Eastern Europe.
But another Tory rebel could not see how police involvement could be spun as somehow a good thing for Mr Johnson.
He said the situation was "untenable", and urged his colleagues to "grow some" and eject Mr Johnson from office.
But so far the horse's hair that holds the sword of Damocles above the prime minister's head remains unsevered.
Tony Blair was questioned in No 10 by officers in 2006, as a witness not a suspect, during the 'cash for honours' inquiry – which did not immediately end his premiership.
'Deep concern'
Dame Cressida said on Tuesday that she understood the "deep public concern" about the allegations of parties inside No 10, along with the "huge sacrifices" the public had made during the pandemic.
And she said it would "not normally be a proportionate use of time" for the force to investigate rule breaches as far back as two years, but police would look at allegations that "appeared to be the most serious and flagrant breach" of regulations.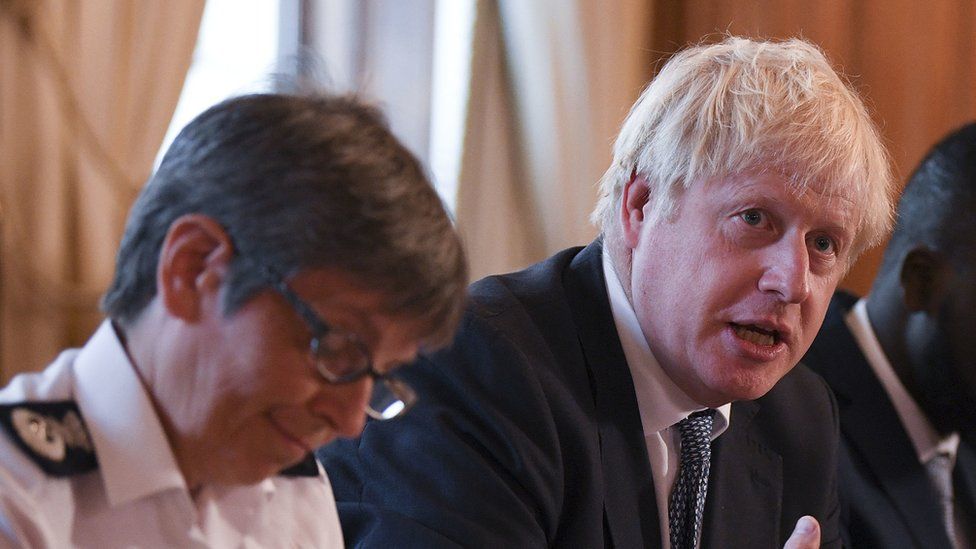 She outlined the guidelines on when allegations of past breaches would be investigated, saying the factors the police considered were: Whether there was evidence that those involved "knew, or ought to have known that what they were doing was an offence", where not investigating "would significantly undermine the legitimacy of the law", and "where there was little ambiguity around the absence of any reasonable defence".
Dame Cressida said while the force would not give "a running commentary" on the case, they would provide updates at "significant points".
The Met later confirmed the probe would be led by its Special Enquiry Team, overseen by Deputy Assistant Commissioner Jane Connors, the force's lead officer for Covid.
Liberal Democrat leader Sir Ed Davey told the BBC the government was in "meltdown", adding: "We got here because the prime minister can't tell the truth, he's lied continually, he's been dishonest to Parliament and to the British people.
"He has to go, he should resign."
But Leader of the Commons Jacob Rees-Mogg told reporters the PM's leadership had been "brilliant", and the government had done "an amazing job" throughout the pandemic.
And Tory MP Sir Edward Leigh told MPs: "When Europe stands on the brink of war and there is a cost of living crisis, can we please have a sense of proportion over the prime minister being given a piece of cake in his own office by his own staff?"
Analysis based on reports by Ian Watson BBC
Support Labour Heartlands
Help Us Sustain Ad-Free Journalism
Welcome to the Heartlands of Independent Journalism
At Labour Heartlands, we are committed to delivering independent news, views, and opinions. Our mission is to hold those in power accountable, and we can't do it without your support. As a non-profit independent organisation, we rely on our donors to keep our journalism ad-free and impactful.
Like everyone else, we're facing challenges, and we need your help to stay online and continue providing crucial journalism. Every contribution, no matter how small, goes a long way in helping us thrive. By becoming one of our donors, you become a vital part of our mission to uncover the truth and uphold the values of democracy.
While we maintain our independence from political affiliations, we stand united against corruption, injustice, and the erosion of free speech, truth and democracy. We believe in the power of accurate information in a democracy, and we consider facts non-negotiable.
Your support, no matter the amount, can make a significant impact. Together, we can make a difference and continue our journey toward a more informed and just society.
Thank you for supporting Labour Heartlands
Just click the donate button below