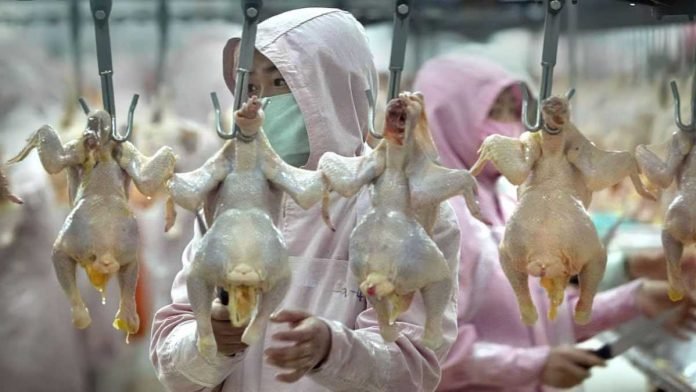 The UK branch of People for the Ethical Treatment of Animals (PETA UK) reported that scientists believe contact with live animals or the flesh of slaughtered animals may be the source of the Covid-19 pandemic.
The virus is similar to other coronaviruses, like severe acute respiratory syndrome (SARS) and Middle East respiratory syndrome (MERS) and all three are spread from animals to humans.
These coronaviruses are 'zoonotic diseases', meaning they jump from animals to humans. In fact, research suggests that most emerging infectious diseases originate in animals.
Filthy factory farms, abattoirs, and meat markets threaten the health of every human being on the planet by providing a breeding ground for deadly diseases.
The Covid-19 pandemic seems to have originated in a market in Wuhan, China, where humans had direct contact with live animals and animal flesh.
The Wildlife Conservation Society said poorly regulated, live-animal markets, mixed with illegal wildlife trade offer a unique opportunity for viruses to spill over from wildlife hosts into the human population. In response to Covid-19 crisis, China banned the buying, selling, and eating of wildlife.
These so-called wet markets mean that people come into contact with live and dead animals, including dogs, chickens, pigs, snakes and civets. That makes it easy for 'zoonotic diseases' to jump from animals to humans.
Covid-19 and the SARS outbreak of 2003 are from the coronavirus family and both originated in the live-animal and illegal wildlife trade. In the case Covid-19 and previously SARS, bats were the original hosts. It seems the bats then infected other animals, which in turn transmitted the disease to humans.
The exponential increase in the abuse and exploitation of animals over the last 70 years has reached gargantuan proportions. The evidence shows that while factory farming might generate huge profits for the capitalist class and provide access to cheap animal produce, the health implications are dire. Bringing animals together in unnatural situations like those on factory farms and wet markets has resulted in deadly human diseases emerging.
Banning meat consumption might not be publicly acceptable at the moment, but it is causing a huge public health crisis. There is a case for labelling animal produce to warn the public that it can damage their health, just as we do with cigarettes.
Unless we do something about this public health threat, the filthy farms crammed full of sick animals will continue to be breeding grounds for new, antibiotic-resistant "superbugs". Some studies claim that by 2050, more people will be dying of such diseases than of cancer.
The United Nations found that the majority of new human diseases originated in animals and that many of those were directly linked to animals used for food.
PETA UK reminds us that, in addition to carrying a high risk of contamination from pathogens – including E coli, campylobacter, and salmonella – meat contains no fibre and is packed with artery-clogging saturated fat and cholesterol.
Furthermore, the World Health Organisation states that consuming processed meat causes cancer.
In addition to the health implications, the livestock industry is also destroying the planet by contributing to climate change, contaminating groundwater and polluting our rivers.
Going vegan reduces the risk of heart disease, obesity, cancer, strokes, hypertension, type 2 diabetes, and numerous other conditions.
It also spares almost 200 animals daily misery followed by a terrifying death.
What other lifestyle choices improve public health, reduce cruelty and help to save the planet? As Martin Luther King Jr once said, "it's always the right time to do the right thing", and the right thing to do today is to go vegan.
FACTORY FARMING IS EVERYWHERE
Around two in every three farm animals are factory farmed (that's over 50 billion every year!). These intensive systems put production above all else, creating vast quantities of seemingly cheap meat, milk and eggs.
But factory farming comes at a cost. Treated as commodities, animals are often raised in intense confinement. Factory farming is highly dependent on large quantities of precious resources, such as grain-based feed, water, energy and medication.
THERE IS A BETTER WAY
Tackling one of the greatest sustainability concerns of our time is a daunting challenge. But it is also a unique opportunity to resolve some of the world's most pressing economic, environmental and ethical challenges. We need a common sense approach to feeding the world. One that ends the competition for food between people and farm animals. We need a food and farming revolution; one that provides healthy, affordable food for all, produced from farming systems that are
Safer, promoting our welfare and that of farm animals
Fairer, supporting rural livelihoods and relieving poverty
Greener, protecting the planet and its precious natural resources
Compassion in World Farming is fighting to end factory farming. It is a global movement to expose the truth about the food we eat, and fight for better food and farming. Compassion will continue to prevent suffering and make huge improvements to farming standards. However we believe that the animal welfare movement is less likely to win the arguments against factory farming on its own. It needs to build a groundswell of people and organisations to join the fight. Supported by people who recognise the danger that factory farming poses, ending this unhealthy practice of factory farming.
Article by Chris Williamson
Support Labour Heartlands
Help Us Sustain Ad-Free Journalism
Sorry, I Need To Put Out the Begging Bowl
Independent Journalism Needs You
Our unwavering dedication is to provide you with unbiased news, diverse perspectives, and insightful opinions. We're on a mission to ensure that those in positions of power are held accountable for their actions, but we can't do it alone. Labour Heartlands is primarily funded by me, Paul Knaggs, and by the generous contributions of readers like you. Your donations keep us going and help us uphold the principles of independent journalism. Join us in our quest for truth, transparency, and accountability – donate today and be a part of our mission!
Like everyone else, we're facing challenges, and we need your help to stay online and continue providing crucial journalism. Every contribution, no matter how small, goes a long way in helping us thrive. By becoming one of our donors, you become a vital part of our mission to uncover the truth and uphold the values of democracy.
While we maintain our independence from political affiliations, we stand united against corruption, injustice, and the erosion of free speech, truth and democracy. We believe in the power of accurate information in a democracy, and we consider facts non-negotiable.
Your support, no matter the amount, can make a significant impact. Together, we can make a difference and continue our journey toward a more informed and just society.
Thank you for supporting Labour Heartlands
Just click the donate button below