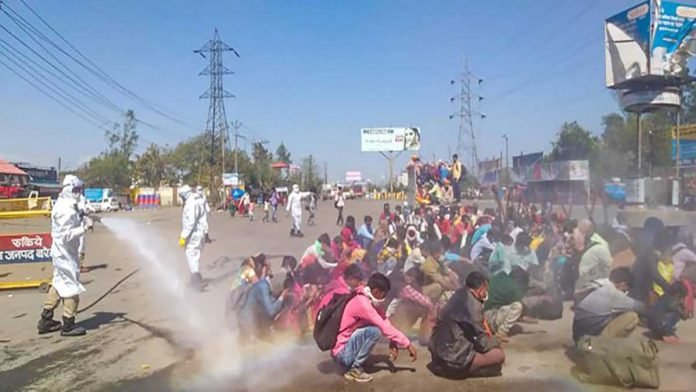 Outrage as health workers spray migrant workers with disinfectant, amid fears their exodus is spreading the virus.
Indian health workers caused outrage on Monday by spraying a group of migrants with disinfectant, amid fears that a large scale movement of people from cities to the countryside risked spreading the coronavirus.
Footage showed a group of migrant workers sitting on a street in Bareilly, a district in the northern state of Uttar Pradesh, as health officials in protective suits used hose pipes to douse them in disinfectant, prompting anger on social media.
Nitish Kumar, the top government official in the district, said health workers had been ordered to disinfect buses being used by the local authorities but in their zeal had also turned their hoses on migrant workers.
"I have asked for action to be taken against those responsible for this," he said in a tweet.
Who r u trying to kill, Corona or humans? Migrant labourers and their families were forced to take bath in chemical solution upon their entry in Bareilly. @Uppolice@bareillytraffic @Benarasiyaa @shaileshNBT pic.twitter.com/JVGSvGqONm

— Kanwardeep singh (@KanwardeepsTOI) March 30, 2020
As many as 5,000 people have been "publicly sprayed" when they arrived before they were allowed to disperse.
"We sprayed them here as part of the disinfection drive, we don't want them to be carriers for the virus and it could be hanging on their clothes, now all borders have been sealed so this won't happen again," he said.
He said the disinfectant used was a solution made from bleaching powder, and was not harmful to the human body.While chemical disinfectants work on surfaces, they can be dangerous to people. And according to the World Health Organization (WHO), putting disinfectant on your skin will not kill it if the virus is already in your body.
Workers of the world unite in their condemnation
VIDEO- Migrant workers who have walked hundreds of kilometers to reach Bihar 'quarantined' in this manner.

Listen in. #SocialDistancing #Coronavirusindia pic.twitter.com/op2nYtheET

— Zeba Warsi (@Zebaism) March 30, 2020
Turned away, locked up
Meanwhile, many workers left jobless by the crippling 21-day lockdown are being turned away by fellow villagers seeking to stem the outbreak, while others have been forced into a lockdown against their will.
Local media on Sunday reported 22 migrant workers' deaths, including in road accidents, but this could not be officially confirmed.
The exodus has raised worries that those returning may spread coronavirus into rural areas, particularly with authorities resorting to cramming people onto buses and into relief camps and homeless shelters.
India imposed a nationwide lockdown on March 25, with thousands of labourers subsequently fleeing cities for their home villages after work – and public transport – vanished.
India has registered more than a thousand cases of the new coronavirus, of whom 29 have died, the Health Ministry said on Monday. Health officials say India is weeks away from a surge in cases that could overwhelm its weak public health system.
#covid19uk #Coronavirus #COVID-19 #SocialDistancing
Support Labour Heartlands
PLEASE HELP US KEEP GOING AD-FREE
HELP US GROW.
This is a "Pay as You Feel" website.
This blog has no source of state, corporate or institutional finance whatsoever. It runs entirely on voluntary subscriptions from its readers – many of whom do not necessarily agree with every article, but welcome the alternative voice, insider information and debate.
You can have access to all of our online work for free. However if you want to support what we do, you could make a small donation to help us keep writing and staying ad-free. The choice is entirely yours.