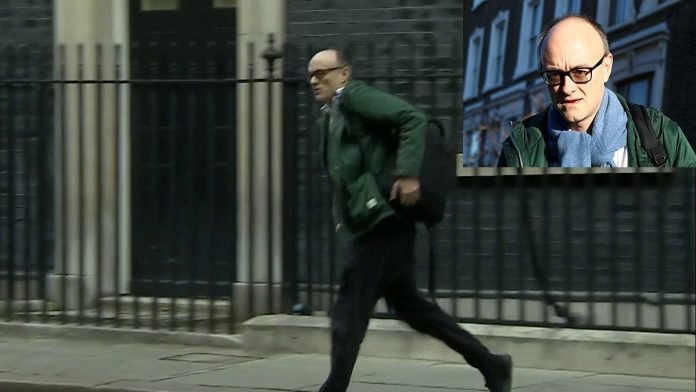 Boris Johnson's chief adviser Dominic Cummings is in self-isolation after showing coronavirus symptoms, No 10 has confirmed.
He started developing symptoms over the weekend and will be staying in contact with the rest of the Downing Street team during his quarantine period.
Boris Johnson's spokesman said on Monday that Mr Cummings had not yet been tested.
On Friday, the prime minister became the first leader of a major world power to test positive for the virus.
A Whitehall source confirmed a report by the Daily Mail's Jason Groves that Cummings was still communicating with No 10.
Three days ago Cummings was seen sprinting out of Number 10's backdoor as it was announced Boris Johnson had tested positive for coronavirus
The No 10 senior adviser looked to be in a hurry as he dashed out of the front door down towards the residence's back gate.
Viewers joked that Mr Cummings was attempting to make a quick getaway after finding out about his boss' diagnosis for fear of getting infected.
Sky's Sam Coates, who was reporting while the footage was aired, added that Mr Cummings 'has been avoiding the tube in recent weeks' as he has become particularly cautious about trying to make sure he doesn't get the virus.
Mr Johnson tested positive for coronavirus Friday evening March 27, after developing a cough and a temperature and was tested by NHS staff in Number 10.
Last week, Downing Street rejected as "a highly defamatory fabrication" a claim that Cummings initially argued against strict measures to contain coronavirus in a view summarised as "if that means some pensioners die, too bad".
The claim, initially made in the Sunday Times, said that at one private event at the end of February, Cummings outlined the government's strategy at the time in a way that was summarised by some present as "herd immunity, protect the economy, and if that means some pensioners die, too bad." A Downing Street spokesman said last week: "This is a highly defamatory fabrication which was not put to No 10 by the Sunday Times before publication. The article also includes a series of apparent quotes from meetings which are invented."
Health minister, Matt Hancock, subsequently tested positive, while the government's chief medical adviser, Chris Whitty, and Scottish Secretary Alister Jack are self-isolating after experiencing symptoms.
#covid19uk #Coronavirus #COVID-19 #SocialDistancing
Support Labour Heartlands
PLEASE HELP US KEEP GOING AD-FREE
HELP US GROW.
This is a "Pay as You Feel" website.
Hey there! Thanks for stopping by. If you've enjoyed reading my blog so far, I would be incredibly grateful if you could consider making a small donation. My blog is entirely independent and does not receive any funding from the state, corporations, or institutions. Instead, it relies solely on the support of readers like you.
Despite the fact that not everyone agrees with every article I publish, I'm proud to provide a unique perspective, insider information, and a platform for debate. However, I simply can't continue to do this without your help.
So, if you're able to spare a few pounds, dollars, or euros, I would be so grateful for your support. Your donations will help me to keep my blog running and entirely free from ads, which means you can enjoy an uninterrupted reading experience.
Once again, thank you for your support – I truly couldn't do this without you!