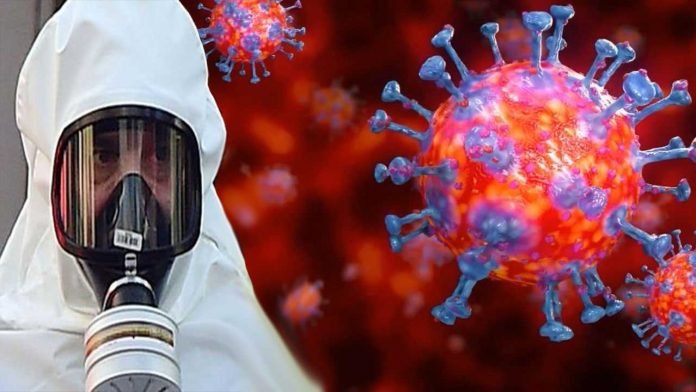 Spain has announced another sombre record in the number of people killed by the coronavirus. Its latest daily bulletin released on Tuesday announced 849 fatalities in the previous 24 hours — bringing a total of 8,189 deaths overall.
Confirming the worst day so far since the start of the outbreak, the authorities said the number of new infections had risen by over 9,000 in a day. The increase is 3,000 more than the previous day.
News from Italy 'encouraging'
On Monday authorities in Italy announced a daily death toll of 812 deaths in 24 hours, bringing the total to 11,500 fatalities
But after nearly three weeks of a lockdown, there were some encouraging signs that the measures could be working in the country.
The increase in new positive cases has never been lower, with an increase of 4%, half as much as four days ago (8.3%) and four times less than two weeks ago.
For the first time since the start of the pandemic in Italy, the number of people currently positive in Lombardy, the region most affected, has decreased (25,006 against 25,392 on Sunday).
Furthermore, the number of people considered healed across the country (1,590) has never been so high in a daily report.
"We can hope to reach the peak in seven or 10 days, then, reasonably, a decline in contagion," Deputy Health Minister Pierpaolo Sileri said on Monday.
Officials said they could be witnessing a flattening of the curve but called for people to continue to respect the measures of the lockdown.
Belgium tragically sees Europe's youngest victim
A 12-year-old Belgian girl has become the youngest known person in Europe to die after contracting coronavirus.
Belgian authorities said the child was by far the youngest among the country's more than 700 victims.
National crisis centre spokesman Emmanuel Andre said it is "an emotionally difficult moment, because it involves a child, and it has also upset the medical and scientific community".
He added: "We are thinking of her family and friends. It is an event that is very rare, but one which upsets us greatly."
It is not yet known if the girl had underlying health conditions.
He said 98 people had died with the infection over the last 24 hours, bringing the total to 705 in a country of around 11.5 million people.
More than 12,705 cases have been confirmed so far in Belgium.
Mr Andre said that Belgian authorities expect the spread of the disease to reach its peak in the next few days.
"We will arrive at a point where we're close to saturation point at our hospitals," he said.
Before the 12-year-old girl's death, the youngest person in Europe to die after contracting the highly contagious respiratory infection was believed to be Vitor Godhino, a 14-year-old boy from Porto in Portugal.
The coronavirus pandemic has infected more than three-quarters of a million people across the world and more than 37,000 deaths have been recorded.
The World Health Organisation warned that while attention has shifted to epicentres in western Europe and North America, COVID-19 epidemics are "far from over" in Asia and the Pacific.
Europe counts more cases
Total UK deaths higher than figures released daily by government, new stats reveal
The UK death toll from coronavirus has been revealed to be higher than previously reported following the release of statistics for the number of people who have died outside of hospital with Covid-19.
Figures released by the Office for National Statistics (ONS) showed 210 deaths involving Covid-19 had occurred in England and Wales by 20 March, up from the 170 deaths reported by the government at the time – an increase of more than 20 per cent.
Statistics released by the government had previously shown the number of deaths in hospitals related to the virus but not included deaths in the wider community, such as care homes.
The ONS looked at deaths registered in England and Wales where Covid-19 was mentioned on the death certificate, including in combination with other health conditions.
The difference with death figures published by NHS England and Public Health Wales was due to different methods of counting and reporting, the organisation said.
More than 22,000 cases of coronavirus have been confirmed so far in the UK.
Some 1,415 have also died after testing positive for COVID-19.
Germany announced 128 new deaths on Tuesday, bringing the total to 583. Cases rose by 4,615 in 24 hours bringing a new total of 61,913, according to the Robert Koch Institute (RKI) for Infectious Diseases
The country's relatively low casualty figures for the virus have been attributed to significant early testing. However, numbers are expected to rise when deaths in retirement homes are included, RKI's chief said.
#covid19uk #Coronavirus #COVID-19 #SocialDistancing
Support Labour Heartlands
Help Us Sustain Ad-Free Journalism
Sorry, I Need To Put Out the Begging Bowl
Independent Journalism Needs You
Our unwavering dedication is to provide you with unbiased news, diverse perspectives, and insightful opinions. We're on a mission to ensure that those in positions of power are held accountable for their actions, but we can't do it alone. Labour Heartlands is primarily funded by me, Paul Knaggs, and by the generous contributions of readers like you. Your donations keep us going and help us uphold the principles of independent journalism. Join us in our quest for truth, transparency, and accountability – donate today and be a part of our mission!
Like everyone else, we're facing challenges, and we need your help to stay online and continue providing crucial journalism. Every contribution, no matter how small, goes a long way in helping us thrive. By becoming one of our donors, you become a vital part of our mission to uncover the truth and uphold the values of democracy.
While we maintain our independence from political affiliations, we stand united against corruption, injustice, and the erosion of free speech, truth and democracy. We believe in the power of accurate information in a democracy, and we consider facts non-negotiable.
Your support, no matter the amount, can make a significant impact. Together, we can make a difference and continue our journey toward a more informed and just society.
Thank you for supporting Labour Heartlands
Just click the donate button below