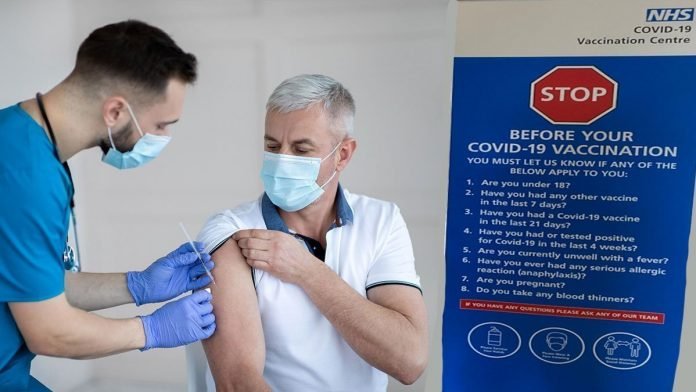 All over-50s and those in high-risk groups in the UK have now been offered a first dose of a coronavirus vaccine, the government has announced.
It means ministers have met their target of offering a first dose to the top nine priority groups by 15 April.
Under-50s are expected to start getting invited for their jab in the coming days, with those in their late 40s expected to be first in England.
More than 32 million people in the UK have had their first dose.
And on Saturday a record 475,230 second doses were given out, with more than 7.6 million people now fully vaccinated.
The government said it was on track to offer a first dose to all adults by the end of July.
On Monday evening, a few days early, Johnson announced that the target had been reached, and the Joint Committee on Vaccination and Immunisation – which advises which groups should be prioritised for a jab – are to publish their final advice later this week on who should be next in line.
He hinted that their current plan will be stuck to, suggesting those in their late 40s will be offered a vaccine next. The JCVI's interim plan published at the end of February said the rollout should continue down the age groups – to those over 40 first, then over-30s and finally over-18s.
Sir Simon Stevens, chief executive of the NHS in England, said: "Vaccinating 19 out of 20 people aged 50 and over is an incredible milestone. Thanks to our NHS nurses, doctors, pharmacists, operational managers and thousands of other staff and volunteers, the NHS Covid vaccination programme is without a doubt the most successful in our history."
Chris Hopson, chief executive of NHS Providers, representing NHS Trusts, urged people offered a vaccine to take it up, saying: "As we return to pub gardens and sports activities and make our way back to non-essential shops, we must continue do all that we can to prevent the spread of infection and ensure this lockdown will be the last."
Jonathan Ashworth, Labour's shadow health secretary, said the news was "hugely welcome progress", and paid tribute to the NHS. However, he said he wanted to "drill down into the figures" and warned "there are pockets where uptake is lower than average, often in areas of disadvantage".
He added: "This must be urgently addressed by ministers so no area is left behind. There will be no 'levelling up' if Covid remains stubbornly endemic in parts of the country."
There was concern that the government's next target, to offer all adults a dose by the end of July, could be harder to hit, after the JCVI advised that under-3os be offered an alternative vaccine to AstraZeneca where possible, following concerns over blood clots, of which there may be an extremely small risk.
Support Labour Heartlands
PLEASE HELP US KEEP GOING AD-FREE
HELP US GROW.
This is a "Pay as You Feel" website.
This blog has no source of state, corporate or institutional finance whatsoever. It runs entirely on voluntary subscriptions from its readers – many of whom do not necessarily agree with every article, but welcome the alternative voice, insider information and debate.
You can have access to all of our online work for free. However if you want to support what we do, you could make a small donation to help us keep writing and staying ad-free. The choice is entirely yours.