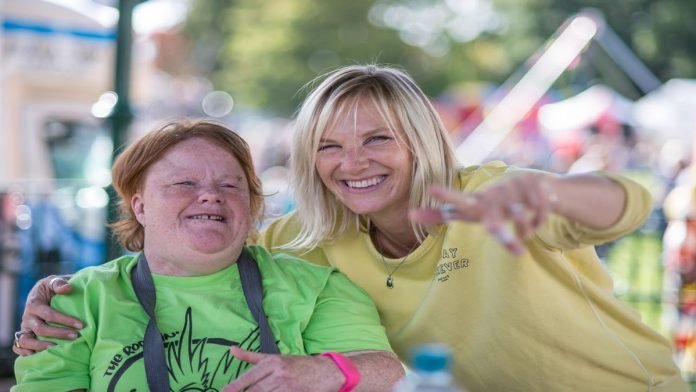 Everyone on the GP learning disability register should be prioritised for a Covid vaccine, the joint committee on vaccination has advised the government.
The Joint Committee on Vaccination and Immunisation (JCVI) recommended the change to the government on Wednesday.
Those with severe learning disabilities are already included in priority group six, while adults with less severe conditions have not been prioritised until now.
Care minister Helen Whately said: "I have heard first-hand how tough this pandemic has been for people with learning disabilities and their families.
"We are determined those more at risk from Covid should be vaccinated as soon as possible."
She added the change will "mean those who are at a higher risk from the virus can get the protection they need".
On Wednesday morning, the JCVI said the health service should now add all those on the GP Learning Disability Register to priority group six after analysis found they were at higher risk of death and serious illness from Covid-19.
It follows DJ Jo Whiley's plea for people such as her sister, Frances, to be vaccinated as quickly as possible.
Whiley was offered the vaccine before her sister, who has a rare genetic syndrome and lives in residential care.
DJ Jo Whiley said it has been "the worst week of our lives" as her sister, who has a learning disability and diabetes, is in hospital with Covid.
The BBC Radio 2 presenter said Frances, 53, had been offered a vaccine on Saturday but it was "too late" and she was now "fighting for her life".
She urged ministers to "forget the classifications" and protect all those with learning disabilities leading a very public campigne that placed presure on the goverment.
The broadcaster's sister is recovering after being admitted to hospital with coronavirus earlier this week.
Jo Whiley said: "This is a great day, I am so relieved. I'm so happy for all those people who have been living in fear," Jo Whiley said, adding that it was "very difficult" to categorise people according to their disability.
In case you missed it. I spoke to @AndrewMarr9 this morning before he spoke to @MattHancock

Thanks to all CCGs who are now taking it upon themselves to prioritise LD people for the vaccine ??
pic.twitter.com/Ffhn3cmP7A

— Jo Whiley (@jowhiley) February 21, 2021
The charity Mencap said everyone with a learning disability should check they are on the register and, if not, ask to go on it.
People with a "severe or profound" learning disability in England and Wales were already in priority group six for the coronavirus vaccine, along with unpaid carers for those with disabilities and the elderly.
And adults with Down's Syndrome have already been offered a jab, in priority group 4, as part of the UK's target to vaccinate 15 million people by mid-February.
Now everyone on their GP's learning disability register will be invited for vaccination as part of priority group six, Public Health England has confirmed, regardless of how severe their disability is.
And the NHS is being asked to work with local authorities to identify other adults in the community who are severely affected by a learning disability and who may not be registered, but should be offered a vaccine.
What is the GP Learning Disability Register?
The GP Learning Disability Register is there to help people with learning disabilities get regular support.
People with learning disabilities experience poorer health compared to the rest of the population, but some of this is preventable with proper access to healthcare.
However, people with learning disabilities often struggle to know how to get the care they need, which can lead to some problems getting worse.Once on the register, they can get access to longer appointments, easier to access information, annual health checks, free flu vaccinations and other benefits.
Support Labour Heartlands
PLEASE HELP US KEEP GOING AD-FREE
HELP US GROW.
This is a "Pay as You Feel" website.
This blog has no source of state, corporate or institutional finance whatsoever. It runs entirely on voluntary subscriptions from its readers – many of whom do not necessarily agree with every article, but welcome the alternative voice, insider information and debate.
You can have access to all of our online work for free. However if you want to support what we do, you could make a small donation to help us keep writing and staying ad-free. The choice is entirely yours.