The Tories are set to increase corporation tax Labour set to oppose
Sir Keir Starmer argued that 'now is not the time for tax rises' as it emerged the party would resist efforts to hike corporation tax
Sir Keir Starmer said at PMQs today: "Now is not the time for tax rises for families and for businesses."
Asked later if Starmer's meant opposing all tax rises, even on businesses, Labour MP James Murray said: "This is not the time to do tax rises, in the middle of an economic crisis."
Asked if he would not support "any tax rises at all" in the Budget next week, the Shadow Financial Secretary to the Treasury told the BBC's Politics Live: "In the Budget next week we don't want to see tax rises, this is not the time to do that."
Labour is set to oppose any immediate corporation tax rise in next week's Budget in a major shift since Jeremy Corbyn's leadership.
Before Covid struck, Labour under Jeremy Corbyn pledged in 2019 to reverse the bulk of Tory corporation tax cuts for large firms to fund the party's radical agenda.
It comes after the Times reported Chancellor Rishi Sunak is looking at raising corporation tax to between 23% and 25% by 2024.
The main rate of corporation tax was slashed from 28% to 19% under a decade of Tory rule.
In the 2019 election, Labour pledged to reverse most of these cuts and bring the rate back to 26%, except for small businesses with lower profits who would have paid much less.
This gives us a sharp reminder of the Labour Party before Jeremy Corbyn and the fiasco in allowing the Welfare bill to be voted through when Harriet Harman, the interim leader, had urged Labour MPs to send a message to the electorate that they were listening to concerns over welfare payments by abstaining on the welfare bill after voting for an amendment that set out the party's objections to the bill.
This set the course for the further impoverishment of millions of people over the last ten years 184 Labour MPs who didn't vote against the Tories' cuts allowed reducing the household welfare cap from £26,000 to £23,000, abolishing legally binding child poverty targets, cuts to child tax credits, cuts to Employment and Support Allowance, and cuts to housing benefit for young people. Sir Keir Starmer and the majority of his front bench where part of that 184 members to allow the welfare bill to go through while 48 Labour MPs vote against including Jeremy Corbyn.
Sir Keir Starmer, has no compunction about backtracking on his word or pledges made to the membership that got him elected.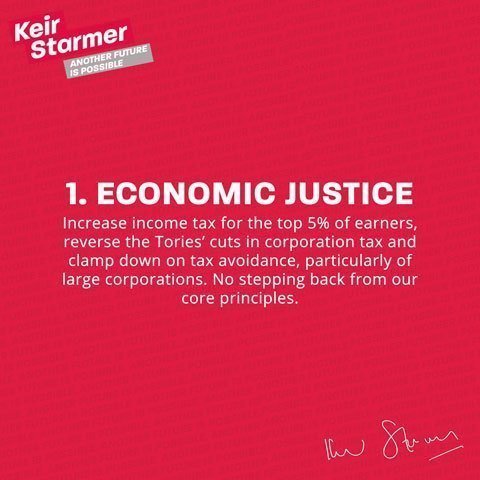 During Labour's leadership contest Starmer made many claims, Party unity, Forensic, effective opposition to the Tories in Parliament but the first of his so-called Ten pledges was to 'Increase income tax for the top 5% of earners, reverse the Tories' cuts in corporation tax and clamp down on tax avoidance, particularly of large corporations. No stepping back from our core principles.'
It very understandable that the Labour Party are not in a position to 'increase income tax for the top 5% of earners, reverse the Tories' cuts in corporation tax' but for Starmer to do a U-turn on his number one pledge is not only disappointing its a betrayal to all his supporters that took him at his word and written pledge.
Labour says it will oppose any hikes in corporation tax on big business, in an extraordinary political reversal ahead of next week's Budget.
Campaigning for @UKLabour leadership @Keir_Starmer pledged to "reverse the Tories' cuts in corporation tax …no stepping back from our core principles" Now he opposes putting up corporation tax https://t.co/H5rRpqQqb4

— Diane Abbott MP (@HackneyAbbott) February 25, 2021
The party also did not rule out voting against a windfall tax on supermarkets, to fund the Covid-19 recovery – which Rishi Sunak is believed to be planning.
At the last election, Labour called for corporation tax to rise sharply, while the Conservatives – to the ridicule of most economists – claimed cuts could actually increase revenue.
Now the Chancellor is expected to put the country on the path to increasing the rate from 19 per cent to 23 per cent by the end of the parliament, or even as high as 25 per cent.
Starmer's vision last week showed how disconnected he is from Labour's core voter's, his idea of a 'covid bond' suggesting that people have used the pandemic as an opportunity to save is as far from reality as a middle-class political grifter could possibly get. Even his own supporters found this hard to swallow as any viable incentive to help the UK and communities pull out of the Covid economic crisis.
Starmer's tenth and last pledge was to 'Effective opposition to the Tories
Forensic, effective opposition to the Tories in Parliament – linked up to our mass membership and a professional election operation. Never lose sight of the votes 'lent' to the Tories in 2019. Unite our party, promote pluralism and improve our culture. Robust action to eradicate the scourge of antisemitism. Maintain our collective links with the unions.'
We can see that went out the window faster than his pledge on party unity or his statement on Labour candidates where he said on Twitter "The selections for Labour candidates needs to be more democratic and we should end NEC impositions of candidates. Local Party members should select their candidates for every election."
I'm very sure that Labour's anti-democratic antics in Liverpool and the bars three women from Liverpool mayoral candidate contest would have been pleased if he kept his word for once.
At this moment in time, Sir Keir Starmer is the biggest risk to the overall Labour movement and the longevity of the Labour Party than the Tories. He needs to go and needs to go fast, we need an opposition, not a Tory-lite accomplice
Support Labour Heartlands
PLEASE HELP US KEEP GOING AD-FREE
HELP US GROW.
This is a "Pay as You Feel" website.
This blog has no source of state, corporate or institutional finance whatsoever. It runs entirely on voluntary subscriptions from its readers – many of whom do not necessarily agree with every article, but welcome the alternative voice, insider information and debate.
You can have access to all of our online work for free. However if you want to support what we do, you could make a small donation to help us keep writing and staying ad-free. The choice is entirely yours.