In 2016 Chuka Umunna urged Remain campaigners to abandon calls for a second referendum or risk being seen as a metropolitan elite "who think they know best".
In an interview with the Evening Standard, the influential Labour backbencher urged fellow pro-EU campaigners to show more respect for the 17 million who voted for Brexit. He also
Said there are now "no safe Labour seats" after the rise of UKIP, whose new leader Paul Nuttall has vowed to target Labour's heartlands.
Chuka  goes on to blame the Blair government's decision to allow free migration from Poland and Bulgaria for the discontent that led to Brexit.
"I think it's really important we listen and more deeply understand why people took a different view to us."
"The 52 per cent are no more a bunch of racists and bigots than the 48 per cent are a well-heeled metropolitan elite. I have no time for either characterisation."
"I really have no time for calls for a second referendum because I think it comes across as disrespectful to those who voted to leave," he said.
"Those calls reinforce what I feel is a false stereotype — of a bunch of people in London who think they know best."
He went on: "We are going to leave — it hurts me to say that — but we have got to move forward and work out how to get the best possible deal."
Back to 2018.
Well Chuka you did it you actually showed the 70% of Labour constituencies that the metropolitan elite "do think they know best".
You did your London march showing your contempt for the 17.4 million leave voters and what's more you did it holding hands with a Tory Anna soubry. Good for you remaining true to form in being duplicitous.
I would be asking why in a city of 3 million remain voters you only managed to pull 700k nationwide even after paying for the busses yourself. A nice free day trip out and a walk around London for 'us Northerners,' I'm sure a lot are grateful.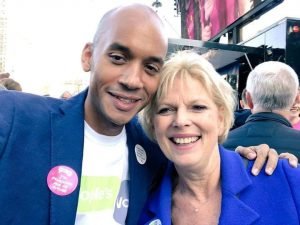 Chuka Umunna: We Should Be Prepared To Sacrifice Single Market Membership To Axe Freedom Of Movement
In an interview with HuffPost UK
He said: "If continuation of the free movement we have is the price of Single Market membership then clearly we couldn't remain in the Single Market, but we are not at that point yet."
He said: "Anyone who spent a lot of time talking to people in the EU referendum, particularly in a constituency like mine, cannot fail to appreciate how strongly people feel about freedom of movement and why, whatever the economic advantages and disadvantages of leaving the Single Market, they are frankly not willing to even engage in that conversation unless there is a recognition of their concerns about that.
UPDATE: Since this article was published, Umunna issued a statement:
"The debate about Europe, the Single Market and free movement is complex, and I will be setting out my views in greater length in future.
"But I have always been totally consistent in saying that Britain must be a member of the Single Market, on which thousands of jobs and rules protecting workers' rights rely.
"At the same time, we need an alternative to free movement as we know it. The government should aim for both in its EU negotiations."
Chuka as a tendency to be a little two-faced on 16 October 2016.
Chuka Umunna said:
"Some have suggested that there is institutional antisemitism across the whole of the Labour Party – this is not a view I share, not least because I have not seen one incident of antisemitism in almost 20 years of activism within my local Labour Party in Lambeth."
Now 2018.
Labour 'clearly' discriminating against Jews, says senior MP Chuka Umunna
'The Jewish community has clearly been subject to differential treatment… which is discriminatory'
clearly a man that knows his own mind or at least one of them.
In reality what is wrong is the political class along with the civil service. We are clearly seeing their inability to be professional in delivering a Brexit for the country and not the Party or self. 
We need a general election and in jeremy corbyn's own words:
If this Government can't deliver Brexit then it must move over and have a General Election.
"IF YOU CAN'T NEGOTIATE THAT DEAL THEN YOU NEED TO MAKE WAY FOR A PARTY THAT CAN"
Support Labour Heartlands
WAIT! BEFORE YOU GO
PLEASE HELP US KEEP GOING AD-FREE
This is a "Pay as You Feel" website.
Your support for Labour Heartlands is greatly appreciated. As an independent nonprofit news outlet, we rely on our members to hold the powerful accountable. Our kind of reporting is essential to democracy, but it is not easy, cheap, or profitable.
To continue providing impactful journalism, we need your help. It's getting really hard for us all. Becoming one of our donors. It's simple and doesn't have to cost a lot. With as little as £2, £3, or £5 a month, you can support the journalism you rely on.
While we do not align ourselves with any particular political party, we stand firmly against corruption, injustice, and the erosion of truth and the rule of law. We believe that accurate information is the lifeblood of a democracy and that facts are not up for debate.
Your contribution, no matter how small, goes a long way in helping us continue our mission. Together, we can make a difference.
Thank you, The Labour Heartlands Team
PLEASE HELP US KEEP GOING AD-FREE