The conference has finished and after a rousing, fantastic speech with standing ovations, Jeremy Corbyn told Theresa May:
if you can't negotiate that deal then you need to make way for a party that can
we have spread the word. The Labour party are ready to rebuild Britain.
His calls for a general election were greeted with rapturous applause in the hall.
The Labour leader made a call to those outside the party to join Labour in what he called the "new political mainstream".
Corbyn truly picked up the ball after a fantastic opening by John McDonnell on Monday laying out the 'Red meat of a socialist manifesto', an inspirational speech that spoke to the hard working class of the country.
Unlike Starmer who played to the Remain contingent trying to gain himself populist support. Jeremy spoke to the nation not just to conference! His message was one of regeneration of rebuilding Britain.
He portrayed a picture of a working Britain again one that will be for the many, not the few the phrase may be worn a little but is still as valid today as the day it was first uttered.
Corbyn did not shy away from Brexit he hit out at the Tory Brexiteers who he said: "unite the politics of the 1950s with the economics of the 19th century, daydreaming about a Britannia that both rules the waves and waives the rules".
Jeremy offered a Brexit that would see the UK transformed. Corbyn said that instead, Labour would work to win support for a deal that "meets the needs of the country, combined with our plan to rebuild and transform Britain with investment in our people and economy".
He spoke directly to the Prime Minister promising that Labour would support her if she delivers "a deal that includes a customs union and no hard border in Ireland, if you protect jobs, people's rights at work and environmental and consumer standards".
He said that such a deal "would be backed by most of the business world and trade unions too".
The climax to the speech was Corbyn's clear challenge to Theresa May saying:"if you can't negotiate that deal then you need to make way for a party that can."
His calls for a general election were greeted with rapturous applause in the hall.
"We represent the new common sense of our time. And we are ready to deliver on it,"
Corbyn announced in one of many calls for a general election.
In all Corbyn showed the UK he was the man to lead the people into a new model of socialism in a country that will leave no one behind. He showed he could unite the country but mostly he showed he was ready for No.10. Corbyn last month told reporters in an interview:
if I was leading the negotiations we would be as well off if not better off!
Damage limitation!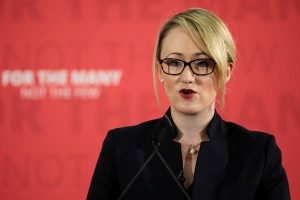 Damage limitation from Starmer's off-script speech playing to remain have already started in an early interview Rebecca Long-Bailey was quoted saying:
Labour will not put second referendum in manifesto if there's early election!
Rebecca Long-Bailey, the shadow business secretary, has given a series of interviews this morning. Here are some of the other things she has said.
Long-Bailey said Labour would not include a commitment to a second referendum on Brexit in its manifesto if there is an early general election. Asked if a second referendum would be in the manifesto if Theresa May called an early election, Long-Bailey replied: "No". She added that a second referendum was "hypothetical", adding: "What we have said is that, in a very extreme set of circumstances, nothing should be ruled out, and that includes a people's vote." LINK
She said it was not impossible that Labour could vote for the final Brexit deal secured by Theresa May – although she stressed it was very unlikely. She told 5 Live:
If Theresa May, by some twist of fate or miracle, comes back to Parliament with a deal that actually puts our jobs and economy first and it meets the six tests that Keir has set out, and it secures that tariff-free access, a customs union arrangement, a single market deal that ensures that we have the same benefits that we currently have, then, of course, we would vote for that, we would vote in favour of it.
But, as things stand, we are a long way away from something like that.
#Lab18
Support Labour Heartlands
PLEASE HELP US KEEP GOING AD-FREE
HELP US GROW.
This is a "Pay as You Feel" website.
This blog has no source of state, corporate or institutional finance whatsoever. It runs entirely on voluntary subscriptions from its readers – many of whom do not necessarily agree with every article, but welcome the alternative voice, insider information and debate.
You can have access to all of our online work for free. However if you want to support what we do, you could make a small donation to help us keep writing and staying ad-free. The choice is entirely yours.