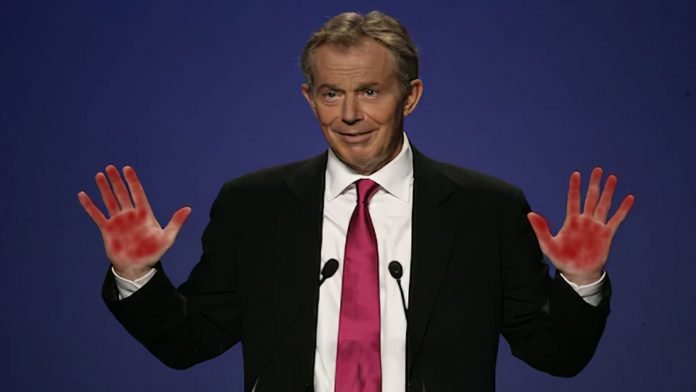 Teflon Tony will accept no responsibility for the mess in Afghanistan he helped create.
Tony Blair has branded President Biden for 'imbecilic' military pullout and says crisis risks relegating the UK to 'second division of global powers'
The former prime minister, who sent British troops into Afghanistan in 2001, said the "abandonment of Afghanistan and its people is tragic, dangerous [and] unnecessary".
Blair has dramatically broken his silence over the crisis in Afghanistan by accusing President Joe Biden of an "imbecilic" decision to pull out US troops.
In a controversial verdict on the unfolding tragedy, he also claims the crisis reveals that the UK risks being relegated to "the second division of global powers".
He blames Britain being "out of Europe and "little or no consultation" by "our greatest ally", the United States, for the UK's declining influence in the world.
He writes:
"For Britain and the US, these questions are acute. The absence of across-the-aisle consensus and collaboration and the deep politicisation of foreign policy and security issues is visibly atrophying US power. And for Britain, out of Europe and suffering the end of the Afghanistan mission by our greatest ally with little or no consultation, we have serious reflection to do. We don't see it yet. But we are at risk of relegation to the second division of global powers. Maybe we don't mind. But we should at least take the decision deliberatively."
Where he thinks being part of the EU would have made any difference is a little difficult to fathom, unless he means we could have put in for the contract to build the walls the southern EU countries are racing to build in the hope of stopping an Afghan refugee influx like the one in 2015.
And in a brutal attack on President Biden's abrupt withdrawal of US troops, he claims it is obvious that the decision to withdraw was not driven by grand strategy but by politics.
"We didn't need to do it," Blair writes. "We chose to do it. We did it in obedience to an imbecilic political slogan about ending 'the forever wars'."
"Almost 20 years ago, following the slaughter of 3,000 people on US soil on 11 September, the world was in turmoil. The attacks were organised out of Afghanistan by al-Qaeda, an Islamist terrorist group given protection and assistance by the Taliban. We forget this now, but the world was spinning on its axis. We feared further attacks, possibly worse. The Taliban were given an ultimatum: yield up the al-Qaeda leadership or be removed from power so that Afghanistan could not be used for further attacks. They refused. We felt there was no safer alternative for our security than keeping our word."
At least 20 years on he actually gets the number of victims of the 9/11 attack right, in October 2001 Blair claimed: "Within a few hours, up to 7000 people were annihilated"
The fact is we did not need to invade Afghanistan
Obviously, Blair wants us to forget the headlong run into invading Afghanistan with 'NO STRATEGY' a knee jerk reaction carried out in less than a month after the 9/11 attacks on the twin towers. Blair's so-called reorder of world.
Blair still clings to the lies, he claims:
The reality is we really didn't need to invade Afghanistan. Blair and Bush were insistent, it was war at any costs, their war on terror would be carried out no matter what, even if Bin Laden was handed over as the Taliban offered to do.
The Taliban offered over Bin Laden but Bush refused.
A short history we must not forget…
The September 11 attacks, often referred to as 9/11
19 militants associated with the Islamic extremist group al Qaeda hijacked four airplanes and carried out suicide attacks against targets in the United States. Two of the planes were flown into the twin towers of the World Trade Center in New York City, a third plane hit the Pentagon just outside Washington, D.C., and the fourth plane crashed in a field in Shanksville, Pennsylvania. Almost 3,000 people were killed during the 9/11 terrorist attacks, which triggered major U.S. initiatives to combat terrorism and defined the presidency of George W. Bush.
September 18, 2001 A War Footing
President George W. Bush signs into law a joint resolution authorizing the use of force against those responsible for attacking the United States on 9/11. This joint resolution will later be cited by the Bush administration as legal rationale for its decision to take sweeping measures to combat terrorism, from invading Afghanistan to eavesdropping on U.S. citizens without a court order, to standing up the detention camp at Guantanamo Bay, Cuba.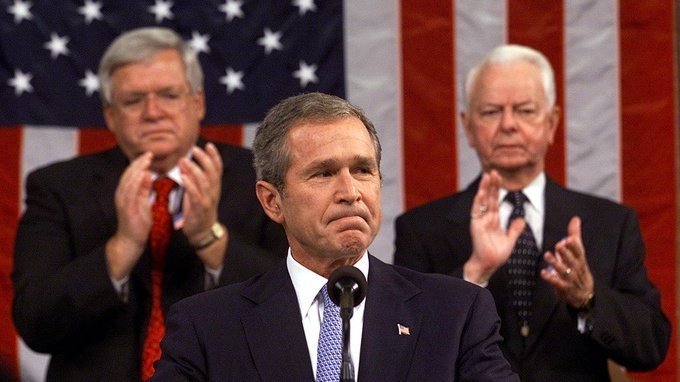 October 7, 2001 The Opening Salvo
The U.S. military, with British support, begins a bombing campaign against Taliban forces, officially launching Operation Enduring Freedom. Canada, Australia, Germany, and France pledge future support. The war's early phase [PDF] mainly involves U.S. airstrikes on al-Qaeda and Taliban forces that are assisted by a partnership of about one thousand U.S. special forces, the Northern Alliance, and ethnic Pashtun anti-Taliban forces. The first wave of conventional ground forces arrives twelve days later. Most of the ground combat is between the Taliban and its Afghan opponents.
14 Oct 2001 Bush rejects Taliban offer to hand Bin Laden over.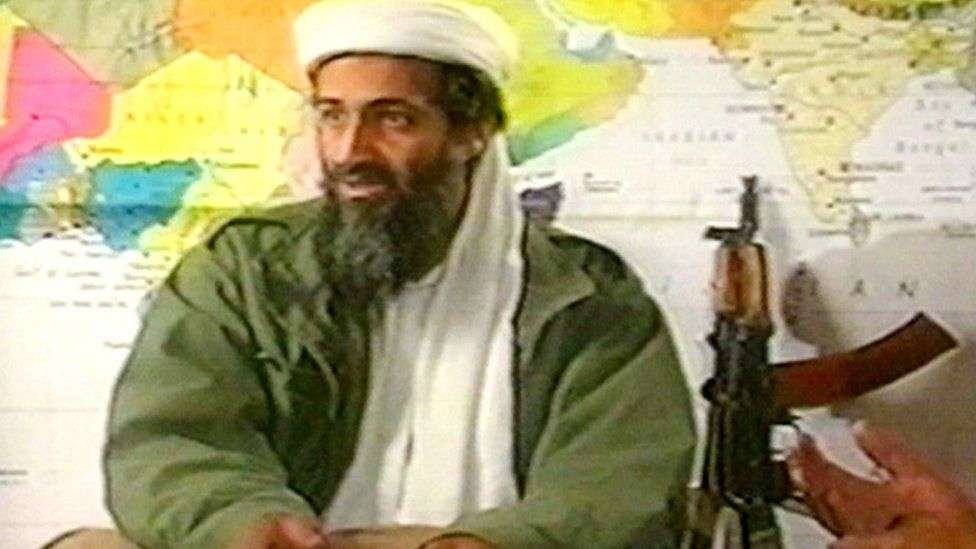 The Taliban asked for evidence of Bin Laden's guilt.
Bush rejects the Taliban offer to hand Bin Laden over.
Afghanistan's Taliban rulers stated they are not ruling out the possibility that Osama bin Laden masterminded the 9/11 attacks, but they say they need proof before he can be handed over.
Previously the hardline Islamic movement has insisted bin Laden could not possibly have been involved. Bin Laden has been reported as denying any role.
In Jalalabad, deputy prime minister Haji Abdul Kabir – the third most powerful figure in the ruling Taliban regime – told reporters that the Taliban would require evidence that Bin Laden was behind the September 11 terrorist attacks in the US, but added: "we would be ready to hand him over to a third country".
President George Bush rejected as "non-negotiable" an offer by the Taliban to discuss turning over Osama bin Laden if the United States ended the bombing in Afghanistan.
Returning to the White House after a weekend at Camp David, the president said the bombing would not stop, unless the ruling Taliban "turn [bin Laden] over, turn his cohorts over, turn any hostages they hold over." He added, "There's no need to discuss innocence or guilt. We know he's guilty".
Bin Laden standing trial was never the plan.
This war has never been about justice, women rights or even fighting terror. This war was always a cash cow for the industrial arms complex at the expense of the people in Afghanistan and at home whose public money was used to feed the Olicharchy of the arms industry instead of the poor of our nations.
Global Research looked at the profiteers of the Afghan war. Using conservative estimates, the U.S. has spent $2.261 trillion and the UK $30 billion. Weapons sales and the provision of other services to the war front, which has been rapidly privatised, has led to large enterprises making an absolute killing.
Without the 9/11 investment and its 20 years dividend, how could the likes of Halliburton, who former Vice President Dick Cheney was also its Chairman, have profited hand over fist. The same goes for Blackwater which had a revolving door between the Republican Party and the CIA.
Afghanistan has been a boon for liberal ruling class interests. 2.3 million Afghan refugees have fled abroad with 90% being hosted in Pakistan and Iran, which helps to destabilize these countries.
Clearly, if we look at the oligarchic liberal press we will always be blinded by propaganda that sells their "success" as a "mistake" within the fog of what is supposed to be our collective democratic process.
Afghanistan lies in ruins with a GDP of just $20.68 billion ($531 per capita), in 2019, while the U.S. spent $52 billion occupying it in the same year. Thus, Afghanistan is an unprecedented success for those who profit, from the racket of war and raise themselves up | 3 through the destruction of others.
Most of all, the 20 years of Afghanistan have been a success in brainwashing. To believe that a true democracy can carry out such violence and destruction and still be considered "the best governing system", which others should strive to follow, is a perversion of the human desire for global peace and progress.
Julian Assange speaking in 2011: "The goal is to use Afghanistan to wash money out of the tax bases of the US and Europe through Afghanistan and back into the hands of a transnational security elite. The goal is an endless war, not a successful war" #Afghanistan
Blairs feigns ignorance on his role in the abandonment of Afghanistan.
He talks of world failures, failures of other leaders, failures of politics, everyone's a failure, but him. Blair states:
"We didn't need to do it. We chose to do it. We did it in obedience to an imbecilic political slogan about ending "the forever wars", as if our engagement in 2021 was remotely comparable to our commitment 20 or even ten years ago, and in circumstances in which troop numbers had declined to a minimum and no allied soldier had lost their lives in combat for 18 months."
Blairs claim there had been no deaths for 18 mth's completely escapes the fact that 18 months ago Trump orders the withdrawal of American troops from Afghanistan. It seems more than likely that order may well have had some impact on the fighting. Would you rock the boat knowing the enemy is leaving, would you give them an excuse to stay? No, the chances are that without the order to withdraw, the war would have gone on much like before.
We all know why this war was conducted, we all know the cost to our loved one's comrades and friends, we all know the cost to the Afghanisni people but mostly we all know the profit this war has created for the friends of Bush and Blair.
The issue of leaving Afghanistan was not the problem, it's the abandonment that is the real problem. To leave a country after 20 years without a working exit strategy is a betrayal not just to the country but to the forces and the thousands that have died. From beginning to end one word stands out Incompetence.
Contingency plans should have always been in place.
Politicians rushed into Afghanistan too fast to weigh up the options, they rushed out even faster.
Personally, as a former member of the British Armed forces, I find it incomprehensible an exit strategy was not made 20 years ago, a strategy continually built on as the situation on the ground changed. After all, Blair did promise:
"To the Afghan people we make this commitment. The conflict will not be the end. We will not walk away, as the outside world has done so many times before."
Recent days have seen how empty that promise.
Just like his weasley words…
Support Labour Heartlands
Help Us Sustain Ad-Free Journalism
Welcome to the Heartlands of Independent Journalism
At Labour Heartlands, we are committed to delivering independent news, views, and opinions. Our mission is to hold those in power accountable, and we can't do it without your support. As a non-profit independent organisation, we rely on our donors to keep our journalism ad-free and impactful.
Like everyone else, we're facing challenges, and we need your help to stay online and continue providing crucial journalism. Every contribution, no matter how small, goes a long way in helping us thrive. By becoming one of our donors, you become a vital part of our mission to uncover the truth and uphold the values of democracy.
While we maintain our independence from political affiliations, we stand united against corruption, injustice, and the erosion of free speech, truth and democracy. We believe in the power of accurate information in a democracy, and we consider facts non-negotiable.
Your support, no matter the amount, can make a significant impact. Together, we can make a difference and continue our journey toward a more informed and just society.
Thank you for supporting Labour Heartlands
Just click the donate button below