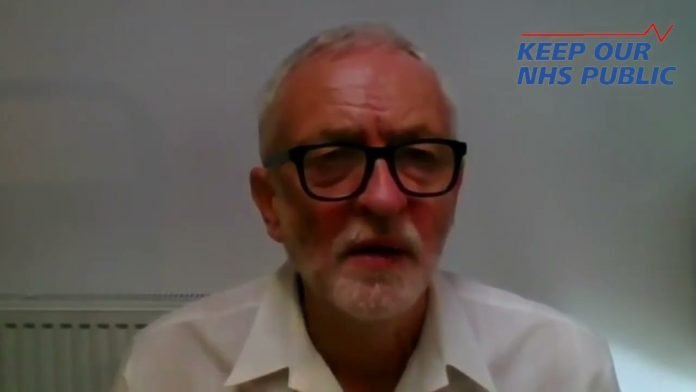 Jeremy Corbyn brought to the front the constant battle the public have had since the NHS was founded, corporate takeover.
Heath and Care Bill 2021
The integration and innovation white paper was published by government in February 2021. It set out proposed reforms to be included in a Health & Care Bill (the Bill) claiming to restructure parts of the NHS in England and create a 'truly integrated' healthcare system with less bureaucracy.
The proposals for new Integrated Care Systems (ICS) boards, will allow new bodies within the NHS designed to bring together all groups working within the health service to work on public health strategy. Campaigners have warned that the forthcoming Bill would allow private companies to sit on such decision making boards.
Currently, Section 75 of the 2012 Health and Social Care Act requires a process of compulsory competitive tendering for NHS services. The Government's new legislation would end this requirement, which campaigners claim would make it much easier for services to be contracted to the private sector without checks.
Independent MP Jeremy Corbyn tweeted:
"It should be called the corporate takeover bill"
We need to oppose the Government's health and social care bill, going through the committee stage in Parliament now.
?️ "It should be called the corporate takeover bill" ?️

We need to oppose the Government's health and social care bill, going through the committee stage in Parliament now.

✏️ Sign the petition at https://t.co/T7TxOuc1Hu@keepnhspublic pic.twitter.com/sDg5tdBhwA

— Jeremy Corbyn (@jeremycorbyn) August 20, 2021
Labour's Zarah Sultana branded the Bill the "NHS corporate takeover Bill".
We need to oppose the Government's health and social care bill, going through the committee stage in Parliament now.
She said: "It will put on steroids the cronyism we've seen in this pandemic, where Tory mates and donors having handed billions of pounds in dodgy Covid Government contracts, and it will implement a healthcare model that incentivises cuts and closures, rationing funding to health boards. This dangerous Bill is another step to privatisation."
Labour's Bill Esterson added: "Private companies on new health boards and the centralisation of power points to a potential consolidation of the cronyism and privatisation that has characterised the Conservatives' approach to the Covid crisis."
Tory MP Peter Aldous raised concerns over a lack of NHS dentistry, saying: "There are potential pitfalls, particularly from my own perspective, changing ICS boundaries and I would urge the minister to avoid this at all costs."
We Own It's campaigns officer Pascale Robinson said: "Over the last year, our NHS has been the lifeblood of our country – keeping so many of us safe during the pandemic. The last thing it needs right now is a dangerous and damaging overhaul which would put the private sector at the heart of our health service – and the public know it.
"It's frankly disgraceful that MPs have voted to support this legislation, which is nothing short of a Corporate Takeover Bill and would allow profit private companies – the likes of Virgin Care and Serco – to sit on boards making calls on where NHS money gets spent.
"This private oversight of our healthcare will undermine the principles at the core of the NHS.
"If the Government cares about the future of our NHS and what the public want from it, they should rethink and withdraw this reckless Health and Care Bill. We cannot allow this corporate takeover to go ahead."
The Bill will not solve the NHS's problems. It introduces many harmful changes such as:
Patients and the public will have even less say than we do now in what happens to our local health services, as the new boards, covering populations of up to 3 million people, will be remote and centralised, with no obligation to be open, transparent, or accountable to ordinary people. This will make it easier for the government to drive through unpopular changes like closing local hospitals.
We were able to save Lewisham Hospital with the support of our local council but the new law will seriously restrict councils' powers to protect local services, giving them only one seat between them on the new boards.
The legislation will create 42 new Integrated Care Systems (ICS) in England. The plan contains worrying elements of American style health systems, which have a record of denial of care to patients to profit or save money.
Each ICS will have a limited budget leading to more cuts to services for patients, longer waiting times, and an unfair postcode lottery. The private sector, which has shown itself to be greedy and inept during the Covid pandemic will benefit as private companies could get seats and influence on the new Integrated Care Boards proposed by the Bill.
NHS staff could find themselves subject to local deals on pay and conditions and this could adversely affect recruitment and retention of NHS staff at a time when this should be one of the highest priorities of the government.
The Bill does nothing to improve social care. In fact, it could make it worse. Hospitals will no longer do social care needs assessments before sending people home – a recipe for the dumping of patients without proper support.

Dr Louise Irvine, GP and member of Keep Our NHS Public
You can help fight the legislation by signing this petition LINK
Support Labour Heartlands
PLEASE HELP US KEEP GOING AD-FREE
HELP US GROW.
This is a "Pay as You Feel" website.
This blog has no source of state, corporate or institutional finance whatsoever. It runs entirely on voluntary subscriptions from its readers – many of whom do not necessarily agree with every article, but welcome the alternative voice, insider information and debate.
You can have access to all of our online work for free. However if you want to support what we do, you could make a small donation to help us keep writing and staying ad-free. The choice is entirely yours.