The secretive Bilderberg Group gathers for its annual meeting this week. The 68th Bilderberg meeting is taking place 2 – 5 June 2022 in Washington, D.C., USA.
120 participants from 21 countries have confirmed their attendance. As ever, a diverse group of political leaders and experts from industry, finance, academia, labour and the media has been invited. The list of participants is available on bilderbergmeetings.org.
Typically, one-third of participants come from the U.S. with the rest from Europe.
Amongst the British contingent, we get a crossparty appearance including Tory minister Michael Gove, Secretary of State for Levelling Up and the now prominent Labour front bencher, Shadow Secretary of State for Foreign, Commonwealth and Development Affairs David Lammy. Tory MP Tom Tugendhat, Chairman of the Foreign Affairs Committee. They are backed up by Jeremy Fleming – Director of GCHQ, John Sawers – MI6 Chief, Bernard Looney – CEO of BP, Mark Sedwill, Chairman, Atlantic Futures Forum, Mustafa Suleyman, CEO, Inflection AI, Gideon Rachman, Chief Foreign Affairs Commentator, The Financial Times, Zanny Minton Beddoes, Editor-in-Chief, The Economist, Bernard Looney, CEO, BP plc, Shashank Joshi, Defence Editor, The Economist, Demis Hassabis, CEO and Founder, DeepMind, Emma Walmsley, CEO, GlaxoSmithKline plc, I'm sure she will have a lot to talk about with her US counterpart, Albert Bourla, Chairman and CEO, Pfizer Inc. who will also be attending on behalf of the US deligation.
The key topics for discussion this year are:
1. Geopolitical Realignments
2. NATO Challenges
3. China
4. Indo-Pacific Realignment
5. Sino-US Tech Competition
6. Russia
7. Continuity of Government and the Economy
8. Disruption of the Global Financial System
9. Disinformation
10. Energy Security and Sustainability
11. Post Pandemic Health
12. Fragmentation of Democratic Societies
13. Trade and Deglobalisation
14. Ukraine
But of course, we will never know what has been said and agreed on during these meetings even though the agenda concerns everyone.
Ever since the controversial collective of elite North American and European politicians, business leaders, financiers and academics, have been meeting the group has attracted a good deal of suspicion over the last half-century, and for good reason too.
In the 1950s sociologist, C. Wright Mills wrote a bestseller, "The Power Elite," his book describing how interlocked networks of business, military, and political elites created a small but influential class that made democracy as learned in civics class mostly an illusion.
By the 1970s, many conspiracies were naturally built up around groups like the Bilderbergs, the Trilateral Commission and the Council on Foreign Relations, and other NGOs that consolidate a disproportionate amount of power and influence outside the traditional political structures with no accountability.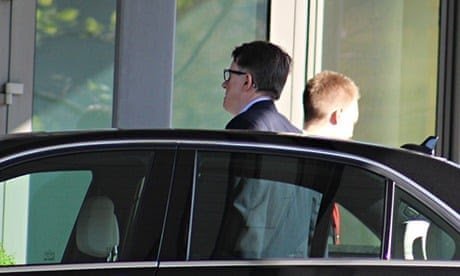 In fact, with the Bilderburgs there is no reference to anything said or agreed on. No minutes are taken and the outcome of their discussions is never made public.
The groups have some very notable characters both past and present, Sir Keir Starmer, leader of the Labour party is a member of the elitist Trilateral Commission a very small powerful globalist group. The Trilateral Commission was created by David Rockefeller who so happened to be a member of the Council on Foreign Relations too. Crossover doesn't seem to be an issue, Starmer's right-hand man Lord Peter Mandelson also happens to be a member of the Bilderberg group.
Joe Biden's playbook is practically taken from the Council on Foreign Relations he's been a member for most of his political career. Jeffrey Epstein was a member of both the Trilateral Commission and Council on Foreign Relations, and of course, Henry Kissinger is a member of all three and remarkably will be attending the meetings this weekend at 99 years old.
Other notable British politicians to have accepted the group's invitation include Conservatives Alec Douglas-Home and Peter Carrington – who chaired the committee between 1977 and 1980 and between 1990 and 1998 respectively – and Margaret Thatcher, David Owen, Tony Blair, Ed Balls, Ken Clarke and George Osborne. Princes Philip and Charles have also been.
Helmut Kohl, Bill Clinton, Bill Gates, Christine Lagarde and Jose Manuel Barroso have all attended among the billionaires and executives from leading banks, corporations and defence industry bigwigs. Perhaps most surprisingly, Ryanair's Michael O'Leary attended 2015's event in Telfs-Buchen in the Austrian Tyrol.
The Bilderberg Group's primary goal has reportedly been expanded to take in a more all-encompassing endorsement of Western free market capitalism over the years. For the layman, they want more globalisation, more control less choice, and less freedom.
The group publishes its guest list the day before its annual get together – between 120 and 150 are invited by its steering committee – along with a list of the subjects they intend to discuss as a gesture towards transparency. This typically consists of broad issues like macroeconomic concerns, the threat of terrorism and cyber-security.
The clandestine nature of the Bilderberg Meeting regularly sparks conspiracy theories and accusations of a "secret world order," but organizers say the restricted gathering with rules on reporting simply allows more freedom within discussions.
The official website for the Bilderberg Meetings said that the cost of meetings "are covered wholly by private subscription."
Their website states:
The Bilderberg Meeting is a forum for informal discussions about major issues. The meetings are held under the Chatham House Rule, which states that participants are free to use the information received, but neither the identity nor the affiliation of the speaker(s) nor any other participant may be revealed.
Thanks to the private nature of the Meeting, the participants take part as individuals rather than in any official capacity, and hence are not bound by the conventions of their office or by pre-agreed positions. As such, they can take time to listen, reflect and gather insights. There is no detailed agenda, no resolutions are proposed, no votes are taken and no policy statements are issued.
This secretive nature has garnered conspiracies and claims they are a sinister cabal of the rich and powerful with something to hide.
New World Order
Although members do not as a rule discuss what goes on within its conferences, Labour MP and one-time party deputy leader Denis Healey, a member of the steering committee for more than 30 years, did offer a clear statement of its intentions when quizzed by journalist Jon Ronson for his book Them in 2001.
"To say we were striving for a one-world government is exaggerated, but not wholly unfair," he said. "Those of us in Bilderberg felt we couldn't go on forever fighting one another for nothing and killing people and rendering millions homeless. So we felt that a single community throughout the world would be a good thing."
To this date, we know of no homeless person ever benefiting from anything the Bilderburg group has brought into practice.
However, what does emerge is the degree to which the Bilderberg Group is that even minus the proof of world domination the group does create suspicion and resentment with their cloak-and-dagger mentality, their self-importance and their alarmism.
It is no surprise to learn that some Bilderbergers quite like the idea that they are secretly running the world: it flatters their vanity, and due to their positions and this disproportionate amount of power concentrated within these groups. That vanity can and may very well manifest itself in reality.
The fact they are so secretive gives good reason for people to make such assumptions, after all, they are the rich and powerful and in some cases, the people's democratically elected representatives, members of the government and our parliamentarians, influencers in media and global business, meeting to discuss world issues that ultimately affect our lives, lives they have the influence disproportionately.
Tony Benn believed that those in positions of economic, social and political power should always be asked five questions:
"What power have you got?"
"Where did you get it from?"
"In whose interests do you use it?"
"To whom are you accountable?"
"How do we get rid of you?"
"Anyone who cannot answer the last of those questions does not live in a democratic system," Benn explained.
"Only democracy gives us that right. That is why no one with power likes democracy," he would continue. "And that is why every generation must struggle to win it and keep it—including you and me, here and now"
It's quite clear there would be some unanswered questions from members of these NGOs.
Support Labour Heartlands
PLEASE HELP US KEEP GOING AD-FREE
This is a "Pay as You Feel" website.
Hey there! Thanks for stopping by. If you've enjoyed reading the articles on Labour Heartlands so far, We would be incredibly grateful if you could consider making a small donation. Labour Heathlands is not your typical news outlet. We are not here to simply regurgitate the daily news cycle, that's for the rest of them. Our focus is on delving deeper, uncovering the untold stories and shedding light on the issues that the mainstream media chooses to ignore.
Our unwavering commitment to journalistic integrity means that we are not influenced by any external forces. We are not beholden to PR companies, advertisers or press barons, and we refuse to let anyone dictate what we report on. Our editorial independence is sacrosanct, and our only allegiance is to the truth.
While we do not align ourselves with any particular political party, we stand firmly against corruption, injustice and the erosion of truth and the rule of law. We believe that accurate information is the lifeblood of a democracy and that facts are not up for debate.
Once again, thank you for your support – We truly couldn't do this without you!
PLEASE HELP US KEEP GOING AD-FREE