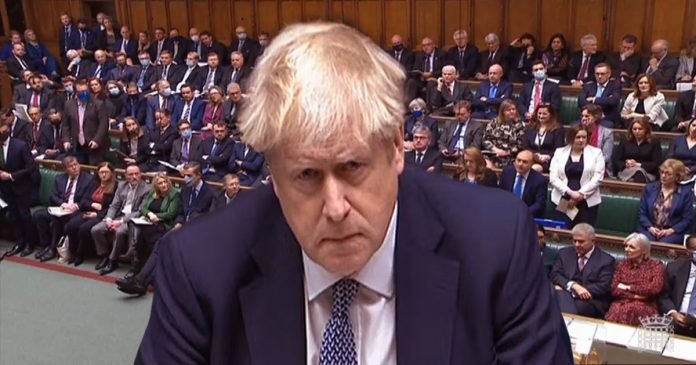 Conservative MPs trigger a vote of confidence in Boris Johnson's leadership
Sir Graham Brady, the chairman of the 1922 Committee of backbench Tory MPs, has confirmed that the "threshold of 15 per cent of the parliamentary party seeking a vote of confidence in the leader of the Conservative Party has been exceeded," and that a vote on Johnson's leadership will be held from 6 pm to 8 pm on Monday evening. A spokesperson for Downing Street has said that Johnson "welcomes the opportunity to make his case to MPs".
Boris Johnson is now fighting for his political life as he faces a no confidence vote from Tory MPs over Partygate.
Scotland Yard issued fines for up to 12 rule-breaking events but only one penalty to Boris Johnson leading to furious questions about how the Prime Minister got away with it.
Sue Gray's scathing report laid bare the extent of lockdown boozing in No10 and Whitehall, with excruciating details of how aides drank until they were sick and abused security staff and cleaners.
Johnson said he was "humbled" by the findings but tried to shift blame onto staff by claiming he wasn't aware of how raucous some events became.
It initially appeared that Tories were buying his defence but a string of MPs have now broken cover to call for the PM to resign.
The mood changed dramatically ahead of the Jubilee weekend, with widespread speculation in Westminster that rebels had the numbers to trigger a vote in Mr Johnson's leadership.
Boris Johnson was booed by the crowd as he entered St Paul's for Jubilee service this weekend, this may well have emboldened more Tory rebels to act.
How did it happen?
A challenge can be triggered if 15 percent of the Conservative MPs write a letter to the chairman of the influential "1922 Committee" [the parliamentary group of all backbench Conservative lawmakers] demanding a vote of confidence in the leader. The party currently has 359 MPs, so 54 of them need to send letters.
What happens during a confidence vote?
Once the required number of no confidence letters is reached, Brady would announce a vote of no confidence in the prime minister. All Conservative MPs can vote, either in favour of or against the leader staying on. Boris Johnson would need a simple majority to win. That would currently mean 180 or so.
What happens next?
In the event of a victory, he remains in office and gets immunity from another formal challenge for a year. If he loses, he has to resign and is barred from standing in the ensuing leadership election. His successor would also become prime minister.
What is the 1922 Committee?
The 1922 Committee, also known as "the 22", is a committee of all backbench Conservative MPs that meets weekly when the Commons is sitting. Its chair, usually a senior MP, is elected by committee members and has considerable influence within the Parliamentary Party.
The 1922 Committee takes its name from a meeting of Conservative MPs in October 1922 which led to the end of the party's coalition government with the Liberals.
What is the 1922 Committee?
The 1922 Committee's main function is to keep the leadership of the party informed of the mood of Conservative backbenchers. The group meets every week when Parliament is in session and gives backbench Tory MPs the chance to air their concerns, report on constituency work and coordinate legislative agendas.
Its chair, usually a senior MP, is elected by committee members and has considerable influence within the parliamentary party.
Conservative cabinets and shadow cabinets are expected to take the views of the committee very seriously. If a Conservative leader were to lose the support of the committee, it could leave them in a vulnerable position.
It is the committee that assesses, organises and ballots on leadership challenges – meaning its power, when called upon, can be huge.
Who chairs the 1922 Committee?
The current chairman is Sir Graham Brady, MP for Altrincham and Sale West, who was appointed in May 2010. Graham has previously served as a shadow minister, holding the schools, employment and Europe briefs.
Support Labour Heartlands
PLEASE HELP US KEEP GOING AD-FREE
HELP US GROW.
This is a "Pay as You Feel" website.
This blog has no source of state, corporate or institutional finance whatsoever. It runs entirely on voluntary subscriptions from its readers – many of whom do not necessarily agree with every article, but welcome the alternative voice, insider information and debate.
You can have access to all of our online work for free. However if you want to support what we do, you could make a small donation to help us keep writing and staying ad-free. The choice is entirely yours.