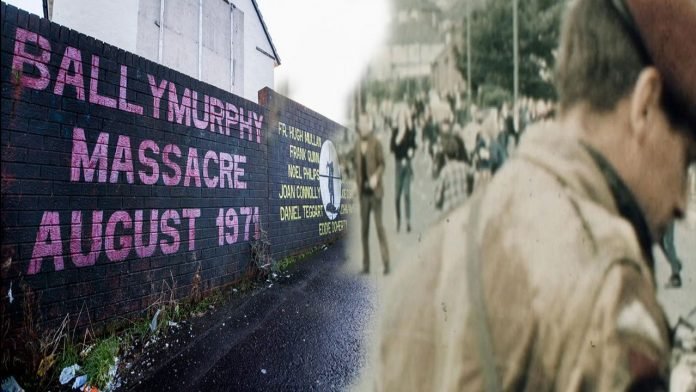 Families of Ballymurphy massacre victims 'elated and relieved' as their loved ones are declared innocent
Delivering her findings in Belfast on Tuesday, after the longest-running inquests in Northern Ireland's history, Mrs Justice Siobhán Keegan said she hoped the findings may deliver some peace for the families.
The Ten people killed in west Belfast almost 50 years ago in the wake of an Army operation were "entirely innocent", an inquest has found.
The inquest, which began in November 2018, examined the deaths in and around the Ballymurphy area of west Belfast in August 1971.
The shootings happened after an operation in which paramilitary suspects were detained without trial.
Victims included a priest trying to help the wounded and a mother of eight.
Nine of the 10 victims were killed by the Army, the coroner said.
The coroner could not definitively say who shot the tenth victim, John McKerr.
Mrs Justice Keegan, who delivered her findings over the course of more than two hours, said the deaths took place during Northern Ireland's Troubles in a "highly charged and difficult environment".
Nine of those were killed by the British Army without just reason, while the coroner was unable to say who shot John McKerr outside Corpus Christi Church.
Mr McKerr's daughter Anne Ferguson said she was not disappointed the coroner was unable to say who exactly had killed her father, but was delighted he had been declared an innocent man.
"I'm elated, absolutely delighted. It was too long, that's the shame of it, but I'm absolutely delighted," she said following the verdicts.
"We set out to prove his innocence and that was said very forcibly today, we got the result we set out to get.
"It has been a long haul but today makes it worth it. I wondered, with the length of time that had passed, whether it was all going to be worth it in the end, it is. Ten tonnes have been lifted in weight off our shoulders."
Mr McKerr previously served in the British Army during the Second World War.
"To hear it said publically that my father was innocent, that was all we wanted," Mrs Ferguson said.
"He lost his hand in the war, he had no affiliation with any group, apart from the British Legion."
Mother-of-eight Joan Connolly was also killed during the unrest, her daughters Philomena Morrison and Joan Connolly said they had "mixed emotions" following the verdicts.
They emotionally recounted the story of the last time they saw their mother.
Upon hearing the verdict they said they felt "elated" and a "sense of relief".
"It's brilliant after all the years us sisters can have some inner peace," Ms Connolly said.
"We have cleared her name, she was innocent and they all are innocent and we have got justice and truth today and that's all that matters."
Joseph Murphy's daughter Janet Donnelly said she was happy her father's name had finally been cleared.
"I always knew my daddy was an innocent man but now the world knows," she said.
"The official version 50 years ago that the people murdered in Ballymurphy were gunmen, gunwomen, today they were all exonerated as innocent civilians killed on the streets of Belfast.
"It was emotional, it's a long, long journey, it's been very emotional for all the families, we have waited 50 years to get our loved ones proved innocent."
John Teggart, whose father Daniel was among those killed, said he felt "fantastic" when the verdict was read out.
"The family is ecstatic, it's absolutely amazing. All our loved ones are declared innocent," he said.
"It was a very emotional day, a very happy day, that's the main point, it's something we have campaigned for, for many, many years."
He also paid tribute to the work of Mrs Justice Keegan during the inquest.
"All the years of hard work, all the families worked day and night, it was a 24-hour campaign, you woke up in the morning and you thought of the campaign, you went to sleep thinking of the campaign, that's come to an end," Mr Teggart said.
He said the families would now take a period of time to regroup.
"We're going to focus on today, the day where all our loved ones were innocent. That was what we campaigned for, we campaigned very hard and that's what we've done, that's what we're going to focus on," Mr Teggart said.
"We'll regroup in the weeks to come and decide what our next step, if any, for now we've corrected history and this is an example of why there should never be an amnesty (for military veterans who served in Northern Ireland), because of today."
The 10 killed were Francis Quinn, Fr Hugh Mullan, Noel Phillips, Joan Connolly, Daniel Teggart, Joseph Murphy, Edward Doherty, John Laverty, Joseph Corr and John James McKerr. An 11th victim, Pat McCarthy, died of a heart attack.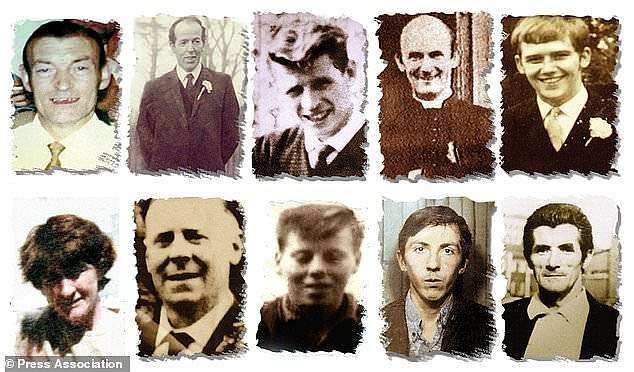 The coroner was broadly critical of the military evidence provided to the inquests, and contrasted the general nature of the evidence provided by British army witnesses and statements with the specific picture painted by local eyewitnesses.
She was also critical of the limited investigations carried out at the time. In one case no contemporaneous evidence statements were collected, and she said the "failure to investigate at the time made my task extremely difficult".
In regard to the deaths of Mr Quinn and Fr Mullan on August 9th, the coroner found that both were "innocent men, not armed or acting in any untoward manner" and who had instead gone to help a wounded man.
She said that on the balance of probabilities both were shot by the British army, and their use of force was "clearly disproportionate".
Of Fr Mullan, Mrs Justice Keegan said she was "quite convinced he was a peacemaker" who was waving a white object when he was shot in the back.
On the deaths of Noel Phillips (19), Ms Connolly and Mr Teggart on August 9th and Mr Murphy, who was shot that evening but died of his wounds on August 22nd, the coroner said there was "no real doubt" in her mind that each of them had been shot by members of the British army's Parachute Regiment who were situated in the Henry Taggart hall.
She found the use of force was "clearly disproportionate" and the deceased were unarmed and posing no threat.
Retired British Army general Sir Geoffrey Howlett, 89, today told families of the victims of the Ballymurphy massacre he had 'enormous sympathy' with them at an inquest investigating the killings of 10 people in west Belfast in August 1971
Speaking at the hearing in Belfast, in front of three rows of family members of the dead, Sir Geoffrey said: 'I want just to say to you how sincerely I have enormous sympathy with you all … as relatives of those who were killed in this case on the ninth of August 1971.
'I know something about bereavement because my father was killed in Italy in the war when I was 13 and I wanted to know everything about how it happened as well.
'I just repeat what enormous sympathy I have with you all.'
The inquest heard a regimental note from the time said soldiers viewed the incident as them 'inflicting severe casualties on the IRA'.
But the General said 'most if not all were not IRA'.
---
Now we know they were all innocent.
Truth and Reconciliation Commission
We advocate a Truth and Reconciliation Commission that allows all sides a route to finding some peace for their families and loved ones.
The Truth and Reconciliation Commission (TRC) was a court-like restorative justice body assembled in South Africa after the end of apartheid. Witnesses who were identified as victims of gross human rights violations were invited to give statements about their experiences, and some were selected for public hearings. Perpetrators of violence could also give testimony and request amnesty from both civil and criminal prosecution.
The TRC, the first of the 1003 held internationally to stage public hearings, was seen by many as a crucial component of the transition to full and free democracy in South Africa. Despite some flaws, it is generally (although not universally) thought to have been successful.
The Institute for Justice and Reconciliation was established in 2000 as the successor organisation of the TRC.
The giving of statements and amnesty from prosecution would have gone a long way to help bereaved families from all sides of the troubles.
Support Labour Heartlands
WAIT! BEFORE YOU GO
PLEASE HELP US KEEP GOING AD-FREE
This is a "Pay as You Feel" website.
Your support for Labour Heartlands is greatly appreciated. As an independent nonprofit news outlet, we rely on our members to hold the powerful accountable. Our kind of reporting is essential to democracy, but it is not easy, cheap, or profitable.
To continue providing impactful journalism, we need your help. It's getting really hard for us all. Becoming one of our donors. It's simple and doesn't have to cost a lot. With as little as £2, £3, or £5 a month, you can support the journalism you rely on.
While we do not align ourselves with any particular political party, we stand firmly against corruption, injustice, and the erosion of truth and the rule of law. We believe that accurate information is the lifeblood of a democracy and that facts are not up for debate.
Your contribution, no matter how small, goes a long way in helping us continue our mission. Together, we can make a difference.
Thank you, The Labour Heartlands Team
PLEASE HELP US KEEP GOING AD-FREE