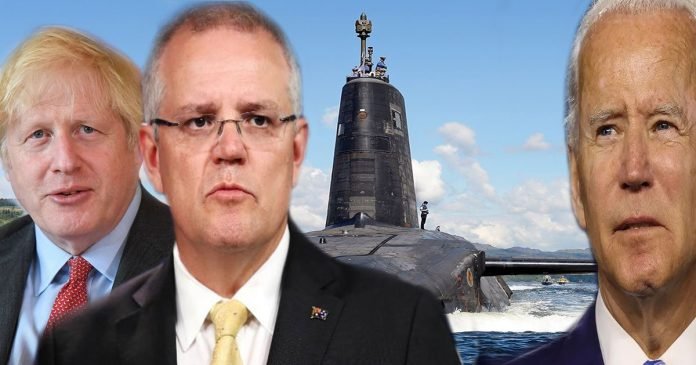 President Joe Biden on Wednesday unveiled a new effort to help Australia acquire nuclear-powered submarines, a major step toward what has been claimed a counter to China as he works to build international backing for his approach to Beijing.
The announcement came as part of a new trilateral partnership among the United States, Australia and the United Kingdom that the three countries' leaders jointly revealed Wednesday.
"The United States, Australia and the United Kingdom have long been faithful and capable partners and we're even closer today," the President said. "Today, we're taking another historic step to deepen and formalize cooperation among all three of our nations, because we all recognize the imperative of ensuring peace and stability in the Indo-Pacific over the long term."
The partnership kicks off what is expected to be a flurry of diplomatic engagements for the three leaders this autumn.
The claim that underpinning Biden's efforts is a desire to rally the West and US partners in Asia in the battle between "autocracy versus democracy," one of the defining objectives of his presidency. Biden has made countering China a central aspect of his foreign policy as tensions grow over the South China Sea and Taiwan, and has said he wants American allies on board.
The new partnership between the US, UK and Australia — three English-speaking maritime democracies — is not specifically about China, officials insisted ahead of the announcement. Instead, they said the three countries would hold a schedule of meetings over the coming months to coordinate on cyber issues, advanced technologies and defence in a bid to better meet modern-day security challenges. The new partnership is called AUKUS, pronounced "aw-kiss."
For many, this will be hard to see as anything but provoking the dragon.
The move toward establishing nuclear submarine capability in Australia, which officials said will allow the country to operate at a vastly higher level militarily, that will amount to the center of the announcement. Nuclear submarines are able to manoeuvre at greater speeds and endurance, and more stealthily, than conventional ones, which must surface more often.
"This allows Australia to play at a much higher level and to augment American capabilities," a senior administration official said ahead of the announcement. "This is about maintaining peace and stability in the Indo-Pacific."
Biden, during Wednesday's announcement, also maintained that the establishment of AUKUS is necessary because "we need to be able to address both the current strategic environment in the region and how it may evolve."
"Because the future of each of our nations and indeed the world depends on a free and open Indo-Pacific, enduring and flourishing in the decades ahead. This is about investing in our greatest strength, our alliances, and updating them to better meet the threats of today and tomorrow," the President added.
The initiative will focus initially on helping the Australian navy procure a multi-billion-pound fleet of nuclear-powered submarines – a move that Beijing will likely see as aggressive.
But London, Canberra and Washington said they will also seek to collaborate in cyber, quantum technologies and artificial intelligence as well as other underwater capabilities – areas in which western democracies are frantically racing their authoritarian rivals to dominate.
In a joint statement, Boris Johnson, Joe Biden of the United States and Australia's Scott Morrison said: "The endeavour we launch today will help sustain peace and stability in the Indo-Pacific region.
"For more than 70 years, Australia, the United Kingdom, and the United States, have worked together, along with other important allies and partners, to protect our shared values and promote security and prosperity. Today, with the formation of AUKUS, we recommit ourselves to this vision."
The word "China" was not mentioned in the statement, nor in an accompanying press release, but the predominant security and defence challenge facing the world's democracies is the rise of an increasingly assertive, authoritarian Beijing.
Commenting on the new venture, Mr Johnson said: "The UK, Australia and US are natural allies – while we may be separated geographically, our interests and values are shared.
"The AUKUS alliance will bring us closer than ever, creating a new defence partnership and driving jobs and prosperity.
"This partnership will become increasingly vital for defending our interests in the Indo-Pacific region and, by extension, protecting our people back at home."
New Foreign Secretary Liz Truss said the "landmark" partnership "reflects the UK's commitment to deepening ties in the Indo-Pacific".
President Biden said: "We all recognise the imperative of ensuring peace and stability in the Indo-Pacific for the long term.
"We need to be able to address both the current strategic environment in the region and how it may evolve."
The submarine collaboration is the most immediate area of work.
The US and UK navies already cooperate very closely with their nuclear-powered submarine fleets – one of the most secret, complex and sensitive areas of defence.
Sharing their knowledge with Australia is understood to be viewed as the most significant collaboration on capabilities in decades.
The leaders, in their joint statement, said: "We will leverage expertise from the United States and the United Kingdom, building on the two countries' submarine programmes to bring an Australian capability into service at the earliest achievable date."
The nations are already three members of the so-called Five Eyes intelligence-sharing alliance.
But the AUKUS partnership seeks to strengthen even further the bond. It may at some point see other like-minded countries join.
American officials said the cooperation between the three countries was limited only to nuclear propulsion and said Australia has no intention of pursuing nuclear weapons.
During his remarks on Wednesday, Biden emphasized that the AUKUS submarine project would be using conventionally armed submarines, not nuclear-armed ones.
"We're not talking about nuclear-armed submarines. These are conventionally armed submarines that are powered by nuclear reactors," Biden said. "This technology is proven, it's safe, and the United States and UK have been operating nuclear powered submarines for decades."
Feeding the industrial arms complex
For most people this will be seen as an extension of American imperialism, a step closer to conflict and moving the Doomsday clock minutes forward.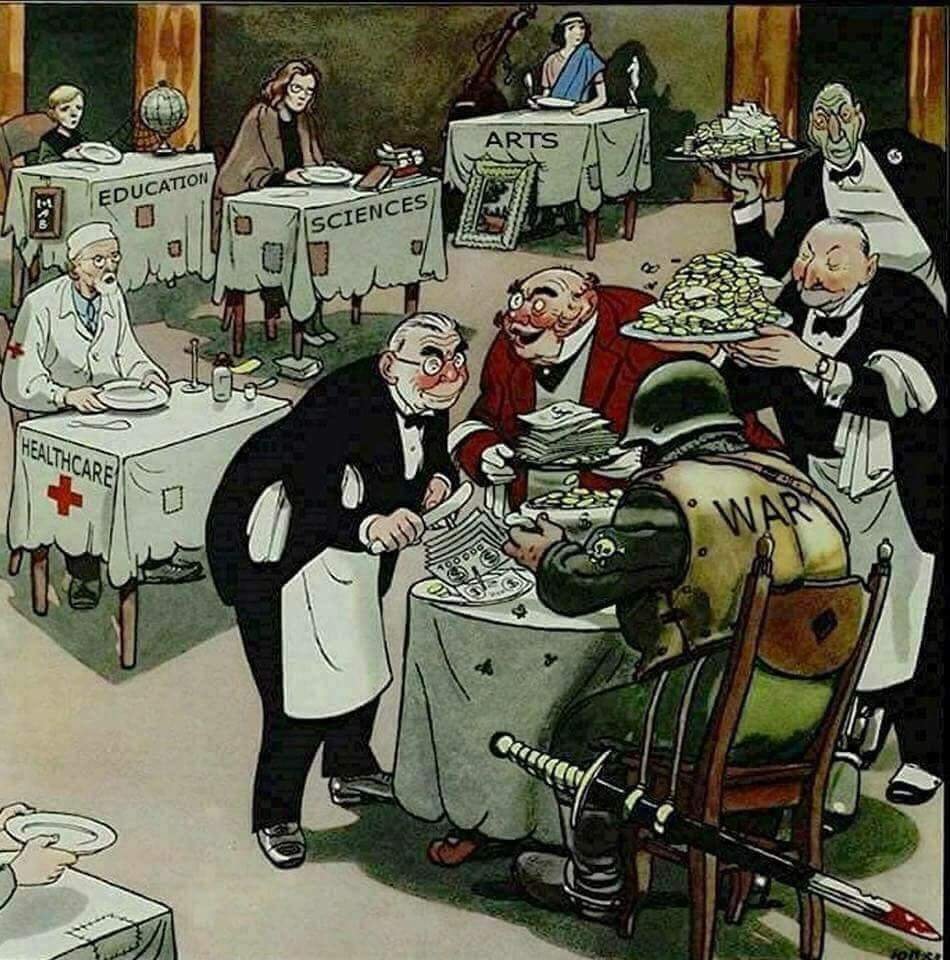 After a chaotic withdrawal from Afghanistan that led to questions about Biden's trustworthiness and willingness to remain engaged abroad it is surprising how quickly everyone is so keen to jump back into bed with the US, but just like 20 years ago no doubt a new reason for the industrial arms complex to keep sucking our tax money dry will be given and some will become extremely rich from the threat of war, true or not.
Besides if china wanted to win a war they would just close their shipping lanes, after all, aren't we all reliant on Chinese goods?
Support Labour Heartlands
Help Us Sustain Ad-Free Journalism
Welcome to the Heartlands of Independent Journalism
At Labour Heartlands, we are committed to delivering independent news, views, and opinions. Our mission is to hold those in power accountable, and we can't do it without your support. As a non-profit independent organisation, we rely on our donors to keep our journalism ad-free and impactful.
Like everyone else, we're facing challenges, and we need your help to stay online and continue providing crucial journalism. Every contribution, no matter how small, goes a long way in helping us thrive. By becoming one of our donors, you become a vital part of our mission to uncover the truth and uphold the values of democracy.
While we maintain our independence from political affiliations, we stand united against corruption, injustice, and the erosion of free speech, truth and democracy. We believe in the power of accurate information in a democracy, and we consider facts non-negotiable.
Your support, no matter the amount, can make a significant impact. Together, we can make a difference and continue our journey toward a more informed and just society.
Thank you for supporting Labour Heartlands
Just click the donate button below