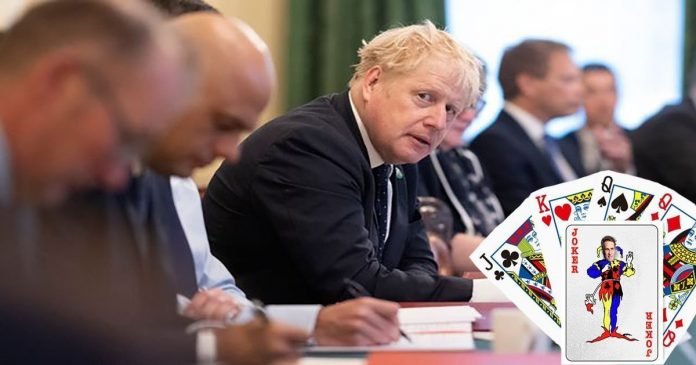 Boris Johnson has carried out a sweeping reshuffle of his Cabinet which saw a number of senior ministers ousted from his top team.
The Prime Minister seized the chance for a long-awaited overhaul of his top team, with it the direction of his Government, after his first two years in power were dominated by Covid-19.
Johnson's reshuffle was more extensive than expected, with some senior figures moved around – or shown the door.
Gaffe-prone Education Secretary Gavin Williamson was the first to be fired from Government, while Dominic Raab was demoted from his role as Foreign Secretary – but behind closed doors won himself a new title as Deputy PM.
There were promotions for Liz Truss and Michael Gove – and golden goodbyes for contravirsial Housing Secretary Robert Jenrick and Justice Secretary Robert Buckland.
Removed
Gavin Williamson has been sacked as Education Secretary, a position he has held since 2019.
Williamson has faced regular criticism of his handling of how children would receive an education through the pandemic, which saw schools closed and the 2020 fiasco in the awarding of A-level and GCSE grades.
He tweeted: "It has been a privilege to serve as Education Secretary since 2019. Despite the challenges of the global pandemic, I'm particularly proud of the transformational reforms I've led in Post 16 education: in further education colleges, our Skills agenda, apprenticeships and more.
He said he would "look forward to continuing to support the Prime Minster and the government" from the backbenches.
As Defence Secretary, he infamously told Russia to "go away and shut up" – will he take his own advice now he's out of power?
Robert Buckland has lost his position as Justice Secretary and Lord Chancellor, positions he has held for seven years.
After being sacked, he said it is "on to the next adventure".
Robert Jenrick has been sacked as Housing Secretary. Mr Jenrick said it had been a "huge privilege" to serve in the government, saying he will "continue to support the Prime Minister and the Government in every way I can".
His sacking followed his department's unlawful approval of Tory donor Richard Desmond's housing development in east London, as well as the ongoing cladding scandal, Grenfell inquiry, and government's attempts to have 300,000 new homes built a year.
Amanda Milling loses her position as Conservative Party chair. The sacking comes weeks ahead of the Tory conference in October.
The full hand at a glance.
Reshuffled
Dominic Raab, ousted as Foreign Secretary, which is regarded as one the top jobs in Government, Mr Raab instead becomes Justice Secretary. However he has formalised his position as the PMs' number two by wangling the title of Deputy Prime Minister.
He was widely tipped for the chop after he stayed at a five-star luxury resort in Crete while the Taliban marched across Afghanistan and seized the capital, Kabul.
The demotion is believed to be the result of a lengthy meeting between Mr Raab and Mr Johnson over his handling of the evacuation of British citizens and Afghan allies from Afghanistan last month.
Raab has been succeeded by Liz Truss. One of the big winners of the day was Liz Truss, the born-again Brexiteer who has won fans among MPs and grassroots Tories. who has been promoted from International Trade Secretary to Foreign Secretary.
Nadhim Zahawi has become Education Secretary after previously being the Vaccines Minister. Mr Zahawi is likely being rewarded with a promotion after the UK's successful Covid vaccine rollout.
Sacked Housing Secretary Robert Jenrick has been replaced by Michael Gove. Boris Johnson's former ally – and leadership saboteur – has been handed a big job at the Ministry of Housing, Communities and Local Government.
Mr Gove – who was previously the Chancellor of the Duchy of Lancaster – will also be responsible for the Government's levelling-up agenda and have responsibilities for strengthening the Union.
Oliver Dowden has been demoted to Minister without Portfolio and replaced as Culture Secretary by Nadine Dorries. Former 'I'm a Celebrity' contestant and author Nadine Dorries gets a big promotion to become Culture Secretary in the reshuffle.
Ms Dorries, who previously appeared on I'm a Celebrity… Get Me Out of Here, is an outspoken Brexiteer, BBC critic and ardent supporter of the prime minister.
Anne-Marie Trevelyan, former International Development Secretary Anne-Marie Trevelyan returns to the Cabinet by taking on the top job at International Trade. Her department was folded into the Foreign Office last year, leaving her without a cabinet role.
Ms Trevelyan will take over negotiating post-Brexit trade deals from Liz Truss, who has now moved to the Foreign Office and Steve Barclay has succeeded Mr Gove as Chancellor of the Duchy of Lancaster and minister for the Cabinet Office.
Remains
Priti Patel remains in her position has Home Secretary, Rishi Sunak stays as Chancellor of the Exchequer and Ben Wallace is still Defence Secretary.
Sajid Javid, who only recently replaced Matt Hancock as Health Secretary, is keeping his job. He tweeted that he is "determined to get our country through the pandemic" and "deliver lasting reforms to health and social care."
Kwasi Kwarteng, who spent around 40 minutes at No10, will stay as Business Secretary.
George Eustice has kept his Environment Secretary job, while Alister Jack and Simon Hart will remain as Scotland Secretary and Wales Secretary respectively.
Kit Malthouse is still a minister in the Home Office and Ministry of Justice and will attend Cabinet.
Baroness Evans said she is "very pleased to be back" as she remains Lord Privy Seal and Leader of the House of Lords.
Lord Frost stays in post as Brexit minister in the Cabinet Office.
Support Labour Heartlands
PLEASE HELP US KEEP GOING AD-FREE
HELP US GROW.
This is a "Pay as You Feel" website.
This blog has no source of state, corporate or institutional finance whatsoever. It runs entirely on voluntary subscriptions from its readers – many of whom do not necessarily agree with every article, but welcome the alternative voice, insider information and debate.
You can have access to all of our online work for free. However if you want to support what we do, you could make a small donation to help us keep writing and staying ad-free. The choice is entirely yours.