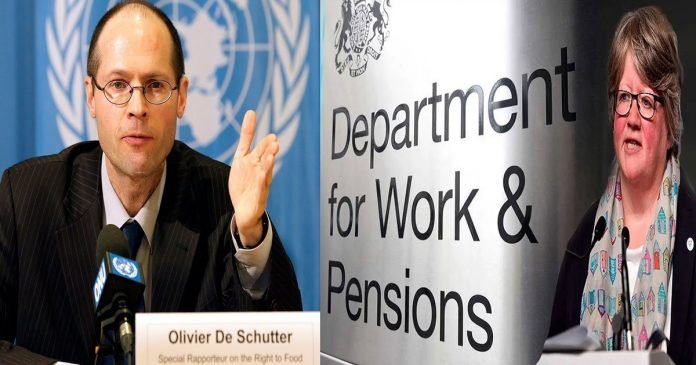 Universal credit could plunge half a million households into poverty, warns top UN official
A UN Poverty rapporteur says the removal of £20 a week uplift based on 'very ill-informed understanding' of impact.
Cutting universal credit by £20 a week is an "unconscionable" move that breaches international human rights law and is likely to trigger an explosion of poverty, the United Nations' poverty envoy has said.
In an excoriating intervention alongside a letter to the UK government, Olivier De Schutter, the UN-appointed rapporteur on extreme poverty, told the Guardian that the withdrawal of the £1,000-a-year uplift from next month was "deliberately retrogressive" and incompatible with Britain's obligation to protect its citizens' rights to an adequate standard of living.
'Unconscionable' universal credit cut breaks human rights law, says UN envoy
Mr De Schutter told the Guardian it was "unconscionable at this point in time to remove this benefit", he said, adding the decision to cut universal credit – which was boosted last year to help people get through the pandemic – was based on a "very ill-informed understanding" of its impact on claimants.
"For these people, £20 a week makes a huge difference, and could be the difference between falling into extreme poverty or remaining just above that poverty line … If the question is one of fiscal consolidation to maintain the public deficit within acceptable levels then you should raise revenues, not cut down on welfare at the expense of people in poverty."
Labour urged Conservative MPs who oppose the welfare cut to "do the right thing" and back a vote calling for the government to scrap the plans on Wednesday.
MPs supported the motion by 253 votes to zero, but it is non-binding and does not force the government to act.
Boris Johnson refused to explain how claimants can make up the lost £20 a week, after cabinet minister Therese Coffey on Monday got her sums wrong and claimed recipients would only need to work an extra two hours a week.
The prime minister declined to say whether the true figure was higher or lower after experts concluded the answer was up to nine hours.
---
Under Article 11 of the ICESCR, the right to an adequate standard of living includes the provision of adequate housing, food and water. The same rights are covered in the ESC by a number of different articles.
The ICESCR is monitored by the UN Committee on Economic, Social and Cultural Rights (CESCR) and the ESC by the Committee on Social Rights. The committees do not accept complaints from individuals.
This right is closely linked to the right to health.
Where it applies
housing
hospitals
care homes
mental health services
prisons
social security and welfare
---
Ministers plan to begin phasing out the uplift from the end of September, based on individual claimants' payment dates.
A non-binding Labour Commons motion on Wednesday calling for the universal credit cut to be withdrawn was passed with the support of four Tory MPs: Peter Aldous, Neil Hudson, John Stevenson and William Wragg. The Tory former welfare secretary Stephen Crabb spoke in the debate to argue the benefit should be retained.
Crabb said: "This is not about being wet on fiscal discipline or about being Labour lite. It is about recognising what is good, responsible social policy, and I am clear in my mind that this sudden, abrupt withdrawal of the £20 uplift that millions of families will experience in the coming weeks is not the right way of doing welfare policy."
De Schutter, a Belgian-born professor of law and a human rights expert, took up his role in May 2020, succeeding Philip Alston, who in 2018 produced a scathing report on the impact of austerity in the UK, calling rising child poverty levels "not just a disgrace, but a social calamity and an economic disaster".
Ministers have argued that the withdrawal of the temporary universal credit uplift, introduced as a pandemic measure in April 2020 and worth £1,050 a year to more than 6 million out-of-work or low-paid working recipients, is necessary as the government focuses on getting people into work or working more hours as the economy opens up.
De Schutter said this did not justify the cut. "There are many studies showing that the condition for a healthy and well-qualified workforce to emerge is to provide adequate levels of social protection. You will not improve the productivity of workers or the rate of people employment by pushing people into poverty."
As well as warnings from charities and opposition parties that 500,000 people, including 200,000 children, will fall into poverty, there is nervousness among Tory MPs that the withdrawal will hit families struggling with the cost of living, not least in politically sensitive former "red wall" seats in the north of England and the Midlands.
The cost of living crisis will have been further fuelled by record inflation spurred by a rise in food and drink prices. Inflation rose to 3.2% in August, from 2% in July, putting further pressure on household budgets. The £20 cut will come as furlough ends and energy prices increase.
Six Conservative former work and pensions secretaries have urged the government to abandon its plans. They include the political architect of universal credit, Iain Duncan Smith. He this week urged ministers to "seize the opportunity to protect more families from poverty and make the £20 uplift permanent".
In a letter sent to the UK government, De Schutter said he commended the government's decision to provide the uplift, saying it had played an important role in keeping low-income households out of poverty during the pandemic. However, its withdrawal would leave millions unable to cover daily expenses.
He said the UK was a signatory to the international covenant of economic, social and cultural rights, and under this the government must adequately justify "retrogressive measures" by carrying out a formal impact assessment showing the decision to be compelling, reasonable and proportionate.
"Taking into account these criteria, perhaps your excellency's government may wish to reconsider the proposed cut, since it is prima facie doubtful whether the removal of the £20 uplift is a measure that conforms to international human rights law and standards," the letter said.
Last week the government said it had not carried out a formal impact assessment of the cut as it constituted a return to "business as usual". De Schutter said it was a "well established" rule of international law that states must assess and publish the impact of any retrogressive measures on citizens.
In febuary 2021 Professor Olivier De Schutter, UN Special Rapporteur on Poverty made a scaving statment about The European union's neoliberal policies causing poverty throughout Europe.
Statement by Professor Olivier De Schutter, United Nations Special Rapporteur on extreme poverty and human rights, on his visit to the European Union (25 November 2020 to 29 January 2021) Link
UN Special Rapporteur on Poverty: The European union's neoliberal policies are causing poverty throughout Europe.
The UN Special Rapporteur on Poverty, Olivier De Schutter, says the EU's neoliberal policies cause poverty. Hardly a startling revelation given that 14million people were living in poverty in this country when the UK was still a member of the EU.
Austerity is the enemy of the people.
Over the past decade, various European countries including the UK have been experiencing one of the most dramatic economic crises of the past century. As the effects of the 2007–2009 US subprime mortgage crisis and the 2007–2008 financial crisis rippled across the Atlantic, various fiscally stressed EU countries were forced to borrow heavily in order to keep their banks afloat, leading to an increased accumulation of public debts. Between 2010 and 2011, three states (Greece, Portugal, and Ireland) became insolvent, requiring a bailout package from the European Union and the International Monetary Fund, while Spain and Italy were also at risk.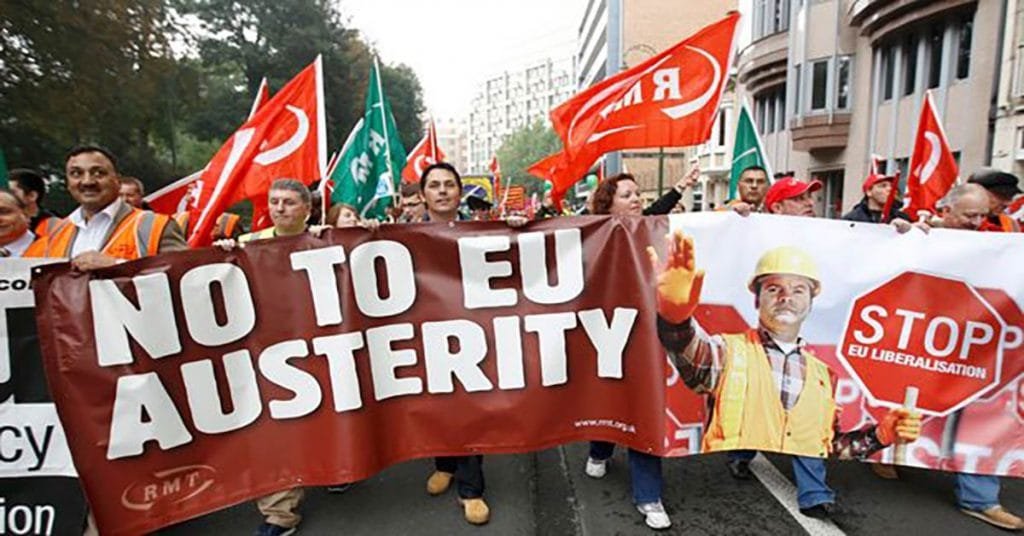 As a condition for bailout funds, these countries were forced to cut public spending and increase government revenue by passing a series of austerity measures. While these were primarily implemented in the southern European countries most affected by the sovereign debt crisis, similar measures were also taken in other parts of the European Union, most notably in the United Kingdom under David Cameron's government.
Austerity is an umbrella term that includes a range of different policies sharing the stated aim of reducing public spending, increasing government revenues, and reducing the cost of labor in order to make countries more attractive to private investment. Although policies have varied from country to country, they have generally included measures such as reform to the pension system (e.g., raising the pensionable age, cutting pensions), cuts to health care and social services, increases in regressive taxes (such as VAT), and the liberalisation of the labor market (though, among other things, the erosion of collective bargaining power).
While the weight of these policies varied from country to country, depending on their précises economic condition and their existing social-protection mechanisms, they have generally led to an increase in poverty and inequality, including both increased numbers of people living in poverty and intensification of poverty.
SOCIAL AND ECONOMIC EFFECTS OF THE ECONOMIC CRISIS AND OF AUSTERITY MEASURES
The main consequences of the crisis and related austerity policies have been an increase in poverty and inequality. Even if austerity policies were to help relaunch the private sector, as their proponents suggest, they would create a highly inequitable growth. The increase in poverty is mainly due to unemployment, to changes in working conditions (e.g., decrease of the minimum wage, increase of flexible and precarious forms of employment), and to pension cuts, now to cuts in universal credits.
Support Labour Heartlands
WAIT! BEFORE YOU GO
PLEASE HELP US KEEP GOING AD-FREE
This is a "Pay as You Feel" website.
Your support for Labour Heartlands is greatly appreciated. As an independent nonprofit news outlet, we rely on our members to hold the powerful accountable. Our kind of reporting is essential to democracy, but it is not easy, cheap, or profitable.
To continue providing impactful journalism, we need your help. It's getting really hard for us all. Becoming one of our donors. It's simple and doesn't have to cost a lot. With as little as £2, £3, or £5 a month, you can support the journalism you rely on.
While we do not align ourselves with any particular political party, we stand firmly against corruption, injustice, and the erosion of truth and the rule of law. We believe that accurate information is the lifeblood of a democracy and that facts are not up for debate.
Your contribution, no matter how small, goes a long way in helping us continue our mission. Together, we can make a difference.
Thank you, The Labour Heartlands Team
PLEASE HELP US KEEP GOING AD-FREE