The husband of Emilie Oldknow Jonathan Ashworth talks about shame. Who said Irony is dead!
Jonathan Ashworth's comments come the day before publication of EHRC report on the issue and its caused a bit of a Twitter storm
In response, there have been hundreds of tweets with many suggestions of what are Labour's most shameful moments, ironically most mention the Labour MPs own wife 'Emilie Oldknow' who the Labour party suspended along with several others, amid an ongoing investigation into a leaked report into antisemitism in the party.
We can all agree any form of anti-Semitism racism and bigotry is shameful and that's where the Ashworth would do well to take a look closer to home.
Ashworth wife's name 'Emilie Oldknow's' features 270 times in the leaked report, with some of the most shocking and offensive statements attributed to her.
Most people can agree the shocking dossier is in fact one of Labour's most shameful moments, of course not nearly as shameful as taking a nation into an illegal war killing millions and having such a knock-on effect, destabilising an entire region so much that its blowback is still being felt today.
That sort of shamefulness belongs to Tony Blair and the Blairites still within the Labour Party. The ones sitting in Parliament today that carried out a coup on the elected leader Jeremy Corbyn in 2016, days after the EU referendum and 3 days after David Cameron resigned leaving the country without a leader in both major parties. That sort of shamefulness takes some beating.
No the dossier itself is not 'the' most shameful event in Labour's history but it certainly ranks as one of them, it's shameful in the fact that it outlines the events captured in Whatsapps messages between Labour Party officials that for all intents and proposes worked to lose an election, betraying millions of voters and leaving those people to the continued oppression of the Tory party.
The 860-page dossier contains thousands of emails and WhatsApp messages, paints a picture of a management team that is more than just sceptical about their party's electoral chances with Corbyn as leader; senior members of staff – including those at director level – actually appeared to despair as their party's polling improved.
After reading the dossier you are left with a real feeling of shame in the fact that Labour Party staffers and senior members had in fact worked to lose a general election, a rightwing faction within the Labour Party had run a parallel campaign to the official one – channelling resources to factionally favoured candidates over those in marginal seats.
In addition, the pettiness and childish nature of these supposed work colleagues leave nothing to be desired. The dossier records Emilie Oldknow describing another staff member as "pube head" and calling a colleague "smelly cow", the report claims one conversation between senior management can be taken to show Oldknow suggesting allegations of racism made by BAME politicians were untrue.
It could also suggest that Oldknow thought the very idea of white privilege was itself something to mock and not to take seriously.
The document also shows a culture racism, pettiness and sexism – all within a broader context where management openly despised the party's leadership, as well as many of its members and MPs specifically attacking black MPs like Diane Abbott and Dawn Butler.
However, Labour Party members nationwide have expressed their outrage at the betrayal based on the allegations in the leaked report into the party's handling of anti-Semitism. But more so at the way staffers worked to undermine the Labour Party's general election campaign of 2017.
It's a shameful moment when Labour Staffers allowed a Tory win.
The leaked 860-page investigation, "The work of the Labour Party's Governance and Legal Unit (GLU) in relation to antisemitism, 2014-2019," paints a devastating picture of the filthy operations of the Blairite right.
The report highlights blatant sabotage and treachery carried out by staffers who worked not only against the prospect of Jeremy Corbyn becoming Prime minister but against the Labour Party becoming the government and in doing so carrying out the pledges to stop austerity make food banks redundant and change the oppressive universal credit system.
Jonathan Ashworth personal shame: Caught out!
The Shadow Health Secretary says he was just "joking around" after a recording was leaked of him criticising Jeremy Corbyn and saying Labour wouldn't get an overall majority. Jonathan Ashworth named the leaker as a Tory friend Greig Baker – but says he isn't a friend anymore.
Chris Williamson also brought to task another 'political grifter' Ed Balls who has described the failure to deal with antisemitism within the Labour Party as a "tragedy and a disaster" tweeting: "The man who promoted the racist anti-immigration mugs dares to virtue signal about antisemitism. Many of those targeted were leftwing anti-Zionist Jews!
The real tragedy was attempting to appease bad faith actors while abandoning anti-racist socialists."
The man who promoted the racist anti-immigration mugs dares to virtue signal about antisemitism. Many of those targeted were leftwing anti-Zionist Jews!

The real tragedy was attempting to appease bad faith actors while abandoning anti-racist socialists.https://t.co/as5sOKUA36

— Chris Williamson (@DerbyChrisW) October 28, 2020
Here at Labour Heartlands we always found this a shameful moment in Labour history the Welfare bill: When 184 Labour MPs who didn't vote against the Tories' cuts
The cuts include child tax credits and the household benefit cap.
The main changes in the Bill included reducing the household welfare cap from £26,000 to £23,000, abolishing legally binding child poverty targets, cuts to child tax credits, cuts to Employment and Support Allowance, and cuts to housing benefit for young people.
Tony Blair and the Labour Party took us into an illegal war.
None more shameful moment in Labour history than the illegal war Blair and New Labour took the country into and he is still walking free.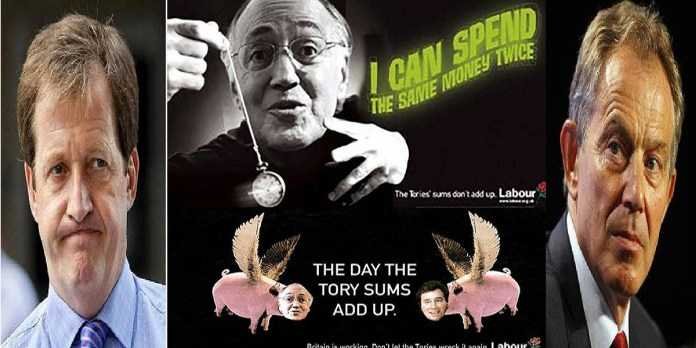 Of course, there are other shameful moments such as the time Alastair Campbell used antisemitic tropes in a national newspaper, however, he was a Blairite and after reading the #LabourLeaks dossier Blairites fall under different rules if any. Labour Leaks in full.
Related Articles: Labour Civil war: 'The first rule of Starmer's Labour' don't talk about, Panorama settlement, EHRC, IHRA,#LabourLeaks
Diane Abbott Calls For Publication Of Full Labour WhatsApp Logs from the #Labourleaks files
#LabourLeaks: No amount of forensic investigations will change the facts, members want justice.
#LabourLeaks: The Labour Party's GLU created a 'new Stasi system to spy on members'
Support Labour Heartlands
Help Us Sustain Ad-Free Journalism
Sorry, I Need To Put Out the Begging Bowl
Independent Journalism Needs You
Our unwavering dedication is to provide you with unbiased news, diverse perspectives, and insightful opinions. We're on a mission to ensure that those in positions of power are held accountable for their actions, but we can't do it alone. Labour Heartlands is primarily funded by me, Paul Knaggs, and by the generous contributions of readers like you. Your donations keep us going and help us uphold the principles of independent journalism. Join us in our quest for truth, transparency, and accountability – donate today and be a part of our mission!
Like everyone else, we're facing challenges, and we need your help to stay online and continue providing crucial journalism. Every contribution, no matter how small, goes a long way in helping us thrive. By becoming one of our donors, you become a vital part of our mission to uncover the truth and uphold the values of democracy.
While we maintain our independence from political affiliations, we stand united against corruption, injustice, and the erosion of free speech, truth and democracy. We believe in the power of accurate information in a democracy, and we consider facts non-negotiable.
Your support, no matter the amount, can make a significant impact. Together, we can make a difference and continue our journey toward a more informed and just society.
Thank you for supporting Labour Heartlands
Just click the donate button below