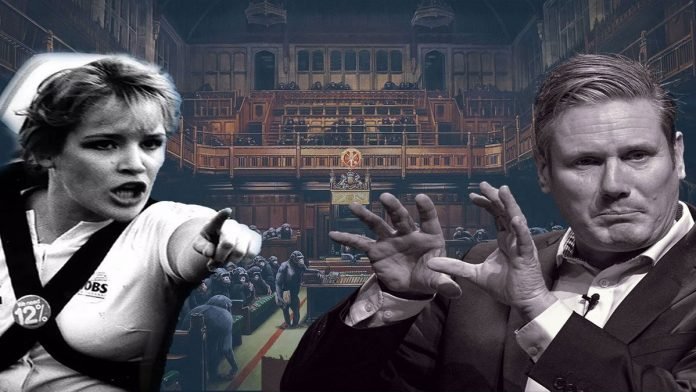 It's a race to the bottom for a Nurses pay rise with the Tories at 1% and Labour at 2.1%
Speaking at his local election campaign launch, Sir Keir Starmer said: "A vote for Labour is a vote to support our nurses, our doctors, our NHS staff, and to reward our key workers.
However, Labour will not commit to a 5% pay rise for nurses although that was their manifesto election promise.
Both Sir Keir Starmer and his Deputy Leader Angela Rayner have refused to back the 12.5% demanded by nurses or even their own manifesto pledges of 5% pay rise they promised.
Sir Keir Starmer has said NHS workers should get a "fair" pay rise but declined to back a 12.5% pay rise proposed by the Royal College of Nurses.
The Labour leader Sir Keir Starmer also said nurses shouldn't go on strike amid continued anger at the government's recommendation of a 1% pay rise for NHS staff.
Launching his campaign for May's elections, the Labour leader targeted the Government's widely criticised recommendation of a 1% raise for England's health workers.
However, he is fully prepared to back nurses and use their just cause for a well-deserved pay rise as long as it's what he calls a fair 2.1% or thereabouts and not the 12.5% that Nurses are demanding.
He said on Friday that "a vote for Labour is a vote to support our nurses", but did not go as far as some supporters wanted in specifying the raise they deserve during the pandemic.
Starmer has demand at least 2.1% pay rise for nurses – but won't say how much!
The Labour leader said frontline staff deserve 'a fair pay rise' rather than a real-terms cut in wages offered by Boris Johnson. On that, we can all agree but if Starmer wants to use the NHS as a bandwagon he should listen to the Unions and their demands.
It seems Labour have not learnt any lessons of the past when the choice given by the two main parties was how much 'Austerity' and how long over!
Jeremy Corbyn, earlier criticised the party leadership and said they must "stand up for working people" after Deputy Leader Angela Rayner declined to support the nursing union's call for a 12.5% raise.
Mr Starmer urged the Prime Minister to abandon his plans and allow NHS workers to get on with their jobs.
Asked if he would support strike action, he said: "The NHS don't want to go on strike. I support them in their entitlement to a fair wage rise after what they've been through.
"They don't want to go on strike. It's the Prime Minister who is causing this dispute and it's the Prime Minister that can sort it out."
The facts are no matter what Starmer has to say on nurses striking the nurses Union has set up a £35 million Industrial Action fund in readiness for that event, with the majority of the UK behind the nurses Labour should either get on board or stop the hypocrisy of using the NHS as their election flag ship
The deputy Angela Rayner followed Starmer in curbing the nurses pay rise and would not even honour Labours manifesto pledge to give nurses a 5% pay rise
Labour had promised a 5% pay rise for public sector workers including nurses in its 2019 election manifesto.
This pay rise would reportedly see a nurses' annual pay rise by £1,211 while a junior doctor's salary will increase by £1,384.
The average pay rise of £1,643 across the public sector would restore public sector pay to at least pre-financial crisis levels in real terms by delivering year-on-year above-inflation pay rises, the manifesto document said.
Labour also doubled down on promises to invest £1 billion a year in nurse education including reinstating the nurse bursary following its removal in 2017.
Then and Now.
Angela Rayner says nurses should get at least the 2.1% pay rise the government has budgeted for but that Labour would not honour its 2019 Manifesto commitment to pay NHS workers a 5% pay rise because, "What we've got to remind ourselves in that manifesto in 2019, the general public completely rejected it, you know, it was one of our worst election defeats so what me and Keir have done when we took over the leadership of the Labour Party is listen to voters."
Labour's leaders believe that, with their overwhelming support for the heroic efforts of frontline workers and particularly NHS staff, voters would not look kindly on Labour delivering that particular manifesto pledge.
Nor would Labour support the 12.5% claim made by the Royal College of Nurses, which the RNC see as going some way to rectifying the real terms cuts made to NHS wages by the Tories.
Our country desperately needs a Labour Government… but that's not what Starmer and Rayner will deliver based on the evidence of their words and actions to date
Perhaps an audit of the 37billion 'Track and trace' handout will produce the funds needed to pay our nurses their worth?
Support Labour Heartlands
PLEASE HELP US KEEP GOING AD-FREE
HELP US GROW.
This is a "Pay as You Feel" website.
This blog has no source of state, corporate or institutional finance whatsoever. It runs entirely on voluntary subscriptions from its readers – many of whom do not necessarily agree with every article, but welcome the alternative voice, insider information and debate.
You can have access to all of our online work for free. However if you want to support what we do, you could make a small donation to help us keep writing and staying ad-free. The choice is entirely yours.