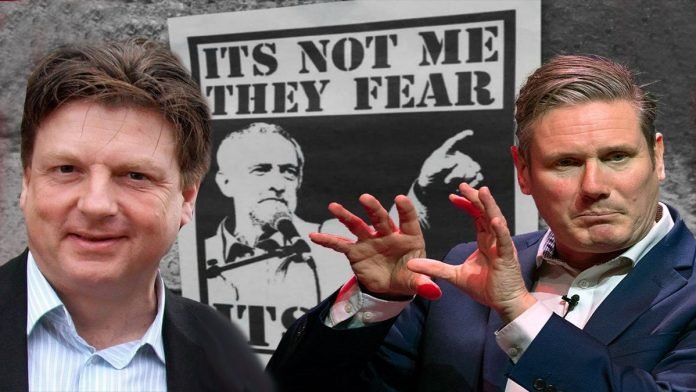 Former Labour leader Jeremy Corbyn was suspended in October after 37 years as an MP and 54 years as a member after he defended the party from allegations of anti-Semitism in a report by the Equality and Human Rights Commission, but was promptly reinstated by the ruling executive committee.
In May 2019, the Equality and Human Rights Commission (EHRC) announced it would be investigating the party over its handling of the claims.
Its findings in October 2020 concluded.
The watchdog said its analysis "points to a culture within the party which, at best, did not do enough to prevent anti-Semitism and, at worst, could be seen to accept it".
The EHRC found Labour responsible for three breaches of the Equality Act: political interference in anti-Semitism complaints, failure to provide adequate training to those handling anti-Semitism complaints and harassment, including the use of anti-Semitic tropes and suggesting that complaints of anti-Semitism were fake or smears.
The first breach was of political interference by the leader's office.
This included staff influencing decisions on suspensions or whether to investigate a claim.
Some decisions, said the watchdog, were also made because of "likely press interest rather than any formal criteria", and the party "adopted a practice of political interference", making the EHRC believe it occurred more regularly in anti-Semitism cases.
This, it said, was "indirectly discriminatory and unlawful" and put the person making the complaint at a disadvantage.
The watchdog concluded its report with a list of recommendations for the party.
They including setting up an independent complaints process, and ensuring it was audited.
It also said Labour needed to acknowledge the political interference that had already taken place and set out clear guidance to stop it from happening again.
After the report was published Jeremy Corbyn made a short statement: In a Facebook post responding to the Equality and Human Rights Commission report, which found Labour responsible for unlawful acts of harassment and discrimination over antisemitism, the former Labour leader said he had been obstructed by party officials in trying to tackle the issue. However, he expressed regret that "it took longer to deliver that change than it should".
He also said: anti-Semitism was "absolutely abhorrent" and "one anti-Semite is one too many" in the party.
But he then said: "The scale of the problem was also dramatically overstated for political reasons by our opponents inside and outside the party, as well as by much of the media."
Corbyn was questioned on Sir Keir's statement and whether he stood by his own response that the issue had been "dramatically overstated".
Corbyn repeated that "one anti-Semite is too many", but then said the number of complaints had been "exaggerated".
Six minutes after the clip aired, Labour released a statement saying they had suspended Mr Corbyn from the party.
It read: "In light of his comments made today and his failure to retract them subsequently, the Labour Party has suspended Jeremy Corbyn pending investigation."
Sir Keir Starmer has always maintained that the former leader of the Labour Party was suspended by the General Secretary, David Evans. If Sir Keir Starmer was to have made the decision to suspend Jeremy Corbyn then Starmer himself would be in breach of the EHRC own rules.
However, speaking on BBC Radio 2's Jeremy Vine show on Tuesday morning, Starmer contradicted his public statements last October that Labour General Secretary David Evans had taken the decision after "consulting" the parliamentary leader.
"I've said that I am going to tackle anti-Semitism and root it out in my party, and that's what I've been doing, taking necessary action", Starmer said. "And it was Jeremy's response to a report that we had into the Labour Party on anti-Semitism that caused me to take that action".
This was not a mistake, Starmer emphasized and elaborated on it twice.
The Keywords are 'that caused me to take that action' owning the fact he made the decision, a decision that ultimately breaks the rules Jeremy Corbyn was accused of 'The first breach was of political interference by the leader's office.'
It was quite clear to listeners that Starmer made claim to being the person responsible for his former leader's suspension, taking that decision onto himself.
Play the video listen to Starmer in his own words.
Following Corbyn's suspension, Starmer claimed he was not trying to provoke a "civil war" in Labour even as super-union Unite General Secretary Len McClusky warned it would "split" the party. But Evans took disciplinary action against branch officials who criticised the move.
Left-wing website Novara Media founder Aaron Bastani seized on Starmer's comments, accusing him of a "profound inability to be honest".
Alex Nunns Tweeted: Keir Starmer took the decision to suspend Jeremy Corbyn. Labour claimed the General Secretary did in a flawed attempt to evade the charge of political interference—the very thing the EHRC condemned. But Keir couldn't resist boasting about his "difficult decision" on the radio.
He also tweeted:
They didn't even get the cover story right. They briefed Nick Watt of Newsnight that Starmer was "consulted on the suspension." By the standards set out by the EHRC, if Starmer was consulted that would be political interference, which the EHRC asserted is unlawful. pic.twitter.com/GJvtFPsVuF

— Alex Nunns (@alexnunns) November 1, 2020
The other EHRC's recommendations where to be implanted by December 10th yet hundreds of Labour members some innocent some guilty have not had due process carried out and their suspension cases heard.
Again it is quite telling that the ex-staffers suspended after the publication of the #Labourleaks have been reinstated into the party members like Former senior Labour staffer and wife to MP Jonathan Ashworth, Emilie Oldknow.
Second breach: Failure to provide adequate training
The EHRC found was around the party's complaints process and training in handling complaints.
The investigation found the system to be "inconsistent and lacking in transparency".
The final breach of the law concerned harassment.
The report said Labour was responsible for two cases of unlawful harassment, where anti-Semitic tropes were used and complaints about them were branded as fake or smears.
Labour is sinking fast under the leadership of Sir Keir Starmer.
Labour's National Executive Committee voted to reinstate Corbyn, a veteran MP and 55-year party member, 19 days after his suspension.
Unfortunatly and unprecedentedly Starmer insisted on keeping the whip withdrawn from his predecessor, meaning he currently sits as an independent MP and may potentially be unable to stand as a Labour candidate in his Islington North seat at the next general election.
Labour is trailing the Tories and Boris Johnson's Conservative Party by 13 points in the latest YouGov poll, despite the party being responsible for the deaths of over 120k covid victims and the blatant cronyism and open theft of public money in this ongoing coronavirus pandemic.
Support Labour Heartlands
PLEASE HELP US KEEP GOING AD-FREE
HELP US GROW.
This is a "Pay as You Feel" website.
This blog has no source of state, corporate or institutional finance whatsoever. It runs entirely on voluntary subscriptions from its readers – many of whom do not necessarily agree with every article, but welcome the alternative voice, insider information and debate.
You can have access to all of our online work for free. However if you want to support what we do, you could make a small donation to help us keep writing and staying ad-free. The choice is entirely yours.