It seems we are all cursed to suffer the constant lies of politicians, it makes no difference whether they fall out of Boris Johnson's mouth, sounding like grunts from a farmyard animal at the trough, or they are farted out from Sir Keir Starmer's over boringly adenoidal monotone voice, they are lying all the same.
And none worst than the lies they tell of others while hoping we forget their own stance on the same issues.
We have gotten quite used to Starmer's flip-flops, his breaking of pledges even his measly-mouthed play on words to change the very meaning of his promises.
Throughout the conflict in Ukraine at every given opportunity, Starmer has regurgitated his NATO mantra, drawing on the former Labour Prime Minister Clement Attlee as a foundation of Labour's commitment to Nato, hoping to give his stance credibility, hoping we all forget the fact that was last century, that was the century of the cold war and the Soviet Union, a threat that no longer exists.
To listen to Sir Keir Starmer's unbridled praise for the military alliance of Western imperialists is just cynical and nauseating, to compare it to Britain's National Health Service as one of "the great achievements of the 1945 Labour government"; a "transformational legacy" that apparently has Labour's "proud", "unwaverable", and "unshakeable" support.
He claims "To condemn NATO is to condemn the guarantee of democracy and security it brings," the Labour leader writes. We wonder if Afghan workers and youth feel the same way, 20 years after NATO forces invaded their country.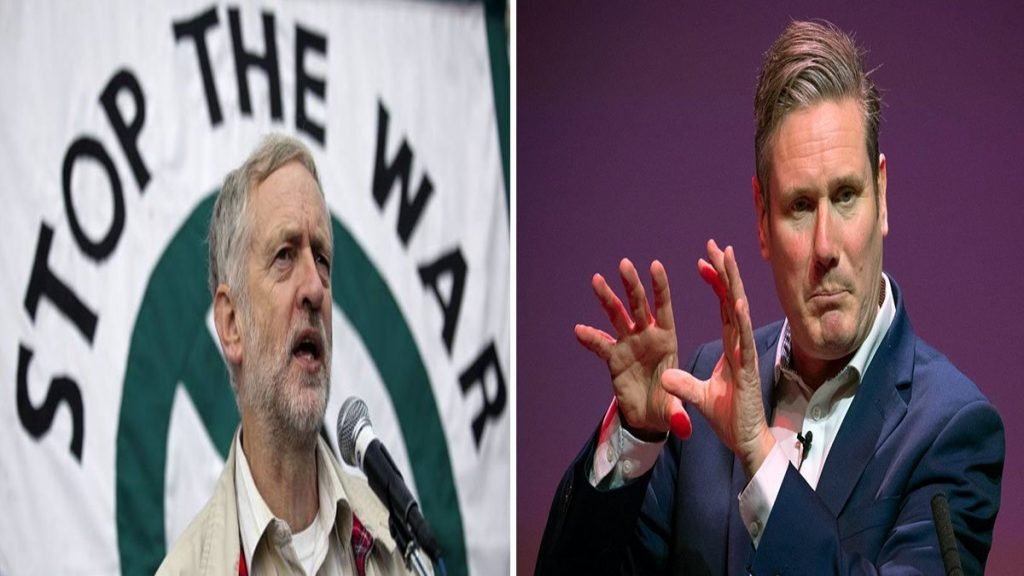 However, we should always point out their hypocrisy, their condescending statements that are made to attack a better person while trying to enforce a moral high ground they just don't have.
Starmer has used his now Nato views as a weapon to bring down more ammunition as to why Jeremy Corbyn will not stand as the Labour candidate for North Islington in the next general election.
Corbyn is on record, in a Times radio broadcast, as saying: "I don't blame Nato for the fact that Russia has invaded Ukraine. What I say is look at the thing historically, and look at the process that could happen at the end of the Ukraine war."
He also said: "The issue has to be: what's the best way of bringing about peace in the future? Is it by more alliances? Is it by more military build-up?" Or is it by stopping the war in Ukraine and the other wars … that are going on at the present time, which are also killing a very large number of people? And ask yourself the question: do military alliances bring peace? Or do they actually encourage each other and build up to a greater danger?"
Corbyn – a long-standing critic of the transatlantic military alliance – said while he accepted the group was not going to be scrapped immediately, people should re-examine it after the conflict in Ukraine ends.
Starmer used Corbyn's Nato views to stack more ammunition as to why he will never run as a Labour MP again.
Asked whether his predecessor could be readmitted to the parliamentary party after his comments, Sir Keir told the BBC's Sunday Morning programme: "It is very difficult to see how that situation can now be resolved."
He added: "[Mr Corbyn] lost the whip because of his response to the Equalities and Human Rights Commission in relation to anti-Semitism, but I made it very clear, the first thing I said as party leader was that I was going to tear out anti-Semitism by its roots in our party.
"I've also made it clear that our position in the Labour Party is not to accept the false equivalence between Russian aggression and the acts of Nato."
The current Labour leader insisted the party's stance under both his leadership and Mr Corbyn's was pro-Nato and that was not going to change.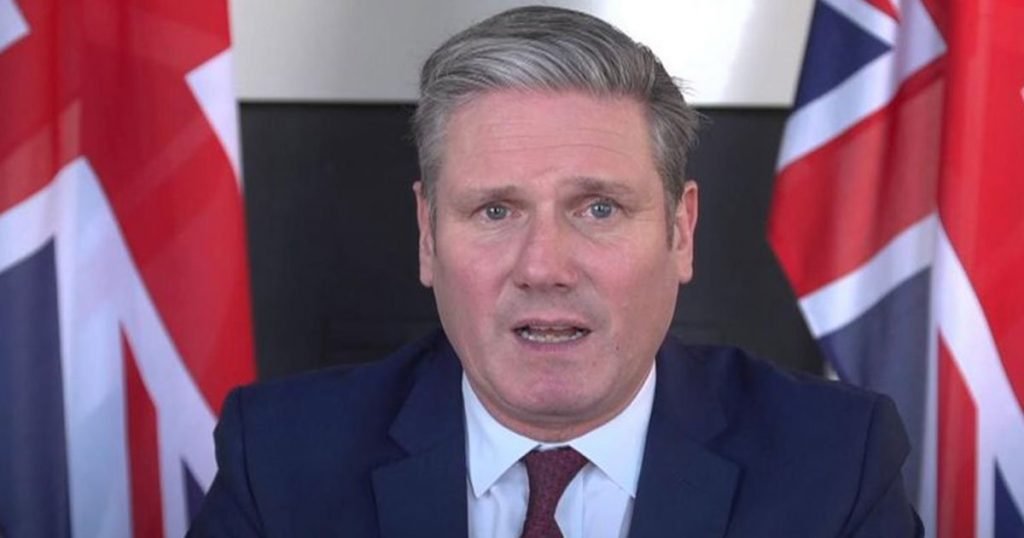 Looking to paint himself in a different light from the views of his predecessor Jeremy Corbyn, Starmer has proudly declared his and the Labour Party's unconditional support of Nato.
It's from that position Starmer has attacked Jeremy Corbyn, using Corbyn's views on NATO to virtually guarantee that he will never have the whip restored, in layman's terms Starmer will never allow Corbyn to stand as a Labour MP again.
Starmer's anti-Nato stance
These attacks on Corbyn for holding opinions that offer views towards peace, rather than war ironically are the same views that not so long ago Sir Keir Starmer held himself, however, that may have been before he became an establishment stooge.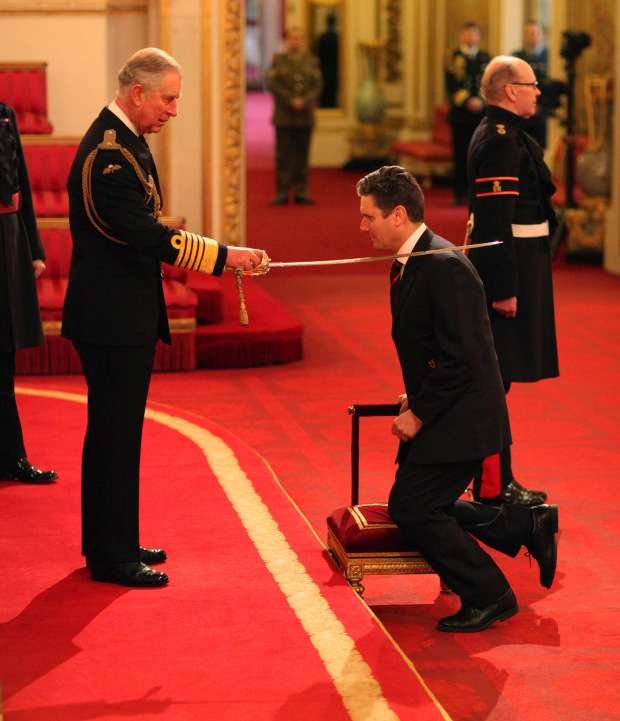 Listening to the Keir Starmer of today you would never guess that he had previously demanded the break up of Nato when practising as a human rights barrister.
However, since taking over as Labour leader, the Holborn and St Pancras MP like with so many things, including his election pledges, no longer holds that view or stands by his former policies.
Uncovered documents show the Labour leader advocated for ripping up the Nato defensive alliance while Secretary of the Haldane Society of Socialist Lawyers, Starmer suggested the UK and other Western countries should be "abandoning weapons and strategies of genocide".
Today we not only see him distancing himself from his own former views on NATO but using them to condemn his predecessor, Sir Keir Starmer wrote in a newspaper article: "To condemn Nato is to condemn the guarantee of democracy and security it brings, and which our allies in eastern and central Europe are relying on, as the sabre-rattling from Moscow grows ever louder."
He added: "There is no equivalence between a defensive alliance that has never provoked conflict and those who would inflict the appalling cost of war on others."
It's fair to say in modern politics you should never let a contradiction stand in the way of facts. Starmer claims "To truly stop war, you need to show you are serious about standing up for peace, that you are serious about keeping your promises to your friends, and that you will always stand up to those who threaten". he conveniently misses out on the fact Ukraine is not a Nato member and the only alliance we have with Ukraine is the Minsk agreement that we failed to act upon, if we had perhaps things would be quite different in the Ukraine right now.
Yet while Secretary of the Haldane Society of Socialist Lawyers, the group passed a resolution calling on "Britain and other capitalist countries" to disarm.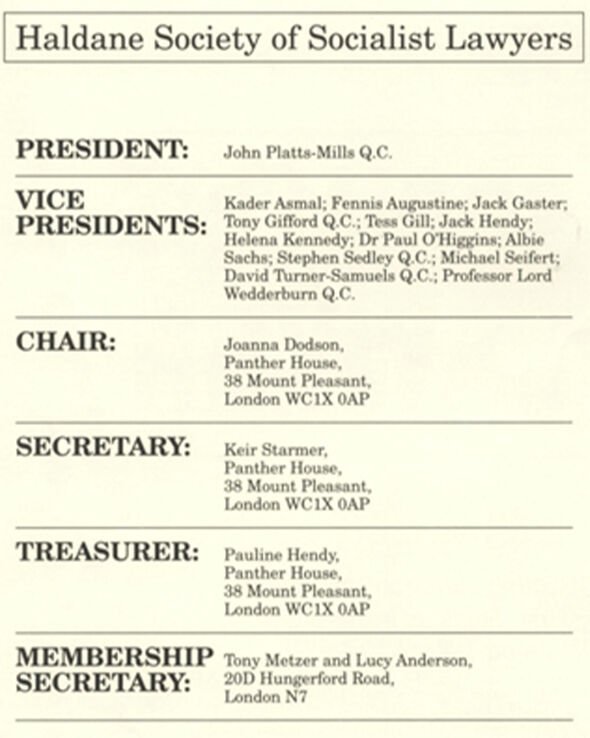 It added that the Labour Party should "adopt a non-nuclear, non-aligned defence policy as the precondition for the preservation and extension of human rights".
The motion essentially backed scrapping Britain's nuclear deterrent and leaving the Nato defence alliance.
The group claimed the policy was "key to victory at the next general election".
The motion as passed was printed in issue No9 of the Socialist Lawyer publication in autumn 1989.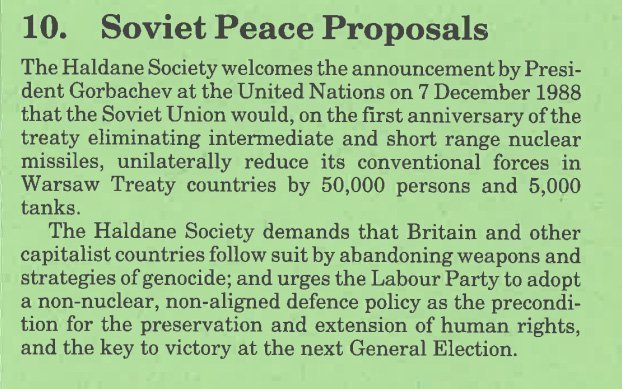 10. Soviet Peace Proposals
The Haldane Society welcomes the announcement by President Gorbachev at the United Nations on 7 December 1988 that the Soviet Union would, on the first anniversary of the treaty eliminating intermediate and short range nuclear missiles, unilaterally reduce its conventional forces in Warsaw Treaty countries by 50,000 persons and 5,000 tanks.
The Haldane Society demands that Britain and other capitalist countries follow suit by abandoning weapons and strategies of genocide; and urges the Labour Party to adopt a non-nuclear, non-aligned defence policy as the precondition for the preservation and extension of human rights, and the key to victory at the next General Election.
It was that year the Soviet Union started its collapse.
The fall of the Berlin Wall on 9 November 1989 was a pivotal event in world history which marked the falling of the Iron Curtain and one of the series of events that started the fall of the Soviet Union
---
The dissolution of the Soviet Union (1988–1991) was the process of internal disintegration within the Soviet Union (USSR) which resulted in the end of its existence as a sovereign state. It brought an end to General Secretary (later also President) Mikhail Gorbachev's effort to reform the Soviet political and economic system in an attempt to stop a period of political stalemate and economic backslide.
By late 1991, amidst a catastrophic political crisis, with several republics already departing the Union and centralized power waning, the leaders of three of its founding members declared that the Soviet Union no longer existed.
Eight more republics joined their declaration shortly thereafter. Gorbachev resigned in December 1991 and what was left of the Soviet parliament voted to end itself. Along with the Revolutions of 1989 in the Eastern Bloc, the dissolution of the Soviet Union marked the end of the Cold War.
That should have been the end of Nato.
That year changed many things, I'm ex-British Army and served in the British Army's only nuclear missile regiment in West Germany before it disbanded.
When the Cold War finished, we all believed Nato would disband, but it didn't, it changed its mandate, and it found new ways to use that alliance, it became an enforcer for corporate greed it moved to oppress other countries, like Iraq, Libya, and Afghanistan. It became a franchise for the industrial arms complex, moving constantly to the East. Something Biden had planned and advocated from 1997 onwards.
It should have changed to something new, but also there should have been a separate defence pact for the entire former Soviet Union Eastern Bloc countries, a non-aggression pact that would have brought about a workable situation where others could have come to the aid of any country attacked, unlike Ukraine that is now left alone.
Of course, NATO should have disbanded but it feeds the US economy and that's why they keep pushing it.
That's why they need their forever wars, that's why it doesn't matter who the 'Threat' is as long as there's a 'Threat' to keep the people in fear and keep them paying their taxes for their defence.
President Dwight D. Eisenhower in his speech "The Chance for Peace", also known as the Cross of Iron speech, shortly after the death of Soviet dictator Joseph Stalin, warned of the industrial arms complex.
Eisenhower evoked William Jennings Bryan in describing "humanity hanging from a cross of iron". Although Eisenhower, a former military man, spoke against increased military spending, the Cold War deepened during his administration and political pressures for increased military spending mounted. By the time he left office in 1961, he felt it necessary to warn of the military-industrial complex in his final address
Every gun that is made, every warship launched, every rocket fired signifies, in the final sense, a theft from those who hunger and are not fed, those who are cold and are not clothed. This world in arms is not spending money alone. It is spending the sweat of its labourers, the genius of its scientists, the hopes of its children. The cost of one modern heavy bomber is this: a modern brick school in more than 30 cities. It is two electric power plants, each serving a town of 60,000 population. It is two fine, fully equipped hospitals. It is some fifty miles of concrete pavement. We pay for a single fighter with a half-million bushels of wheat. We pay for a single destroyer with new homes that could have housed more than 8,000 people. . . . This is not a way of life at all, in any true sense. Under the cloud of threatening war, it is humanity hanging from a cross of iron.
-President Dwight D. Eisenhower on April 16, 1953
A defence from enemies, real or perceived.
The US economy is held up by two Pillars one the petrol dollar and the other the industrial Arms complex and it's struggling to find an alternative in a changing world.
The fact is Starmer advocated for NATO to be dissolved.
The fact is, it's not okay to be a Leader of a democratic socialist movement in the 21st century and believe the "anti-war" position is to support pouring weapons into a foreign country.
The fact is, it's not okay to project cold war brinkmanship that could lead to World War 3 while shouting down anyone who advocates de-escalation, diplomacy and détente, that's just not a thing anymore, that's the legacy of Blairism and his illegal wars, a legacy most on the LeFT have rejected.
Support Labour Heartlands
PLEASE HELP US KEEP GOING AD-FREE
This is a "Pay as You Feel" website.
Hey there! Thanks for stopping by. If you've enjoyed reading the articles on Labour Heartlands so far, We would be incredibly grateful if you could consider making a small donation. Labour Heathlands is not your typical news outlet. We are not here to simply regurgitate the daily news cycle, that's for the rest of them. Our focus is on delving deeper, uncovering the untold stories and shedding light on the issues that the mainstream media chooses to ignore.
Our unwavering commitment to journalistic integrity means that we are not influenced by any external forces. We are not beholden to PR companies, advertisers or press barons, and we refuse to let anyone dictate what we report on. Our editorial independence is sacrosanct, and our only allegiance is to the truth.
While we do not align ourselves with any particular political party, we stand firmly against corruption, injustice and the erosion of truth and the rule of law. We believe that accurate information is the lifeblood of a democracy and that facts are not up for debate.
Once again, thank you for your support – We truly couldn't do this without you!
PLEASE HELP US KEEP GOING AD-FREE