Sir Keir Starmer accuses Stop the War coalition of siding with Nato's enemies
Sir Keir Starmer has openly attacked Jeremy Corbyn by repeating far-right slurs against the former Labour Leader on unfounded claims around Corby's views of NATO.
Keir Starmer has launched an outspoken attack on the Stop the War coalition, in which Jeremy Corbyn is a leading figure, effectively accusing the campaign group of siding with Russia against Nato.
In an opinion article for the Guardian, penned on the way to Brussels where he reaffirmed Labour's staunch support for Nato, Starmer says Stop the War are "not benign voices for peace".
Starmer declares "Of all the great achievements of the 1945 Labour government, one stands out on the world stage. The NHS may have the greatest impact on our daily lives, but it is the creation of Nato that ushered in what is now approaching three-quarters of a century of peace between the nations of Europe".
---
I found that a little amusing having stood on the Lexit position listening constantly to argument the that EU has kept the peace in Europe not, NATO.
---
Starmer goes on to say: "At best they are naive, at worst they actively give succour to authoritarian leaders who directly threaten democracies. There is nothing progressive in showing solidarity with the aggressor when our allies need our solidarity and – crucially – our practical assistance now more than ever," he said.
Starmer's Tweet accompanying the article stated: "To truly stop war, you need to show you are serious about standing up for peace".
Obviously, Starmer's now entered the realms of 1984 and is in total Newspeak mode.. 'War Is Peace. Freedom Is Slavery. Ignorance Is Strength.' -George Orwell
Starmer accused the Stop the War coalition of having a "kneejerk reflex: Britain, Canada, the United States, France – wrong; their enemies – right".
Corbyn was the vice-president of the Stop the War coalition, along with Tony Benn, George Galloway, and Andrew Murray, who was also chief of staff to the former Unite leader Len McCluskey.
Murray rejected the Labour leader's criticisms, saying: "Keir Starmer ignores Nato's actual role over the past 25 years. It is those who supported intervention in Iraq and Afghanistan and Libya who have shown solidarity with the aggressor."
It seems Starmer would have ignored the UK's 'biggest peace rally' On 15 February 2003, a coordinated day of protests was held across the world in which people in more than 600 cities expressed opposition to the imminent Iraq War. It was part of a series of protests and political events that had begun in 2002 and continued as the invasion, war, and occupation took place. The day was described by social movement researchers as "the largest protest event in human history" Just as Tony Blair did.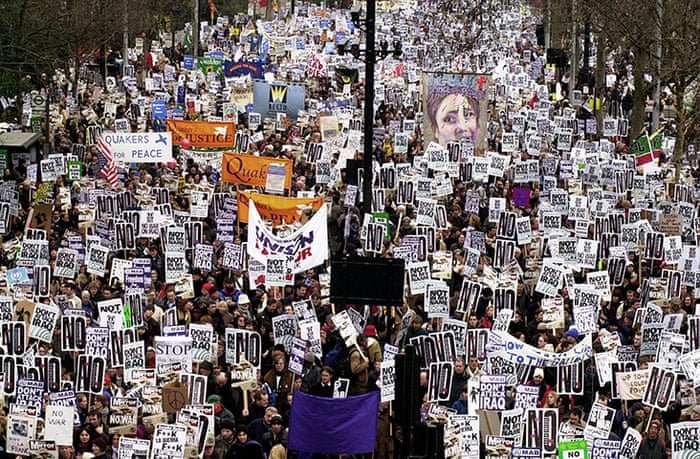 "Stop the War called those conflicts right when most Labour MPs did not," he added. "Keir Starmer would do better to back the French and German governments in seeking a diplomatic solution."
This was a direct attack on Corbyn echoing far-right attacks. The reality is Jeremy Corbyn's voting on security issues far outweighed even Boris Johnson.
Sir Keir Starmer has repeatedly distanced himself from Corbyn, who is currently sitting as an independent MP after having the whip removed by Starmer.
It is becoming more and more apparent Corbyn will not be allowed to stand as a Labour MP come the next general election, to be fair he would probably do more good outside the narrow views and restrictive labour party, especially as it has become indistinguishable from the tories.
Starmer is desperate to appeal to the majority leave voting Labour Heartlands, he misguidedly believes by flagshagging he will bring us around and back to the ballot box, if not the fold, he has no idea how betrayed we have felt by the Labour Party and more so disappointed in its continued shift to the Right, we are still fighting a class war, unfortunately, the Labour party have not only conceded to the ruling class they have joined them.
Asked in a BBC interview in Brussels how he had served in Corbyn's shadow cabinet despite their difference of view over Nato, Starmer said: "Jeremy Corbyn had a very different view. He was wrong about that. And I spoke out at the time and said he was wrong about that."
Jeremy Corbyn's stance on NATO before he became Labour leader is often paraphrased as "wanting to pull out" of the alliance, however, there is no evidence of him using this form of words.
It may be a pedantic point, but Jeremy Corbyn generally talked about wishing that NATO would restrict its role in world affairs or agree to dissolve itself, rather than actively calling for Britain to pull out.
Corby as never called for the UK to leave NATO – or for the alliance to be disbanded.
Let's be honest here, for many of us especially veterans like me, who have served on the frontlines during the cold war, operating along the East German borders within NATO and BOAR would have no objections to NATO disbanding or at least winding down after the collapse of the Soviet Union.
We all thought job done! We quite literally believed our mission was as a defence force, yes I am aware the Labour Party under Tony Blair permanently changed that role, however, there is pretty much nothing Corbyn has had to say that would not sit well with veterans who served in the British Army of the Rhine, after all, isn't that why all withdraw from Germany?
War is easy, it's the peace that's hard.
In a 2012 column for the Morning Star entitled "High Time for an End to NATO", he wrote that the collapse of the Soviet Union "was the obvious time for NATO to have been disbanded".
Speaking at a rally ahead of an "anti-NATO summit" in Cardiff in 2014, Mr Corbyn said NATO had been founded "in order to promote a cold war with the Soviet Union".
Listening to Corbyn speak, no matter your opinion on Corbyn he does echo the hopes and asperations that most common decent people have.
He added: "Come the end of the Cold War, in 1990, that should have been the time for NATO to shut up shop, give up, go home and go away…"
Instead, he said, the alliance began an "eastward expansion", saying: "The NATO leadership were very keen to appease their friends in the arms industry and expand their ideas and expand their operation."
He added: "NATO is an engine for the delivery of oil to the oil companies and the main nations of this world. Make no illusions about that."
In a hustings event for Labour leadership candidates in 2015, Mr Corbyn was quoted as saying: "I would argue for NATO to restrict its role. I don't think there's an appetite as a whole for people to leave NATO. I want to see NATO under much more democratic control."
He added: "It's a Cold War organisation. It should have been wound up in 1990."
In another leadership debate in 2016, Mr Corbyn was repeatedly asked whether as Britain's Prime Minister he would go to the aid of a fellow member state if it was attacked by Vladimir Putin's Russia, under article 5 of the NATO treaty. (here – 44 minutes in)
He said: "I would want to avoid us getting involved militarily by building up the diplomatic relationships and also trying to not isolate any country in Europe – to bring them up. I don't wish to go to war."
There is nothing any sensible person would not agree with, only the most rabid right-winger that has never held a weapon, never mind fired one would disagree. And don't get me wrong I will defend this country and the people to the last but I would not fight for the profits of the ruling class or the corporations they now represent.
What was Labour's policy under Corbyn's tenure on NATO?
Official Labour party policy is to maintain Britain's commitment to the NATO alliance and to continue to spend at least 2 per cent of GDP on defence.
Jeremy Corbyn has publicly supported this position for some time. In a major foreign policy speech in 2017, he said: "It is vital that as Britain leaves the European Union, we maintain a close relationship with our European partners alongside NATO, to keep spending at 2 per cent."
What is Nato?
Nato- the North Atlantic Treaty Organisation – is a military alliance formed in 1949 by 12 countries including the US, France and the UK.
They agreed to come to one another's aid in the event of an armed attack against any member state.
Its aim was originally to counter the threat of post-war Soviet expansion in Europe.
Following the collapse of the Soviet Union in 1991, a number of former Warsaw Pact countries became Nato members. The alliance now has 30 members.
The threat of the soviet union no longer existed, but the industrial arms complex needs its little wars.
Support Labour Heartlands
Help Us Sustain Ad-Free Journalism
Sorry, I Need To Put Out the Begging Bowl
Independent Journalism Needs You
Our unwavering dedication is to provide you with unbiased news, diverse perspectives, and insightful opinions. We're on a mission to ensure that those in positions of power are held accountable for their actions, but we can't do it alone. Labour Heartlands is primarily funded by me, Paul Knaggs, and by the generous contributions of readers like you. Your donations keep us going and help us uphold the principles of independent journalism. Join us in our quest for truth, transparency, and accountability – donate today and be a part of our mission!
Like everyone else, we're facing challenges, and we need your help to stay online and continue providing crucial journalism. Every contribution, no matter how small, goes a long way in helping us thrive. By becoming one of our donors, you become a vital part of our mission to uncover the truth and uphold the values of democracy.
While we maintain our independence from political affiliations, we stand united against corruption, injustice, and the erosion of free speech, truth and democracy. We believe in the power of accurate information in a democracy, and we consider facts non-negotiable.
Your support, no matter the amount, can make a significant impact. Together, we can make a difference and continue our journey toward a more informed and just society.
Thank you for supporting Labour Heartlands
Just click the donate button below