Efforts to free WikiLeaks founder Julian Assange from Belmarsh Prison were ramped up this week ahead of the G7 summit with action in Geneva, a petition, and an intervention by the UN special rapporteur on torture.
A temporary monument to Assange, Snowden, and Manning was unveiled in Geneva. The mobile art installation, made by Italian artist Davide Dormino in 2015 and dubbed 'Anything to Say?' shows the three figures standing on chairs with a fourth empty chair next to them. A petition set up by the Geneva Press Club also went live, demanding Assange's immediate release. The petition states:
"In the name of respect for inalienable human rights and the values promoted by human rights organizations based in Geneva," the Geneva Press Club called on the British authorities "to refuse the extradition of Julian Assange and to restore his freedom" and for the US government "to drop the prosecution of Julian Assange."
The Geneva Press Club also called on democratic states such as Switzerland "to ensure Julian Assange [has] a territory of refuge where he can protect himself from new prosecutions."
The #Assange case may be the biggest judicial scandal in history.
It is the story of a man being persecuted for telling the truth, the whole truth & nothing but the truth.
I cannot leave to my children a world where telling the truth has become a crime, for it will be a tyranny. https://t.co/5DUyqcP9t1 pic.twitter.com/lotJ5dBRUT

— Nils Melzer (@NilsMelzer) June 4, 2021
Melzer, who also serves as the Swiss human rights chair at the Geneva Academy, called Assange's incarceration "one of the biggest judicial scandals in history" and referred to the WikiLeaks founder, as well as whistleblowers Edward Snowden and Chelsea Manning, as the "skeletons in the cupboards of Western countries."
"It is the story of a man being persecuted in our part of the world for having told the truth," Melzer said. "He has exposed war crimes, he has exposed torture, he has exposed corruption. It's an inconvenient truth.
"Are you teaching your children that it's a good thing or a bad thing to tell the truth?" he continued, concluding that he cannot leave his children a world "where it has become a crime to tell the truth because, once that has happened, we are living in tyranny."
Though he has not been found guilty of any crime, Assange has spent over two years in Her Majesty's Prison Belmarsh, a maximum-security jail which has housed some of the UK's most infamous and dangerous criminals, including several high-profile terrorists, serial killers, and rapists. Assange remains at Belmarsh despite a judge ruling in January that he could not be extradited to the United States due to mental health concerns.
Julian Assange's fiancée says the founder of WikiLeaks is in a state of confusion in Belmarsh
Assange's fiancee Stella Moris teamed up in Geneva with Nils Melzer, the UN special rapporteur on torture, and Geneva mayor Frederique Perler to call for his release and the scrapping of extradition proceedings.
They collectively urged international organisations based in the Swiss city to help free Assange, and called on Switzerland and other democratic nations to offer the Australian former whistleblower and WikiLeaks publisher a refuge from potential further prosecution moves.
"My hope is that it will end today, it's being going on for too long, it's an absolute aberration that Julian is in prison at all," Moris, who has two children with Assange, stated.
"He won his case of extradition at the lowest level in January and he is still in prison, and he is prosecuted for journalistic activities."
Stella Moris said her fiancé was struggling in the "grim environment" of Belmarsh prison, the top-security jail in south-east London.
"He is surrounded by dangerous criminals, his interactions are with criminals or with prison guards. He is isolated a lot of the time, his health is deteriorating and he hasn't seen his children since October."
Moris said she had not seen Assange since his Jan 6 court appearance.
But until the legal imbroglio is settled, 49-year-old Assange is being held on remand in a maximum-security jail, raising troubling political questions about the indefinite detention of a man who has not been convicted of anything.
Soon – perhaps within days – the WikiLeaks publisher will know if the US government can continue to have him held in Britain's toughest jail. A decision on whether or not Washington can appeal against a British court's ruling that he cannot be extradited to America is expected imminently.
Judge Vanessa Baraitser blocked his extradition to the United States for mental health reasons in January 2021 but claimed that if released from custody pending the US appeal, there were substantial grounds to suspect that he might abscond.
The request to extradite Julian Assange should have been refused for so many other reasons, not least to protect investigative journalism, free speech, freedom of the press along with the rights of journalists to act on information brought by whistleblowers, information that brought to light wrongdoing by governments who attempt to cover-up crimes and murder of committed by its military's actions in the people's name. Actions that resulted in the killing of more than a dozen innocent Iraqis, including two Reuters journalists.
The footage leaked by private Manning led to global outrage, reigniting a debate over the US's occupation of Iraq and wider presence in the Middle East.
Julian Assange has been a remand prisoner for over 550 days when the guidelines state nobody in the UK should be kept on remand for more than 180 days.
Assange was due for a release on Sept. 22. 2019, but he is being held for longer on "substantial grounds" that he would abscond.
If convicted in the United States, he faces a maximum sentence of 175 years in jail.
"Mr Assange still has an incentive to abscond from these as yet unresolved proceedings," Baraitser claimed.
Britain, Americas poodle.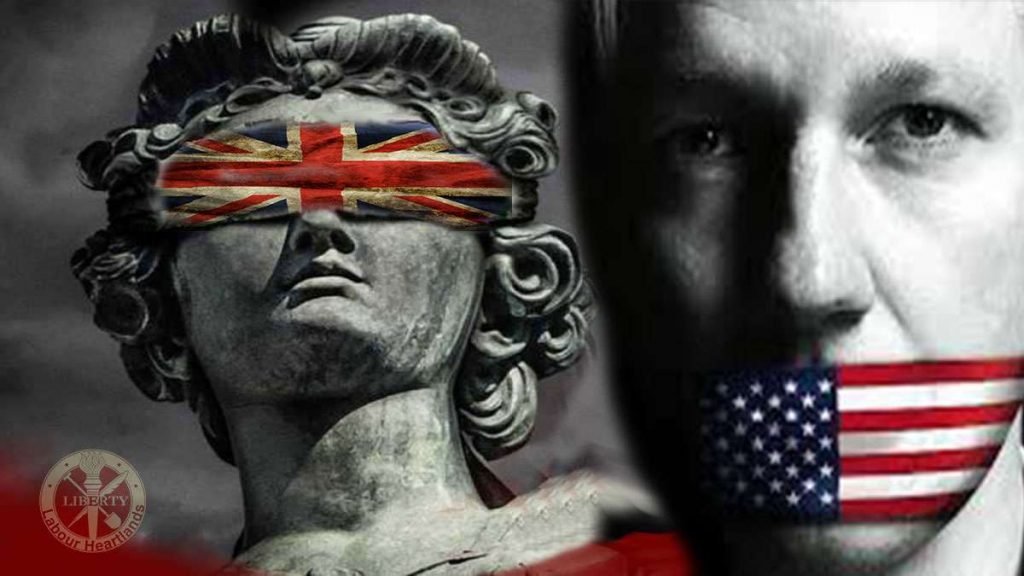 Ms Moris continued: 'Julian is not violent, he is not a danger to society. He is a publisher and this case is about freedom of information. This situation shames the UK's justice system. It is a blight on the UK's global reputation.
'It is unacceptable for a foreign power to be able to tell Britain what to do. It's time for President Joe Biden to drop the charges against Julian and Boris Johnson should ask him to do so at the G7 meeting in Cornwall this week. Hopefully, then, justice will prevail.'
Assange is wanted in America on 17 charges under the Espionage Act and one of conspiracy to commit computer intrusion.
All relate to the leak of 700,000 classified documents handed to WikiLeaks by former US intelligence analyst Chelsea Manning (then Bradley Manning) in 2010.
Washington says the leak endangered the lives of American agents and their sources working in the field. If found guilty, Assange could face 175 years in prison.
He took refuge in the Ecuadorian embassy in London in 2012 while fighting extradition but was forcibly removed two years ago and is now detained in Belmarsh, Britain's toughest prison a political prisoner.
Support Labour Heartlands
Help Us Sustain Ad-Free Journalism
Sorry, I Need To Put Out the Begging Bowl
Independent Journalism Needs You
Our unwavering dedication is to provide you with unbiased news, diverse perspectives, and insightful opinions. We're on a mission to ensure that those in positions of power are held accountable for their actions, but we can't do it alone. Labour Heartlands is primarily funded by me, Paul Knaggs, and by the generous contributions of readers like you. Your donations keep us going and help us uphold the principles of independent journalism. Join us in our quest for truth, transparency, and accountability – donate today and be a part of our mission!
Like everyone else, we're facing challenges, and we need your help to stay online and continue providing crucial journalism. Every contribution, no matter how small, goes a long way in helping us thrive. By becoming one of our donors, you become a vital part of our mission to uncover the truth and uphold the values of democracy.
While we maintain our independence from political affiliations, we stand united against corruption, injustice, and the erosion of free speech, truth and democracy. We believe in the power of accurate information in a democracy, and we consider facts non-negotiable.
Your support, no matter the amount, can make a significant impact. Together, we can make a difference and continue our journey toward a more informed and just society.
Thank you for supporting Labour Heartlands
Just click the donate button below