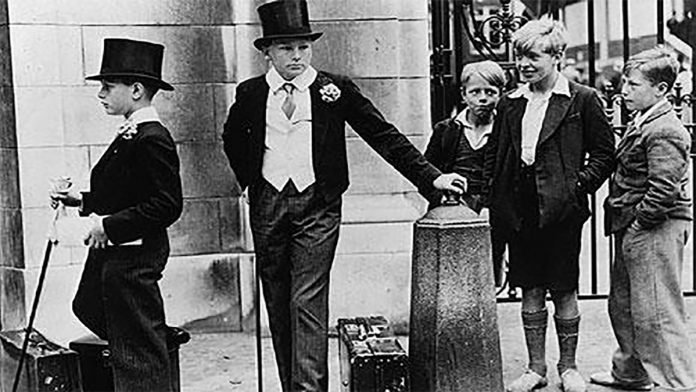 "Toffs and Toughs" is a 1937 photograph of five boys: two dressed in the Harrow School uniform including waistcoat, top hat, boutonnière, and cane; and three nearby wearing the plainclothes of pre-war working-class youths. The picture was taken by Jimmy Sime on 9 July 1937 outside the Grace Gates at Lord's Cricket Ground during the Eton vs Harrow cricket match. It has been reproduced frequently as an illustration of the British class system.
The image gives a clear picture of education and class divide, unfortunately, for working class communities, education is the one thing 'consecutive governments' have never got right. There has never been a solution to bridging that gap between rich and poor in their educational standards, both the inequalities of life and its lack of opportunities follow such a divide a long time after school is out.
Across the political parties, and for decades, there has been a lack of imagination about what needs to be done to tackle such profound levels of misery, class division and wasted human capital.
From academics to employers, we all agree Education is a great equaliser. It is a prime tool within the working class communities giving people opportunities for a better life.
However, many ask when it comes to education and the billions from public money we invest, why in a first world 21st-century country does the government continue to fail poor communities especially in this department?
In 1959, the arrival of the 11 plus incensed the social entrepreneur Michael Young, Lord Young of Dartington, co-creator of the Open University among other ventures. He saw too many children prematurely branded failures. The open university gave working people the opportunity to further their education and succeed where the system had left them behind.
For Labour, social mobility has traditionally meant focusing on the cleverest poorer children, measured in non-vocational terms.
Now within the think tanks of small working-class groups, the modern consensus is to suggest we should not only be investing billions in academic education but introducing a massive vocational education plan to step up the UK's shortage of skilled workers.
At least in the 1940s we made no bones about it. The Education Act 1944 estimated the country would need 80% manual workers and 20% clerical and professional staff for the postwar industrial economy. Now technology rules – the robots are coming. Even the middle classes are in peril of sliding down the snake, while those anchored to the bottom will continue to have little money, poor health and shocking housing.
There has been a degradation of vocation over two centuries.
Labour peer Maurice Glasman observes: "The transformation of polytechnics into universities only intensified this and the assumptions of new Labour globalisation assumed a world in which manual labour would disappear. In 1972 there were twice as many apprenticeships as undergraduates. Now there are ten times more undergraduates than apprenticeships. What is required is a social partnership for the formation of vocational colleges that are geared to the jobs we need, relational, technical and in construction and maintenance.
Andreas Schleicher, OECD director of education and skills once stated "Education in the UK has always been a middle-class mincing machine in which too many poorer children are written off too soon because they don't display certain habits of mind. "Effort" is very much harder in a damp, overcrowded, unheated home.
It is for this reason and a thousand others as a nation our priority should be in investing for the future and that starts with education.
Through education both academic and vocational we are giving our children the best opportunities to avoid the pitfalls of past generations.
"The UK should be a country where, no matter where people live, everyone has the chance of a decent and secure life. Instead, millions of people – many from working families – are struggling to meet their needs.
Poverty means not being able to heat your home, pay your rent, or buy the essentials for your children. It means waking up every day facing insecurity, uncertainty, and impossible decisions about money.
It means facing marginalisation – and even discrimination – because of your financial circumstances. The constant stress it causes can overwhelm people, affecting them emotionally and depriving them of the chance to play a full part in society.
The reality is, almost anyone can experience poverty. Unexpected events such as bereavement, illness, redundancy or relationship breakdown are sometimes all it can take to push us into circumstances that then become difficult to escape.
Poverty wastes people's potential, depriving our society and economy of the skills and talents of those who have valuable contributions to make.
For too long, the worst-off people and places across the UK have been left behind by uneven economic growth and fewer opportunities.
Toffs or Toughs investing in the future starts with education there can be no excuse for the ridiculous amount the Tory are willing to invest in this country's future.
Ian Lavery slams 'derisory' pupil catch-up plans
Ian Lavery says the loss of learning during the COVID pandemic has been "catastrophic" and the North East of England has been particularly badly affected.
He says the government's financial commitment to help pupils catch-up is "derisory and too small".
Boris Johnson says the Labour MP is "completely wrong" and the sums committed are "huge".
What Boris Johnson describes as "huge" falls well short of what was required and needed. The government's education recovery commissioner Sir Kevan Collins has offered his resignation after ministers allocated just £1.4 billion in funding for the next phase of their catch-up plan, it has been reported.
In his resignation letter to prime minister Boris Johnson, published by Tes, Collins warned he did not believe it was "credible that a successful recovery can be achieved with a programme of support of this size".
The Times has also reported that Collins said he had "no option" but to resign following today's announcement, and accused ministers of taking a "half-hearted approach".
Appointed in February to advise on proposals to help pupils recover education missed during the Covid-19 pandemic, Collins was reported to have called for spending in the region of £15 billion, with initiatives such as extending the school day on the cards.
Education secretary Gavin Williamson announced initial spending of just £1.4 billion today, £1 billion of which is to be spent on tutoring. But the government only committed to a review of the time spent in school and college, with findings due "later in the year to inform the spending review".
Collins's response to the announcement today was lukewarm, with the former Education Endowment Foundation chief executive warning that "more will be needed" to meet the scale of the challenge.
In a statement, Collins confirmed he had recommended that schools be funded to extend school time "for a fixed, three-year period and providing significant funding for a flexible extension to school time, equivalent to 30 minutes extra every day".
But the package of support announced "falls far short of what is needed. It is too narrow, too small and will be delivered too slowly".
He also warned that "not enough is being done" to help vulnerable pupils, those in the early years or 16 to 19-year-olds.
"Above all, I am concerned that the package…betrays an undervaluation of the importance of education, for individuals and as a driver of a more prosperous and health society."
'We risk failing hundreds of thousands of pupils'
In his resignation letter, Collins warned that without a "comprehensive and urgent response" to the pandemic, "we risk failing hundreds of thousands of pupils".
He also revealed that he told the prime minister last week that he did not believe it would be "possible to deliver a successful recovery without significantly greater support than the government has, to date, indicated it intends to provide".
"I am concerned that the apparent savings offered by an incremental approach to recovery represent a false economy, as learning losses that are not addressed quickly are likely to compound".
He said the package of measures announced today provided "valuable support", but said he did not believe it was "credible that a successful recovery can be achieved with a programme of support of this size".
"I hope that you are able to allocate the additional resources that are likely to be needed for a successful recovery through the spending review. I believe the settlement provided will define the international standing of England's education system for years to come."
Collins adviser says decision to 'junk' plan left him 'no option'
Sir Alan Wood, a former president of the Association of Directors of Children's Services, who was Collins's chief adviser during his time in the role, said his colleague had presented a "comprehensive, fully costed and evidenced plan for a long term, school led recovery".
This plan "provided substantial resources for schools and was comparable with those being implemented by other countries. The cost has been known for months," he added.
"The decision to junk the plan and replace it with a minimal scheme of support for pupils and schools and a tutoring programme – half of the cost of which will have to be met by schools – left Kevan with no option other than to resign"
Geoff Barton, general secretary of the ASCL school leaders' union, said he was "sad but not surprised that Sir Kevan Collins is reported to be standing down as education recovery commissioner following the government's announcement of a recovery package which clearly falls a long way short of what he had in mind".
"Sir Kevan has huge credibility across the teaching profession and across government. We hope that this episode will focus the mind of ministers on the need to match their recovery rhetoric with action."
A Downing Street spokesperson said the prime minister was "hugely grateful to Sir Kevan for his work in helping pupils catch up and recover from the effects of the pandemic".
Labour said the economic impact of lost learning was at least £100bn, with a potential loss to the economy and country of £420bn. It has drawn up its own proposals for a £14.7bn catch-up plan, including breakfast clubs for every child, mental health support and more small group tutoring for pupils who need it.
What most of us do know is that investing in our children's education today will save sociality a fortune later.
Ref. Joseph Roundtree foundation
Support Labour Heartlands
WAIT! BEFORE YOU GO
PLEASE HELP US KEEP GOING AD-FREE
This is a "Pay as You Feel" website.
Your support for Labour Heartlands is greatly appreciated. As an independent nonprofit news outlet, we rely on our members to hold the powerful accountable. Our kind of reporting is essential to democracy, but it is not easy, cheap, or profitable.
To continue providing impactful journalism, we need your help. It's getting really hard for us all. Becoming one of our donors. It's simple and doesn't have to cost a lot. With as little as £2, £3, or £5 a month, you can support the journalism you rely on.
While we do not align ourselves with any particular political party, we stand firmly against corruption, injustice, and the erosion of truth and the rule of law. We believe that accurate information is the lifeblood of a democracy and that facts are not up for debate.
Your contribution, no matter how small, goes a long way in helping us continue our mission. Together, we can make a difference.
Thank you, The Labour Heartlands Team
PLEASE HELP US KEEP GOING AD-FREE