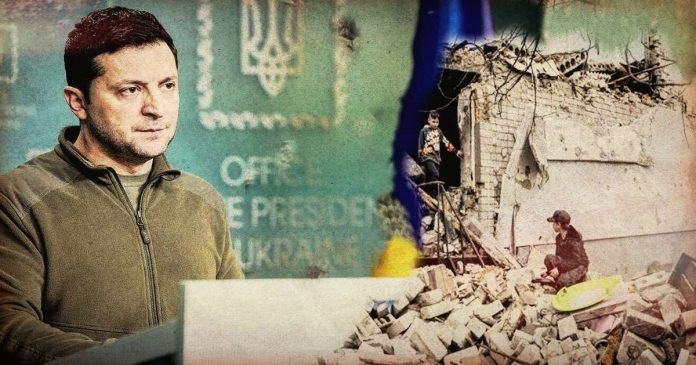 Ukrainian fighting tactics endanger civilians
In a report, the humanitarian organisation claimed the Ukrainian military has endangered civilians by placing bases and weapons in residential areas — including schools and hospitals — as it has sought to repel the Russian invasion.
"Ukraine's tactics have violated international humanitarian law as they've turned civilian objects into military targets," said Amnesty. "The ensuing Russian strikes in populated areas have killed civilians and destroyed civilian infrastructure."
Ukrainian forces have put civilians in harm's way by establishing bases and operating weapons systems in populated residential areas, including in schools and hospitals, as they repelled the Russian invasion that began in February, Amnesty International said.
Such tactics violate international humanitarian law and endanger civilians, as they turn civilian objects into military targets. The ensuing Russian strikes in populated areas have killed civilians and destroyed civilian infrastructure.
Military bases set up in residential areas including schools and hospitals
Attacks launched from populated civilian areas
Such violations in no way justify Russia's indiscriminate attacks, which have killed and injured countless civilians
Ukraine has reacted furiously to an Amnesty International report that accuses it of riding roughshod with civilians in the country's fight against Russia.
Ukrainian president Volodymyr Zelenskyy denounced the findings saying: Amnesty "transfers the responsibility from the aggressor to the victim," he said in his daily video address, accusing the NGO of "attempting to grant amnesty to the terrorist state" of Russia.
"The aggression against our state is unjustified, invasive and terrorist," Zelenskyy added."If someone writes a report in which the victim and the aggressor are in some way put on an equal footing, if some data on the victim is analysed and the actions of the perpetrator ignored, this cannot be tolerated."
Amnesty researchers investigated Russian strikes in Ukraine's Kharkiv, Donbas and Mykolaiv regions between April and July. They found 19 villages and towns from where the Ukrainian forces had either launched strikes or were basing themselves. In these three regions, Amnesty found five locations where hospitals were "de facto" used as bases and out of 29 schools visited by Amnesty, they concluded 22 had been used as bases.
Schools were closed on the first day of the invasion and pupils have been learning remotely, where possible.
Yes it seems very weird that the media constantly report on Russia bombing schools and nurseries, yet, now Ukraine have been found to have stationed soldiers in schools and nurseries they claim thats ok, they have been empty since the Russia invaded…
Guardian reporters have seen at least seven instances in three regions of Ukraine where schools and nurseries in residential areas were used as bases by the Ukrainian army. Five of the schools and nurseries the Guardian visited had been bombed. In each instance, several surrounding buildings were damaged in the attack.
In one instance, in Donetsk region, at least three people died when the wave of the blast that destroyed a base hit a neighbouring residential building.
In one school that was being used as a base by Ukrainian forces in central Ukraine, the commander said schools and kindergartens across Ukraine were being bombed because they were being used as bases. The commander said that schools provided the necessary facilities: showers, multiple toilets, large kitchens, dining areas, basements and rooms. He said the invasion had meant the army had to accommodate masses of new recruits quickly.
Steven Haines, professor of public international law at London's University of Greenwich who drafted non-legally binding guidelines on military use of schools and universities during conflicts – which 100 states, including Ukraine, have endorsed – said Ukraine's actions had not necessarily broken them.
"The use of schools – if they are not also being used for their primary purpose – is not invariably unlawful. Very obviously, the situation in Ukraine counts as exceptional in this respect … so the Ukrainian military are not necessarily breaching the guidelines," he said.
Guardian reporters have also seen three instances of empty schools that have been repurposed for civilian use since the war, such as a school in Kharkiv region now being used as a humanitarian aid centre and a school in Kyiv which is housing people displaced by the war.
Amnesty acknowledges that international humanitarian law does not ban parties from basing themselves in schools that are not in session, but the report emphasised "militaries have an obligation to avoid using schools that are near houses or apartment buildings full of civilians … unless there is a compelling military need".
Haines said it was the responsibility of military commanders on the ground to avoid collateral damage and try to choose buildings that if attacked as legitimate military targets, would be hit without risking the lives of the civilians nearby.
In an ideal scenario, populated areas would not be part of the war, but the nature of the invasion meant city warfare had become inevitable in Ukraine, said Haines.
The report is very comprehensive.
In its report, which was based on several weeks of research in the Kharkiv, Donbas and Mykolaiv regions, Amnesty called on Ukraine's armed forces to adhere to the law.
"We have documented a pattern of Ukrainian forces putting civilians at risk and violating the laws of war when they operate in populated areas," said Agnès Callamard, Amnesty International's Secretary General.
"Being in a defensive position does not exempt the Ukrainian military from respecting international humanitarian law."
Not every Russian attack documented by Amnesty International followed this pattern, however. In certain other locations in which Amnesty International concluded that Russia had committed war crimes, including in some areas of the city of Kharkiv, the organization did not find evidence of Ukrainian forces located in the civilian areas unlawfully targeted by the Russian military.
Between April and July, Amnesty International researchers spent several weeks investigating Russian strikes in the Kharkiv, Donbas and Mykolaiv regions. The organization inspected strike sites; interviewed survivors, witnesses and relatives of victims of attacks; and carried out remote-sensing and weapons analysis.
Throughout these investigations, researchers found evidence of Ukrainian forces launching strikes from within populated residential areas as well as basing themselves in civilian buildings in 19 towns and villages in the regions. The organization's Crisis Evidence Lab has analyzed satellite imagery to further corroborate some of these incidents.
Most residential areas where soldiers located themselves were kilometres away from front lines. Viable alternatives were available that would not endanger civilians – such as military bases or densely wooded areas nearby, or other structures further away from residential areas. In the cases it documented, Amnesty International is not aware that the Ukrainian military who located themselves in civilian structures in residential areas asked or assisted civilians to evacuate nearby buildings – a failure to take all feasible precautions to protect civilians.
Launching strikes from populated civilian areas
Survivors and witnesses of Russian strikes in the Donbas, Kharkiv and Mykolaiv regions told Amnesty International researchers that the Ukrainian military had been operating near their homes around the time of the strikes, exposing the areas to retaliatory fire from Russian forces. Amnesty International researchers witnessed such conduct in numerous locations.
International humanitarian law requires all parties to a conflict to avoid locating, to the maximum extent feasible, military objectives within or near densely populated areas. Other obligations to protect civilians from the effects of attacks include removing civilians from the vicinity of military objectives and giving effective warning of attacks that may affect the civilian population.
The mother of a 50-year-old man killed in a rocket attack on 10 June in a village south of Mykolaiv told Amnesty International: "The military were staying in a house next to our home and my son often took food to the soldiers. I begged him several times to stay away from there because I was afraid for his safety. That afternoon, when the strike happened, my son was in the courtyard of our home and I was in the house. He was killed on the spot. His body was ripped to shreds. Our home was partially destroyed." Amnesty International researchers found military equipment and uniforms at the house next door.
Mykola, who lives in a tower block in a neighbourhood of Lysychansk (Donbas) that was repeatedly struck by Russian attacks which killed at least one older man, told Amnesty International: "I don't understand why our military is firing from the cities and not from the field." Another resident, a 50-year-old man, said: "There is definitely military activity in the neighbourhood. When there is outgoing fire, we hear incoming fire afterwards." Amnesty International researchers witnessed soldiers using a residential building some 20 metres from the entrance of the underground shelter used by the residents where the older man was killed.
In one town in Donbas on 6 May, Russian forces used widely banned and inherently indiscriminate cluster munitions over a neighbourhood of mostly single or two-storey homes where Ukrainian forces were operating artillery. Shrapnel damaged the walls of the house where Anna, 70, lives with her son and 95-year-old mother.
Anna said: "Shrapnel flew through the doors. I was inside. The Ukrainian artillery was near my field… The soldiers were behind the field, behind the house… I saw them coming in and out… since the war started… My mother is… paralyzed, so I couldn't flee."
In early July, a farm worker was injured when Russian forces struck an agricultural warehouse in the Mykolaiv area. Hours after the strike, Amnesty International researchers witnessed the presence of Ukrainian military personnel and vehicles in the grain storage area, and witnesses confirmed that the military had been using the warehouse, located across the road from a farm where civilians are living and working.
While Amnesty International researchers were examining damage to residential and adjacent public buildings in Kharkiv and in villages in Donbas and east of Mykolaiv, they heard outgoing fire from Ukrainian military positions nearby.
In Bakhmut, several residents told Amnesty International that the Ukrainian military had been using a building barely 20 metres across the street from a residential high-rise building. On 18 May, a Russian missile struck the front of the building, partly destroying five apartments and damaging nearby buildings. Kateryna, a resident who survived the strike, said: "I didn't understand what happened. [There were] broken windows and a lot of dust in my home… I stayed here because my mother didn't want to leave. She has health problems."
Three residents told Amnesty International that before the strike, Ukrainian forces had been using a building across the street from the bombed building, and that two military trucks were parked in front of another house that was damaged when the missile hit. Amnesty International researchers found signs of military presence in and outside the building, including sandbags and black plastic sheeting covering the windows, as well as new US-made trauma first aid equipment.
"We have no say in what the military does, but we pay the price," a resident whose home was also damaged in the strike told Amnesty International.
Military bases in hospitals
Amnesty International researchers witnessed Ukrainian forces using hospitals as de facto military bases in five locations. In two towns, dozens of soldiers were resting, milling about, and eating meals in hospitals. In another town, soldiers were firing from near the hospital.

A Russian air strike on 28 April injured two employees at a medical laboratory in a suburb of Kharkiv after Ukrainian forces had set up a base in the compound.
Using hospitals for military purposes is a clear violation of international humanitarian law.
Military bases in schools
The Ukrainian military has routinely set up bases in schools in towns and villages in Donbas and in the Mykolaiv area. Schools have been temporarily closed to students since the conflict began, but in most cases the buildings were located close to populated civilian neighbourhoods

At 22 out of 29 schools visited, Amnesty International researchers either found soldiers using the premises or found evidence of current or prior military activity – including the presence of military fatigues, discarded munitions, army ration packets and military vehicles.
Russian forces struck many of the schools used by Ukrainian forces. In at least three towns, after Russian bombardment of the schools, Ukrainian soldiers moved to other schools nearby, putting the surrounding neighbourhoods at risk of similar attacks.
In a town east of Odesa, Amnesty International witnessed a broad pattern of Ukrainian soldiers using civilian areas for lodging and as staging areas, including basing armoured vehicles under trees in purely residential neighbourhoods, and using two schools located in densely populated residential areas. Russian strikes near the schools killed and injured several civilians between April and late June – including a child and an older woman killed in a rocket attack on their home on 28 June.
In Bakhmut, Ukrainian forces were using a university building as a base when a Russian strike hit on 21 May, reportedly killing seven soldiers. The university is adjacent to a high-rise residential building which was damaged in the strike, alongside other civilian homes roughly 50 metres away. Amnesty International researchers found the remains of a military vehicle in the courtyard of the bombed university building.
International humanitarian law does not specifically ban parties to a conflict from basing themselves in schools that are not in session. However, militaries have an obligation to avoid using schools that are near houses or apartment buildings full of civilians, putting these lives at risk, unless there is a compelling military need. If they do so, they should warn civilians and, if necessary, help them evacuate. This did not appear to have happened in the cases examined by Amnesty International.
Armed conflicts seriously hamper children's right to education, and military use of schools can result in destruction that further deprives children of this right once the war ends. Ukraine is one of 114 countries that have endorsed the Safe Schools Declaration, an agreement to protect education amid armed conflict, which allows parties to make use of abandoned or evacuated schools only where there is no viable alternative.
Indiscriminate attacks by Russian forces
Many of the Russian strikes that Amnesty International documented in recent months were carried out with inherently indiscriminate weapons, including internationally banned cluster munitions, or with other explosive weapons with wide area effects. Others used guided weapons with varying levels of accuracy; in some cases, the weapons were precise enough to target specific objects.
The Ukrainian military's practice of locating military objectives within populated areas does not in any way justify indiscriminate Russian attacks. All parties to a conflict must at all times distinguish between military objectives and civilian objects and take all feasible precautions, including in choice of weapons, to minimize civilian harm. Indiscriminate attacks which kill or injure civilians or damage civilian objects are war crimes.
"The Ukrainian government should immediately ensure that it locates its forces away from populated areas, or should evacuate civilians from areas where the military is operating. Militaries should never use hospitals to engage in warfare, and should only use schools or civilian homes as a last resort when there are no viable alternatives," said Agnès Callamard.
Amnesty International contacted the Ukrainian Ministry of Defence with the findings of the research on 29 July 2022. At the time of publication, they had not yet responded.
Support Labour Heartlands
Help Us Sustain Ad-Free Journalism
Sorry, I Need To Put Out the Begging Bowl
Independent Journalism Needs You
Our unwavering dedication is to provide you with unbiased news, diverse perspectives, and insightful opinions. We're on a mission to ensure that those in positions of power are held accountable for their actions, but we can't do it alone. Labour Heartlands is primarily funded by me, Paul Knaggs, and by the generous contributions of readers like you. Your donations keep us going and help us uphold the principles of independent journalism. Join us in our quest for truth, transparency, and accountability – donate today and be a part of our mission!
Like everyone else, we're facing challenges, and we need your help to stay online and continue providing crucial journalism. Every contribution, no matter how small, goes a long way in helping us thrive. By becoming one of our donors, you become a vital part of our mission to uncover the truth and uphold the values of democracy.
While we maintain our independence from political affiliations, we stand united against corruption, injustice, and the erosion of free speech, truth and democracy. We believe in the power of accurate information in a democracy, and we consider facts non-negotiable.
Your support, no matter the amount, can make a significant impact. Together, we can make a difference and continue our journey toward a more informed and just society.
Thank you for supporting Labour Heartlands
Just click the donate button below