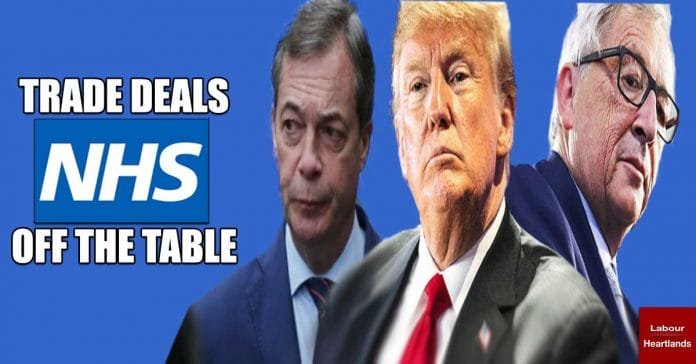 Donald Trump has performed a dramatic U-turn on his claim that the National Health Service must be "on the table" in negotiations on a trade deal between the UK and America.
The US president sparked a furious backlash from politicians on Tuesday by insisting the NHS would be up for grabs in any negotiations after Brexit.
Donald Trump has said he doesn't see the NHS "being on the table" in any future trade negotiation between the UK and US, following earlier comments in which he said, "everything is on the table".
The US president clarified his remarks during an interview with Good Morning Britain's Piers Morgan, held in the historic Churchill War Rooms on the second day of the UK state visit.
He said: "I don't see it being on the table, somebody asked me a question today and I say 'everything's up for negotiation' because everything is, but that's something that I would not consider part of trade.
"But I don't see that as being, that's something that I would not consider part of trade. That's not trade."
The about-turn came amid cross-party fury at his initial remarks, with Tory leadership candidates, Labour and the Lib Dems all lining up to insist the health service must not be included in any trade talks.
Health Secretary Matt Hancock said: "Dear Mr President. The NHS isn't on the table in trade talks – and never will be. Not on my watch."
Meanwhile, Labour leader Jeremy Corbyn claimed the comments showed Conservative and Brexit Party plans for a "disaster capitalism" trade deal.
"They all need to understand: our NHS is not for sale,"

-Jeremy Corbyn
How at risk is the NHS from trade deals?
TTIP was a EU-US trade deal. The unelected negotiators kept the talks going with a fanatical level of secrecy, with threats of criminal prosecution for anyone divulging the treaty's contents.
Back in 2016 Greenpeace realised leaked documents from the EU US trade talks that showed clearly why the EU had placed a 30-year ban on public access to the trade talk text.
The documents show that US corporations will be granted unprecedented powers over any new public health or safety regulations to be introduced in future. If any European government does dare to bring in laws to raise social or environmental standards, TTIP will grant US investors the right to sue for loss of profits in their own corporate court system that is unavailable to domestic firms, governments or anyone else.
The leaked TTIP documents, published by Greenpeace in May 2016, run 248 pages and cover 13 of the 17 chapters where the final agreement has begun to take shape. The texts include highly controversial subjects such as EU food safety standards, already known to be at risk from TTIP, as well as details of specific threats such as the US plan to end Europe's ban on genetically modified foods.
TTIP is about a huge transfer of power from people to big business,
the group argued, having also projected an image of a classified text passage onto the facade of Berlin's parliament building.
TTIP LEAKS
Greenpeace Netherlands has released secret TTIP negotiation documents. We have done so to provide much-needed transparency and trigger an informed debate on the treaty. This treaty is threatening to have far-reaching implications for the environment and the lives of more than 800 million citizens in the EU and US.
Whether you care about environmental issues, animal welfare, labour rights or internet privacy, you should be concerned about what is in these leaked documents. They underline the strong objections civil society and millions of people around the world have voiced: TTIP is about a huge transfer of power from people to big business.
You can download all the documents below, as a whole and per chapter. For more background info on the content of these documents and TTIP in general, please check here.
And Labour is implacably opposed to our NHS or other public services being part of any trade deal with Trump's America or a revived TTIP-style deal with the EU, which would open the door to a flood of further privatisations.
And we are not prepared to ask the British public to eat chlorinated chicken and lower the standards of British farming.
We would ensure there will be no reduction in rights, standards or protections and instead seek to extend them. -Jeremy Corbyn
Support Labour Heartlands
Help Us Sustain Ad-Free Journalism
Sorry, I Need To Put Out the Begging Bowl
Independent Journalism Needs You
Our unwavering dedication is to provide you with unbiased news, diverse perspectives, and insightful opinions. We're on a mission to ensure that those in positions of power are held accountable for their actions, but we can't do it alone. Labour Heartlands is primarily funded by me, Paul Knaggs, and by the generous contributions of readers like you. Your donations keep us going and help us uphold the principles of independent journalism. Join us in our quest for truth, transparency, and accountability – donate today and be a part of our mission!
Like everyone else, we're facing challenges, and we need your help to stay online and continue providing crucial journalism. Every contribution, no matter how small, goes a long way in helping us thrive. By becoming one of our donors, you become a vital part of our mission to uncover the truth and uphold the values of democracy.
While we maintain our independence from political affiliations, we stand united against corruption, injustice, and the erosion of free speech, truth and democracy. We believe in the power of accurate information in a democracy, and we consider facts non-negotiable.
Your support, no matter the amount, can make a significant impact. Together, we can make a difference and continue our journey toward a more informed and just society.
Thank you for supporting Labour Heartlands
Just click the donate button below