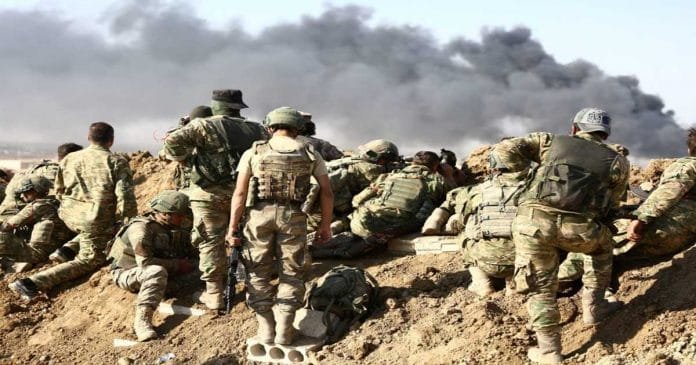 The Government freezes new arms licences to Turkey while it carries out a review of military exports to the country.
The move follows the US betrayal of the Kurd's and the following invasion of northern Syria by Turkey last week.
International Trade Secretary Liz Truss said the U.K. government continues to monitor the situation in Syria "very closely."
"No further export licences to Turkey for items which might be used in military operations in Syria will be granted while we do so," she said. "My department will take into account any developments in the operations in Syria as part of our rigorous licensing process. The U.K. has, for some time, been carefully considering export licence applications for Turkey in light of Turkish activities in Syria."
EU member states on Monday pledged to suspend weapons exports to Turkey in response to Ankara's incursion into northern Syria, but stopped short of implementing a formal EU-wide arms embargo.
Erdoğan threatens to send 3.6m refugees to Europe
THE EU has bowed down to Turkish President Recep Tayyip Erdoğan's threats to "flood" Europe with migrants and stopped short of implementing an EU-wide arms embargo, as Turkey continues its incursion on Kurdish fighters in Northern Syria
The EU has provided billions of euros in aid in return for Ankara stemming the influx of migrants into Europe.
But last week, President Erdogan threatened to "flood" the continent with millions of refugees if it did not stand down against the country's operation, which some nations have labelled an "occupation".
In a speech last Thursday, Erdogan called on the EU to "pull itself together" while threatening a flood of refugees.
'We will open our borders and send 3.6 million refugees your way,' said the Turkish president, Recep Tayyip Erdoğan, in a stark warning to European countries if they criticise Turkey's military action in northern Syria.
Meanwhile, speaking today in the House of Commons, Foreign Secretary Dominic Raab said that given the "fluid situation" in Turkey the British government will have to keep "under review" whether British nationals who fought for Isis should face justice in the region or in the U.K. However, he added that the government does not want British foreign fighters to return to the U.K.
"We certainly want to see those that are responsible for atrocities or crimes are given justice in the region, so far as that is practical," Raab told MPs.
Trump who allowed the situation to happen now seeks to control it using sanctions.
The Trump is accused of betraying the Kurd's who have been allies and a vital force in winning the battle against ISIS in the region.
US president Donald Trump imposed sanctions on Turkey on Monday and demanded the NATO ally stop the military incursion that is rapidly reshaping the battlefield of the world's deadliest ongoing war.
Mr Trump, who gave what critics say was a de facto green light for Turkey's assault by ordering US forces away from the conflict area, requested the ceasefire in a call with President Erdogan.
'The United States of America simply is not going to tolerate Turkey's invasion in Syria any further. We are calling on Turkey to stand down, end the violence and come to the negotiating table,' Vice President Mike Pence told reporters.
Trump also announced plans to reimpose steel tariffs on Turkey and immediately halt negotiations on a $100 billion trade deal.
Labour Party response
Shadow foreign secretary Emily Thornberry told the Common today that the situation in northern Syria 'has gone from bad to worse, to utterly catastrophic and horrifying since the Trump administration withdrew its troops and gave a green light to Turkey to invade'.
Ms Thornberry told the Commons Turkish airstrikes and artillery barrages, as well as 'barbaric jihadi death squads', have led to the deaths of dozens of civilians.
She said it was clear the Kurds would be driven 'reluctantly' to side with Syria and Russia 'simply for their own protection'.
SNA) member fires at targets in Syria's Ras al-Ayn rural after the city center was cleared
Turkey, which has been fighting Kurds for decades, insisted it is targeting the PKK terrorist group. It also regards the Syrian Kurdish YPG militia, which was allied to the US, as a terrorist group
She added: 'What is the Government's strategy on Syria? Is seems likely that responsibility for tackling the Daesh remnants, escapees, and sleeper cells will fall not to the Coalition, but to the Kurds and the Assad regime between them.'
Allan Hogarth, Amnesty International UK's head of policy and government affairs, said it was the right decision by the Government and 'hasn't come a moment too soon'.
But he said the Government 'must also be clear that this will also apply to all existing licences'.
'The UK has a responsibility to minimise the risk of UK weaponry contributing to violations of international humanitarian law,' he said.
'What the UK has done in days over Turkey, it should have done years ago over Saudi Arabia given the carnage the Saudi-led coalition has caused in Yemen.
'Today's move over Turkey is welcome, but it's a reminder of how ramshackle and inconsistent the UK's arms control system actually is.'
Old enemies new allies 
On Sunday, the Syrian Kurds struck a deal with the Moscow-backed Syrian regime of President Bashar al-Assad, handing over control of several towns in exchange for protection from Turkey.
That's prompted concern among Ankara's allies over a potential confrontation between Syrian forces and Turkey, a NATO member.
"Turkey is part of NATO and since this morning there is a coalition between Assad and the Kurds. This means that a NATO member [Turkey] will stand against Assad who is still the de facto president of Syria," said Luxembourg's Foreign Minister Jean Asselborn on his way into Monday's meeting.
Ankara, for its part, has shrugged off any concerns, with President Recep Tayyip Erdoğan saying that Russia has shown a "positive approach."
NATO Secretary-General Jens Stoltenberg called on Erdoğan "to act with restraint and in coordination with other allies" to avoid undermining NATO's efforts in recent years to fight the Islamic State.
Asselborn also criticized the U.S. decision to withdraw its troops from the area, which in effect green-lighted the Turkish military operation. "We are facing a phenomenon that has appeared following Erdoğan's talks with [U.S. President Donald] Trump and [Russian President Vladimir] Putin and was given the green light," he said.
Support Labour Heartlands
Help Us Sustain Ad-Free Journalism
Welcome to the Heartlands of Independent Journalism
At Labour Heartlands, we are committed to delivering independent news, views, and opinions. Our mission is to hold those in power accountable, and we can't do it without your support. As a non-profit independent organisation, we rely on our donors to keep our journalism ad-free and impactful.
Like everyone else, we're facing challenges, and we need your help to stay online and continue providing crucial journalism. Every contribution, no matter how small, goes a long way in helping us thrive. By becoming one of our donors, you become a vital part of our mission to uncover the truth and uphold the values of democracy.
While we maintain our independence from political affiliations, we stand united against corruption, injustice, and the erosion of free speech, truth and democracy. We believe in the power of accurate information in a democracy, and we consider facts non-negotiable.
Your support, no matter the amount, can make a significant impact. Together, we can make a difference and continue our journey toward a more informed and just society.
Thank you for supporting Labour Heartlands
Just click the donate button below