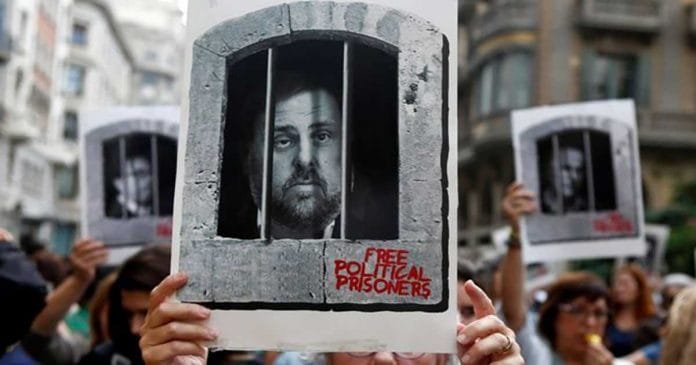 Catalonia leaders jailed for sedition by Spanish court
Spain's Supreme Court has sentenced nine Catalan separatist leaders to between nine and 13 years in prison for sedition over their role in the 2017 independence referendum.
Three other defendants were found guilty of disobedience and fined but will not serve prison sentences.
The 12 politicians and activists had all denied the charges.
A new arrest warrant was also issued for former Catalan President Carles Puigdemont, who is living abroad.
Puigdemont fled to Belgium after declaring Catalonia's independence from Madrid in October 2017 following a referendum on secession that was ruled illegal.
Carles Puigdemont stood as a member of the European parliament but After winning a seat in May's election, Puigdemont was denied access to the European Parliament building. A Parliament spokeswoman said at the time that the institution could only issue accreditation's to MEPs "when they receive the national lists," which it had not received from Spanish authorities.
Ana Gomes, an outgoing Socialist MEP from Portugal, tweeted that it was shameful for Puigdemont and Comín to have been stopped from entering and taking their seats at the European parliament.
Others tweets show the EU allowing fascist giving Nazi salute access to the EU Parliament but not democratic elected. But not allowing Catalonia separatist former president now elected MEP.
— Home de caramel 8 (@HomeDeCaramel8) May 30, 2019
Within minutes of the ruling demonstrators had poured onto the streets of the Catalan capital, waving flags and blocking traffic over the conviction of the separatist leaders who organised a 2017 referendum banned by Madrid.
A protester holds a Catalan pro-independence "Estelada" flag surrounded by other protesters at El Prat airport in Barcelona.AFP
"We have to mobilise and stick up for them … in a way that has an impact, closing airports, stations, but always avoiding violence," Guich said. "Or at least, it won't be us that provokes it."
Following the verdict demonstrations got underway in Barcelona, including one on the city's main thoroughfare the Via Laietana with protesters demanding the prisoners release. Thousands of angry protesters marched on Barcelona's El Prat airport, where ugly clashes broke out with police.
Democratic Tsunami, a group advocating more active forms of civil disobedience, sent a message to its 150,000 members urging them to march on Barcelona airport, 15km from the city centre.
"The time has come to make our voice felt around the world. The goal: stop the activity of Barcelona's airport," it said.
Video images from the airport showed riot police clashing with protesters (see below) with reports of tear gas being fired inside the terminal.
"Vengeance" from the Spanish state?
However, in a letter to members of his left-wing separatists ERC party, Oriol Junqueras (sentenced to 13 years) accused the Spanish state of being driven by "vengeance."
"More than ever, independence is a necessity in order to live in a society that is more free, just and democratic."
Carles Puigdemont, who was regional president of Catalonia at the time of the referendum and is evading the same charges as his former colleagues (fleeing to Belgium), said: "100 years in prison in total. An outrage."
"Now, more than ever, I am at your side and that of your families. It's time to react like never before. For the future of our children. For democracy. For Europe. For Catalonia."
Just a few hours after the sentence was made public, Judge Pablo Llarena decided to issue a new European Arrest Warrant against Puigdemont.
Legal sources have confirmed to EFE that the judge, who has been in charge of the process, has decided to reactivate the EU mechanism to request the extradition of Puigdemont.
Who else has been sentenced?
Other separatist leaders to receive prison sentences for sedition were:
Dolors Bassa, former Catalan labour minister (12 years)
Jordi Turull, former Catalan government spokesman (12 years)
Raül Romeva, former Catalan external relations minister (12 years)
Carme Forcadell, ex-speaker of the Catalan parliament (11.5 years)
Joaquim Forn, former Catalan interior minister (10.5 years)
Josep Rull, former Catalan territorial minister (10.5 years)
Jordi Sànchez, activist and ex-president of the Catalan National Assembly (9 years)
Jordi Cuixart, president of Catalan language and culture organisation Òmnium Cultural (9 years)
The nine leaders, who had already spent months in pre-trial detention, were acquitted of a more serious charge of rebellion.
The remaining three defendants were earlier released on bail.
During their closing arguments in June, defence lawyers told the court their clients denied the charges of rebellion and sedition, but admitted to the lesser charge of disobedience which could have seen them be banned from public office but avoid prison.
Support Labour Heartlands
PLEASE HELP US KEEP GOING AD-FREE
HELP US GROW.
This is a "Pay as You Feel" website.
This blog has no source of state, corporate or institutional finance whatsoever. It runs entirely on voluntary subscriptions from its readers – many of whom do not necessarily agree with every article, but welcome the alternative voice, insider information and debate.
You can have access to all of our online work for free. However if you want to support what we do, you could make a small donation to help us keep writing and staying ad-free. The choice is entirely yours.