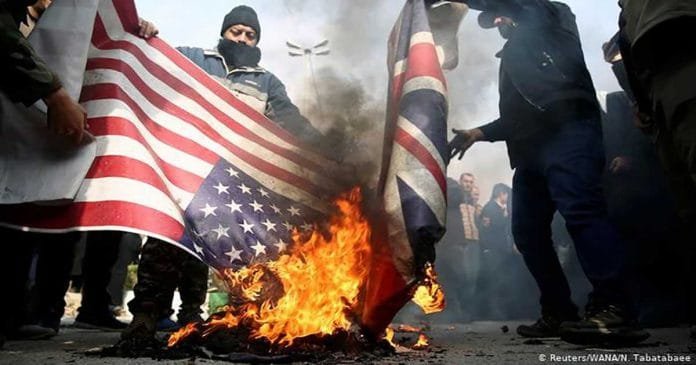 The question now is not whether the two countries are at war. It's what kind of war they're about to wage and how many people are going to die as a result.
The US killing of Iran's Qassem Soleimani could be seen as nothing other than an act of war with untold consequences. The question is how, when and where Iran will strike back and whether that triggers a wider conflagration.
This is the inescapable result of President Donald Trump's order to assassinate Gen. Qassem Soleimani, commander of Iran's Quds Force, arguably the most powerful military leader in the Middle East, and the most important person in Iran, except for the supreme leader, Ayatollah Ali Khamenei.
You don't deliberately kill someone like Soleimani unless you're at war with his country, and even then, you want to think long and hard before you do, given the near-certainty of blowback. Reprisals that may soon be coming. Friday morning, Ayatollah Ali Khamenei called for three days of national mourning and a "forceful revenge." It would be shocking if he didn't follow through, doing nothing is not an option for Iran.
Any military action would be met with counter-strikes by the US followed by more sanctions on Iran, Iran can ill afford more sanctions being imposed and that may be the US's only gambit on keeping this assassination contained. But on the face of things that's the long shot, the reality is and always as been, Iran will strike back.
To convey a sense of Soleimani's significance, it would be as if, during the Iraq war, the ayatollah had ordered the assassination of Gen. David Petraeus, Gen. Jim Mattis, the head of Special Operations Command, and the chairman of the Joint Chiefs of Staff.* Soleimani's responsibilities corresponded with all four of these roles. Even then, the analogy falls short because, among Shi'ite Muslims across the region, Soleimani also exuded the charisma of a religious icon, a holy warrior.
The so-called 'rules of engagement' have been broken
His killing creates the spark for a vicious circle following a series of escalations since the US withdrew from the Iran nuclear deal in 2018, imposed crushing sanctions and declared economic warfare under its "maximum pressure" campaign without providing a diplomatic off-ramp to deescalate.
Viewed from Tehran, Soleimani's heroic "martyrdom" is an act of war building on other "criminal" acts committed by the United States.
Hamidreza Azizi, an assistant professor at Shahid Beheshti University in Tehran, said that if Iran doesn't act on threats to retaliate it will lose face both domestically and externally.
"The Islamic Republic has produced a narrative of strength inside the country and the weakness of enemies. This will be broken if Iran stands idly," he said. "Not responding will send a message to US and Israel to double down on targeting Iranian interests. Iran is facing a very hard choice."
It's unclear how, when and where Iran will retaliate, but it will be forced to respond directly or indirectly at a time and place of its choosing, raising questions as to whether that will pull the US deeper into a military conflict. Any reprisal against the US military, interests or allies will be viewed by Washington as a reason to escalate further after the Trump administration justified the killing as an act of "deterrence" and preemption against alleged attacks being planned against the United States.
"The so-called 'rules of engagement' have been broken. This means that increasingly preemptive attacks will replace the condition of deterrence which offered a measure of stability," said Max Abrahms, a professor at Northeastern University and fellow at the Quincy Institute think tank.
"The killing of Soleimani will definitely not deter the Revolutionary Guard," he said. "We should expect a variety of asymmetric responses from Iran."
It's worth noting that the killing of Soleimani did not come out of the blue.
In December, Iranian-backed Iraqi militias (functionally commanded by Soleimani) killed a US contractor at a base in northern Iraq. The US responded with an airstrike on the militias, in turn leading to militiamen storming the US embassy in Baghdad on New Year's Eve. All of that came amid the backdrop of months and years of low-level hostilities, ranging from an Iranian attack on oil tankers in the Strait of Oman to US support for Saudi Arabia in its war with Iranian allies in Yemen to each party backing opposed sides in Syria (to deeply varying degrees).
The attack on Soleimani is different from all of these things. This is a direct action: the killing of one of the most important figures in Iran, in both military and political terms, rather than an attack on anyone's proxies or allies. The open nature of the strike — with the US not only quickly claiming responsibility for the bombing, but also explicitly naming Soleimani as the target — represents a massive escalation above and beyond anything we've seen before.
"Soleimani had been in the crosshairs of US military several times but was spared. National security officials during the Obama era were always concerned such a move would lead to Iran activating terror cells around the world in retaliation," the BBC's Suzanne Kianpour reports. "I'm told Trump aware, still made [the] call."
Soleimani had been in the crosshairs of US military several times but was spared. National security officials during the Obama era were always concerned such a move would lead to #Iran activating terror cells around the world in retaliation. I'm told Trump aware, still made call

— Suzanne Kianpour (@KianpourWorld) January 3, 2020
Trump also said, in his New Year's Eve comments, that if a war with Iran did erupt, it "would go very quickly." That is also what Bush's secretary of defense, Donald Rumsfeld, blithely predicted about the war in Iraq. "Five days or five weeks or five months, but it certainly isn't going to last any longer than that," he said a few months before the invasion. It is worth noting that Iran is three times larger than Iraq, with nearly three times the population.
The attack is also certain to alienate the government of Iraq, which would be a necessary ally in a war with Iran. First, the U.S. drone strike took place in Iraq, from the airport in Baghdad, against a motorcade that included Soleimani, who travels freely throughout the region, Second, the attack also killed Abu Mahdi al-Muhandis, head of the Popular Mobilisation Forces, a large coalition of Iran-backed militias in Iraq—the point here being that he was an Iraqi, and technically an Iraqi government official. Third, and most crucial, Iraq's political and military leaders have long tried to pull off a delicate balancing act, catering to their American and Iranian patrons, but in a pinch, they know they can't afford to alienate the Iranians, their much closer neighbours. And, in this case, after an American attack on Iraqi soil, killing Iraqi citizens as well as one of Iran's biggest leaders, it will be very hard for them to avoid taking Iran's side explicitly.
The pro-Iran militias lifted their recent siege on the U.S. Embassy in Baghdad only after Iraqi Prime Minister Adil Abdul-Mahdi agreed to have Parliament hold a debate on whether U.S. troops should be ousted from his country. Even for those many Iraqis who oppose Iranian influence and who may have heaved a sigh of relief at news of Soleimani's death, it will be hard to defend a continued American presence under the circumstances.
So knowing what they know why do it?
So why do it? Both the Pentagon's official statement and Secretary of State Mike Pompeo labelled it an attempt to establish deterrence: to both disrupt Iran's planning of future attacks on the US and to let them know that any such violence will be met in kind.
"General Soleimani was actively developing plans to attack American diplomats and service members in Iraq and throughout the region," the Pentagon said. "This strike was aimed at deterring future Iranian attack plans."
This theory has been labelled "deterrence by escalation" by some international relations scholars: the idea that inflicting greater pain on a military adversary will cause them to back down. The problem with this approach, though, is that an opponent who's attacking you has already shown they're willing to attack you. Iran's December attacks on American positions in Iraq didn't deter the US from attacking Iran; in fact, it prompted American retaliation. There's every reason to assume that Iranian policymakers will react in the same way to this kind of massive escalation.
Iran can't win a conventional war with the US, but it can certainly impose costs
"Deterrence by escalation usually doesn't work. It's a classic form of underestimating the adversary," writes Lindsay Cohn, a professor at the Naval War College. "Iran can't win a conventional war with the US, but it can certainly impose costs."
Given Iran's key sources of military strength — its battle-tested ground troops and many proxy forces throughout the region — the possibility for what these costs look like are practically endless. Iran could kill American troops stationed in Iraq, launch attacks on global oil infrastructure in the vital Strait of Hormuz, use its many proxies in places like Lebanon and Syria to kill nearby Americans, launch terrorist attacks internationally, or kill leading American allies.
These attacks might not be limited to military targets. Iran could strike civilians in Europe or Americans in Latin America. Iran also has some limited capabilities to affect the US mainland; an Iranian cyber attack temporarily shut down Atlanta's municipal government last year.
Multiple pressure points 
If it chose to ratchet up escalation in a wider war scenario, Iran could strike further afield by directly or indirectly targeting US military assets in the Persian Gulf, or it could bring the world economy to a standstill by blocking oil running through the Strait of Hormuz to global markets. The United Arab Emirates and Saudi Arabia could also find themselves in the crosshairs in a proxy response or larger conflagration.
US ally Israel, which has carried out hundreds of attacks on Syrian government forces and pro-Iran groups in Syria in a shadow war against its Iranian nemesis, is bracing itself for fallout from Iran-backed militants in Gaza, Hezbollah in Lebanon and Iran-linked forces in Syria.
Fog of war 
Iran's irregular tactics across the region, known as "forward defence," are designed to surprise and stretch enemy resources in a bid to keep fighting away from its soil.
"In some respects it follows an old analogy of it being easier to fight a bear than a dozen rattlesnakes, some hidden from view," retired US Marine Corps Lieutenant General Paul Van Riper stated last year, summarising some of the dynamics of a potential conflict.
"Few wars turn out to be quick and decisive," he said. "The real problem is that every war has its own dynamics and the ability of any government to forecast with certainty how things will turn out is nil."
Meanwhile, Soleimani's body will later today be transferred to the southwestern Iranian province of Khuzestan that borders Iraq.
Tomorrow it will be taken to the Shi'ite holy city of Mashhad in the northeast and from there to the capital Tehran and on to his hometown Kerman in the southeast for burial on Tuesday, Iranian state media reported.
In Baghdad, marchers waved Iraqi and militia flags in a sombre atmosphere, with Prime Minister Adel Abdul Mahdi and Iraqi militia commander Hadi al-Amiri, a close Iran ally and the top candidate to succeed Muhandis, attending the procession.
Back ground story…
US kills Iranian commander Qassem Soleimani in targeted airstrike
Support Labour Heartlands
PLEASE HELP US KEEP GOING AD-FREE
This is a "Pay as You Feel" website.
Hey there! Thanks for stopping by. If you've enjoyed reading the articles on Labour Heartlands so far, We would be incredibly grateful if you could consider making a small donation. Labour Heathlands is not your typical news outlet. We are not here to simply regurgitate the daily news cycle, that's for the rest of them. Our focus is on delving deeper, uncovering the untold stories and shedding light on the issues that the mainstream media chooses to ignore.
Our unwavering commitment to journalistic integrity means that we are not influenced by any external forces. We are not beholden to PR companies, advertisers or press barons, and we refuse to let anyone dictate what we report on. Our editorial independence is sacrosanct, and our only allegiance is to the truth.
While we do not align ourselves with any particular political party, we stand firmly against corruption, injustice and the erosion of truth and the rule of law. We believe that accurate information is the lifeblood of a democracy and that facts are not up for debate.
Once again, thank you for your support – We truly couldn't do this without you!
PLEASE HELP US KEEP GOING AD-FREE