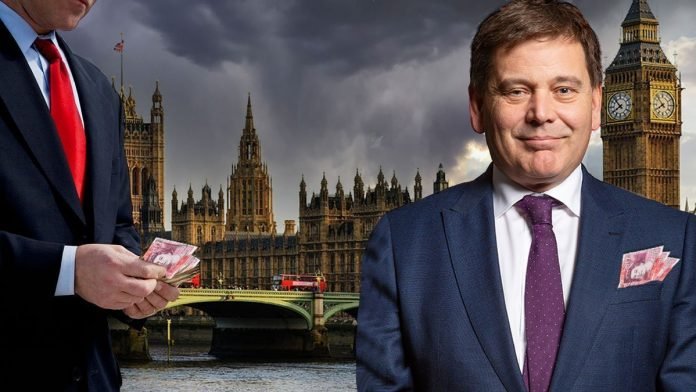 Conservative MP Andrew Bridgen took cash from timber firm
Andrew Bridgen is under investigation by the Parliamentary standards watchdog, over claims of lobbying and failing to properly declare interests.
The Tory MP stands accused of lobbying government minister Andrew Stephenson to help with Mere Plantations' tax affairs
The investigation into the Conservative North West Leicestershire MP comes after The Times alleged he lobbied Government minister Andrew Stephenson to help with Mere Plantations' tax affairs.
Mere Plantations, a timber firm that owns teak plantations in Ghana, donated £5,000 to the North West Leicestershire Conservative Association following a call to Stephenson, the then-Foreign Office minister in August 2019.
Andrew Bridgen lobbied minister Andrew Stephenson during a call on the issue in August 2019 two weeks after Mere Plantations paid for him to attend their teak plantation in Ghana.
He accepted a £5,000 donation from the firm via his constituency party months later, as well as taking on an advisory role with the firm.
The timing raises questions about whether his relationship with the firm could fall foul of paid lobbying rules. MPs are not permitted to lobby in a manner that could benefit an entity for six months after receiving outside rewards or considerations.
That month, Bridgen accepted a £3,300 trip to Ghana paid for by the company.
He is also listed as an unpaid advisor on business and international politics for the company since May 2020.
Bridgen said he has "never received any money from the firm" and welcomed the investigation by Parliamentary Commissioner for Standards Kathryn Stone to "clarify" the situation.
According to the register of MPs' interests, Bridgen listed the trip to Ghana as "learning trip on potential climate change mitigation" and as being for "asset inspection".
He told the PA news agency: "I'm delighted to be able to clarify these matters with the standards commissioner and I will reiterate I have never received any money from Mere Plantations or anyone associated with them."
Ms Stone is investigating a possible breach of the section of the MPs' code of conduct stating "no member shall act as a paid advocate".
And she is looking at the part stating they should always be "open and frank" in drawing attention to any relevant financial interest in any proceeding of the House or communications with ministers.
A Mere Plantations spokesman said there was "nothing inappropriate", adding: "We haven't paid Andrew Bridgen anything."
Asked about the £5,000 donation, he said: "We made a donation to help them with the election, simple as that, all perfectly recorded, all perfectly dealt with, all perfectly above board."
MPs are allowed to lobby the government on behalf of their constituents, however, there are rules in place to ensure they do not take advantage of their position for reasons other than the best interests of the people who elected them.
MPs have to declare any jobs they have or that a member of their family has that could influence their opinions.
They are not allowed to take money for raising issues in the House of Commons or with ministers.
MPs are not allowed to lobby for any person or organisation within six months of receiving any money from them as a donation.
Following the lobbying row involving Owen Paterson, the government asked the standards committee to draw up news rules banning MPs from working as political consultants.
Support Labour Heartlands
PLEASE HELP US KEEP GOING AD-FREE
HELP US GROW.
This is a "Pay as You Feel" website.
This blog has no source of state, corporate or institutional finance whatsoever. It runs entirely on voluntary subscriptions from its readers – many of whom do not necessarily agree with every article, but welcome the alternative voice, insider information and debate.
You can have access to all of our online work for free. However if you want to support what we do, you could make a small donation to help us keep writing and staying ad-free. The choice is entirely yours.