The Dave Nellist For Erdington campaign launch rally takes place today at the Highcroft Community Centre
Dave Nellist a former Labour MP for Coventry South East for nine years, today launched his bid to shake the status quo and return a peoples representative for parliament rather than another neoliberal main Party political grifter. Dave has one aim, to win for the people the Erdington By-Election.
Dave Nellist is to contest the forthcoming Birmingham Erdington parliamentary by-election on behalf of the left-wing alliance.
Dave explained why he is standing for the Trade Unionist and Socialist Coalition, outlining his own experiences and background and more so why people should stand together to fight against the attacks they face from all the mainstream parties.
"Working-class people are facing a massive cost of living crisis. Who is standing up for us? Not any establishment politician. Energy bills are soaring while oil and gas companies rake in huge profits, yet Starmer's Labour refuses to support their nationalisation".
"Red Tory, Blue Tory, Yellow Tory – there's no difference. We need someone on our side. Someone the system can't buy. If I am elected I will shake up the establishment and provide a fighting voice for working-class people. And I will only take a worker's wage, just as I did when I was an MP in Coventry.
Daves fight for the people: what the launch here.
The cost of living crisis is hammering people like us – Erdington can't go on like this anymore.
They say inflation is 5%. Not for ordinary people, it isn't!
Essential foods up over 20%, energy bills are soaring and bills for services or tuition fees are becoming impossible – yet last year, just ten billionaires increased their income by £402 billion. That is four hundred and two thousand million!
Working-class families and communities in Birmingham have been thrown under the bus for years now. While expensive luxury apartments shoot up in the city centre, social housing declines.
We've still got tower blocks with Grenfell-style cladding across the city, waiting for a disaster to happen. The Tory government and Labour Council lack the will to effectively combat dodgy and exploitative landlords. How many councillors and MPs are also landlords?
Dave and TUSC campaigners have campaigned tirelessly against rogue landlords and for repair of all social housing so everyone can feel secure in their homes. Long term empty properties in the city should be brought under public ownership to combat the housing crisis and homelessness.
Nor do we just want to defend the scraps the government and council have left us. We fight to stop all cuts but also return to public ownership all the valuable services sold off, closed and abandoned over the years.
Bring back all the public nurseries and free child care. Bring back all the youth centres, sports clubs, libraries, swimming pools and more that have been stolen.
We fight for £15 an hour and an end to zero-hour contracts.
Vanity projects like the Commonwealth Games will not fill the massive holes left in communities of vital services being ripped out. We absolutely want more access to sports and exercise facilities, but from the bottom up, not this top-down corporate approach. We need community sports facilities, not PR stunts.
Dave says: "The gap between the rich and the rest has never been wider – and the gap between the establishment parties has never been narrower. Working people need a new party that stands up for them. And a new way of running the economy to benefit the majority, not the billionaires. In this rich country, everyone should be able to afford a warm home, a well-paid job, free education and health… If the system can't afford that, we need to change the system along socialist lines to one that works for us!"
GKN CLOSURE DISGRACE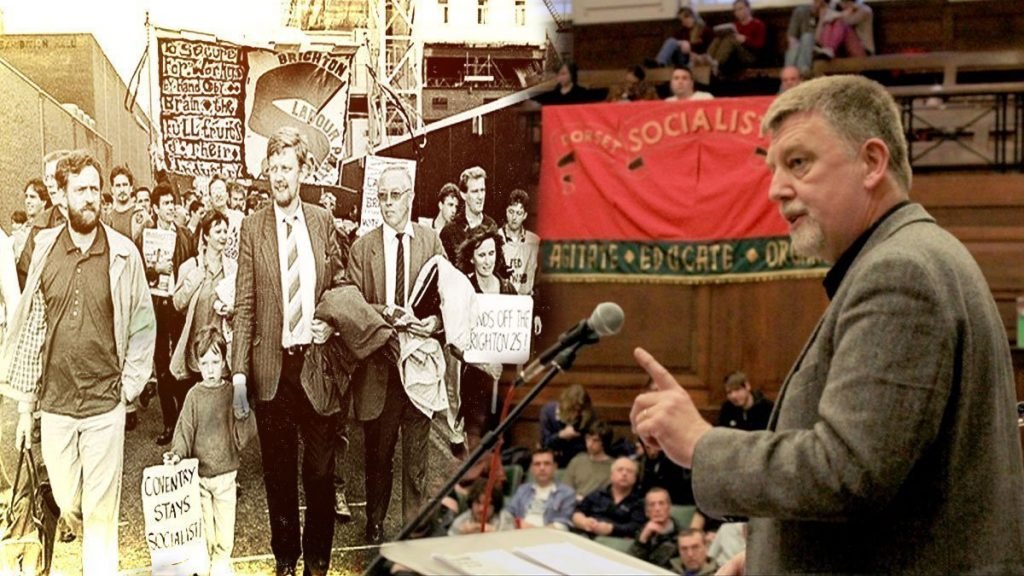 The devastating closure of the GKN plant and the 500 plus skilled jobs that will be gutted and stolen from Erdington is a disgrace. The government could have intervened, nationalised and saved GKN, but they let it go to the wall. Labour said next to nothing, not even demanding nationalisation.
Dave Nellist calls for nationalisation under democratic working-class control and management – to save jobs and keep skills in Birmingham.
TUSC was co-founded in 2010 by the late Bob Crow, the RMT transport workers' union leader. Along with the RMT, a constituent organisation of TUSC, its national steering committee involves leading trade unionists from seven other unions together with the Socialist Party, Resist – the party established by the former Labour MP Chris Williamson – and independent socialists.
TUSC stood sufficient candidates in the 2015 general election to qualify for a UK-wide election broadcast, headed by Dave Nellist
It recalibrated its electoral activity following Jeremy Corbyn's election as Labour leader, a development which it warmly welcomed. Consequently, TUSC did not contest either the 2017 or 2019 general elections and only stood in other elections against those Labour candidates who opposed Jeremy Corbyn and were carrying out austerity policies. But with Keir Starmer as the Labour leader TUSC has now resumed standing candidates.
In common cause, the WPGB did not field a candidate. The full list of candidates is as follows:
Robert Alden – Conservatives
David Laurence Bishop – Militant Bus-Pass Elvis Party
Jack Brookes – Reform UK
Lee Dargue – Liberal Democrats
Paulette Hamilton – Labour
Siobhan Harper-Nunes – Green Party
Clifton Holmes – Independent
Michael Lutwyche – Independent
Mel Mbondiah – Christian Peoples Alliance
Dave Nellist – Trade Unionist and Socialist Coalition
Thomas Peter O'Rourke – Independent
The Good Knight Sir NosDa – The Official Monster Raving Loony Party
TUSC Local Government Conference on Sunday, 6th February, at 11am to discuss the council elections. All are welcome so please register here.
Are you active in a trade union or a campaigning group? We're approaching workers' movement organisations for support in this campaign, and to work with TUSC in building a political alternative.
You can follow Dave on Twitter at @Dave4Erdington If you like what you hear, it's easy to get involved in the campaign! For more info head to… JOIN OUR CAMPAIGN Alternatively, can donate to support TUSC, Unsurprisingly, they have no big business backers, so all donations big and small are gratefully received DONATE HERE
Support Labour Heartlands
WAIT! BEFORE YOU GO
PLEASE HELP US KEEP GOING AD-FREE
This is a "Pay as You Feel" website.
Your support for Labour Heartlands is greatly appreciated. As an independent nonprofit news outlet, we rely on our members to hold the powerful accountable. Our kind of reporting is essential to democracy, but it is not easy, cheap, or profitable.
To continue providing impactful journalism, we need your help. It's getting really hard for us all. Becoming one of our donors. It's simple and doesn't have to cost a lot. With as little as £2, £3, or £5 a month, you can support the journalism you rely on.
While we do not align ourselves with any particular political party, we stand firmly against corruption, injustice, and the erosion of truth and the rule of law. We believe that accurate information is the lifeblood of a democracy and that facts are not up for debate.
Your contribution, no matter how small, goes a long way in helping us continue our mission. Together, we can make a difference.
Thank you, The Labour Heartlands Team
PLEASE HELP US KEEP GOING AD-FREE