The Windrush Betrayal: How Britain Broke Its Promise to Caribbean Patriots
The Empire Windrush docked at Tilbury on 22 June 1948, carrying 492 passengers from Jamaica, Trinidad and Tobago and other islands of the British West Indies.
They were responding to the call of the mother country, which needed workers to rebuild its shattered economy after the Second World War. They came with hope and loyalty, expecting to be welcomed as British citizens and contributors to the Commonwealth. They were wrong.
For decades, the Windrush generation and their descendants have faced discrimination, hostility and neglect from the British government and society. They have been denied basic rights and services, such as health care, education, employment and housing.
They have been subjected to racist abuse and harassment, and even threatened with deportation to countries they barely knew or had never visited. They have been betrayed by an uncaring government that used them as cheap labour and then wanted to get rid of them, a government that broke its promise and trust.
The Windrush scandal, as it came to be known, exposed the cruelty and injustice of Britain's immigration system and its colonial legacy. It also revealed the resilience and courage of those who fought for their dignity and recognition, and the solidarity of those who supported them. It sparked a national debate about identity, belonging and citizenship, and forced the government to apologise and offer compensation.
But the apology and compensation are not enough. The Windrush generation deserves more than words and money. They deserve respect and gratitude for their contribution to Britain's history and culture. They deserve justice and accountability for the wrongs done to them. And they deserve a place of honour in the nation's memory.
On Windrush Day, we celebrate the Windrush generation and their legacy. We honour their achievements and sacrifices, their struggles and victories. We acknowledge their pain and suffering, their hopes and dreams. We recognise their value and worth, their diversity and richness. We affirm their rights and dignity, their pride and identity.
We also challenge the ongoing racism and discrimination that they and other ethnic minorities face in Britain today. We demand an end to the hostile environment policy that created the Windrush scandal and continues to harm migrants and refugees.
We call for a fair and humane immigration system that respects human rights and international law. We urge a radical transformation of Britain's relationship with its former colonies and current partners in the Commonwealth.
The Windrush generation were not just immigrants. They are patriots who answered the call of the mother country. They are not just victims. They are heroes who fought for their rights. They are not just a part of Britain's past. They are a part of Britain's future.
A British scandal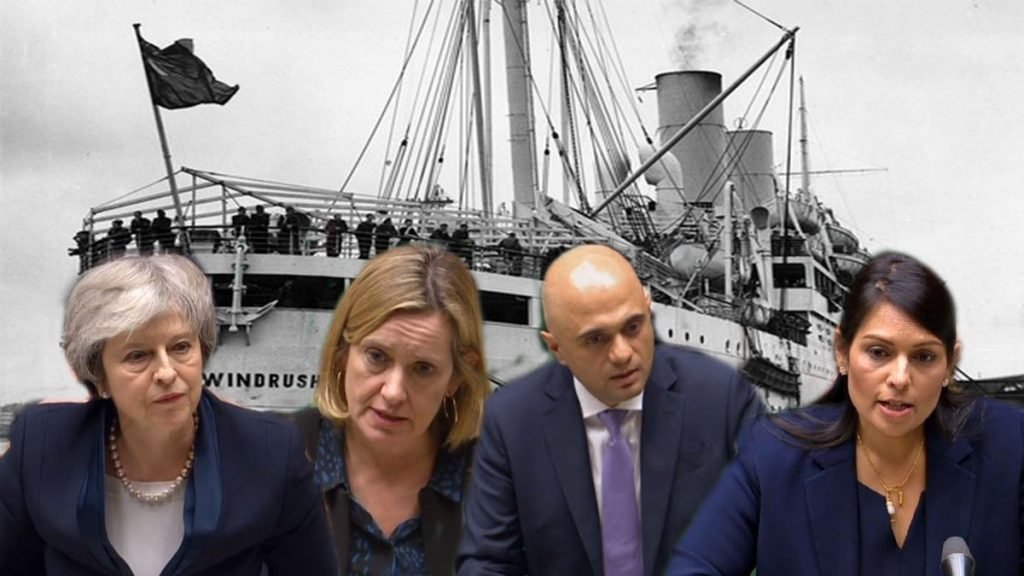 In April 2018, a political scandal of such significance emerged that it almost took people's minds off of Brexit for a period of time. It was a meeting at the Jamaican High Commission in London that saw politicians, diplomats and campaigners demand that ministers provide an immediate remedy for a "developing situation" in which, due to changes in the immigration system, Caribbean immigrants were being deemed "illegal immigrants".
The Windrush Scandal saw hundreds of Caribbean immigrants living and working in the UK wrongly targeted by immigration enforcement as a result of the government's "hostile environment" policies.
As well as those who were deported, an unknown number were detained, lost their jobs or homes, or were denied benefits or medical care to which they were entitled. A number of long-term UK residents were refused re-entry to the UK, and a larger number were threatened with immediate deportation by the Home Office.
As a result, many elderly people were suddenly being barred from working, refused access to government services, and lost access to welfare benefits.
This meant that elderly Caribbean immigrants were being denied access to NHS healthcare, losing their jobs and even being threatened with deportation.
In some cases, the people from the Windrush generation were even detained and deported.
Linked by commentators to the "hostile environment policy" instituted by Theresa May during her time as Home Secretary, the scandal led to the resignation of Amber Rudd as Home Secretary in April 2018, and the appointment of Sajid Javid as her successor. The scandal also prompted a wider debate about British immigration policy and Home Office practice.
The scandal came to public attention as a result of a campaign mounted by Caribbean diplomats to the UK, British parliamentarians and charities, and an extended series of articles in The Guardian newspaper.
The March 2020 independent Windrush Lessons Learned Review by the inspector of constabulary concluded that Theresa May's Home Office showed an inexcusable "ignorance and thoughtlessness", and that what had happened had been "foreseeable and avoidable". It further found that immigration regulations were tightened "with complete disregard for the Windrush generation", and that officials had made "irrational" demands for multiple documents to establish residency rights.
The prime minister at the time, Theresa May, apologised for their treatment. An inquiry was announced and a compensation scheme was established.
The inquiry, which released its report in March this year, said that the scandal was "foreseeable and avoidable". The report criticised "a culture of disbelief and carelessness" in the Home Office.
The inquiry made 30 recommendations including :
the Home Office should set up a full review of the UK's "hostile environment" immigration policy
the appointment of a migrants commissioner
establishment of a race advisory board
The Windrush Compensation Scheme was established in April 2019. By the end of March 2020, 1,275 had applied for financial compensation, with 60 people receiving payments totalling £363,000.
This is some way short of the 15,000 claims expected to be lodged worth an estimated £200m. The deadline for applications is April 2023.
A separate task force aimed to give individuals correct documentation, with 2,500 receiving it since April 2018.
Some of the most notable cases included a man who had worked and paid taxes for more than 30 years and was charged £54,000 for cancer treatment and a woman who had been living in Britain for five decades and was thrown into a detention centre.
How have the government's actions been received?
Wendy Williams, the author of the inquiry report, has warned there is a "grave risk" of similar failings happening again if the government fails to implement its recommendations.
The government has three months before it is required to respond to them, but has indicated they want to "right those wrongs".
Campaigners have also criticised the speed at which the compensation scheme has been rolled out, as well as the size of the payments.
For example, an individual would receive £10,000 for being deported, or £500 for denial of access to higher education. Individuals would receive £250 for every month of homelessness.
Former Immigration Secretary Caroline Nokes has said that while it's true that the flat payment for deportation is set at £10,000, it would also be combined with other payments such as loss of earnings.
Events are held annually to commemorate the Windrush's arrival 72 years ago, and the subsequent wave of immigration from Caribbean countries.
Windrush Day is commemorated on 22 June – the first being observed in 2018. The lead-up to the event is marked with exhibitions, church services and cultural events.
A model of the MV Empire Windrush featured in the opening ceremony for the London 2012 Olympic Games, while in 2019, the National Theatre put on a production of Andrea Levy's Small Island, a story of first-generation Jamaican immigrants.
In June, the BBC broadcast a feature-length drama inspired by the Windrush scandal. It features one man's experience of wrongful detention by the Home Office and threats of deportation.
These brave individuals and their families became emblematic of the seismic demographic shifts that transformed Britain in the wake of World War II. Waves of migration followed, as hundreds of thousands flocked from former British colonies and Commonwealth nations, forever altering the social fabric of the country.
Estimating the exact number of Windrush generation members remains challenging. Many arrived as children, travelling on their parents' passports, and never sought official documentation. Nonetheless, their population is believed to number in the thousands, with around 500,000 residents in the UK today who were born in Commonwealth countries and arrived before 1971, including the Windrush arrivals, according to the Migration Observatory at Oxford University.
However, the door closed abruptly in 1971 with the passage of the Immigration Act, effectively putting an end to the influx. From that point forward, only British passport-holders born overseas could settle in the UK if they possessed a work permit and could demonstrate ancestral ties through a parent or grandparent born on British soil.
Britain, once celebrated for its sense of justice and fairness, must confront its own scandalous legacy. The mistreatment of the Windrush generation serves as a harsh reminder that the moral compass of a nation is tested not only by its triumphs but also by its capacity to rectify past injustices. It is time to reckon with this dark chapter, to honour the sacrifices of these individuals and their descendants, and to ensure that such a betrayal never stains our collective conscience again.
Support Labour Heartlands
Help Us Sustain Ad-Free Journalism
Sorry, I Need To Put Out the Begging Bowl
Independent Journalism Needs You
Our unwavering dedication is to provide you with unbiased news, diverse perspectives, and insightful opinions. We're on a mission to ensure that those in positions of power are held accountable for their actions, but we can't do it alone. Labour Heartlands is primarily funded by me, Paul Knaggs, and by the generous contributions of readers like you. Your donations keep us going and help us uphold the principles of independent journalism. Join us in our quest for truth, transparency, and accountability – donate today and be a part of our mission!
Like everyone else, we're facing challenges, and we need your help to stay online and continue providing crucial journalism. Every contribution, no matter how small, goes a long way in helping us thrive. By becoming one of our donors, you become a vital part of our mission to uncover the truth and uphold the values of democracy.
While we maintain our independence from political affiliations, we stand united against corruption, injustice, and the erosion of free speech, truth and democracy. We believe in the power of accurate information in a democracy, and we consider facts non-negotiable.
Your support, no matter the amount, can make a significant impact. Together, we can make a difference and continue our journey toward a more informed and just society.
Thank you for supporting Labour Heartlands
Just click the donate button below