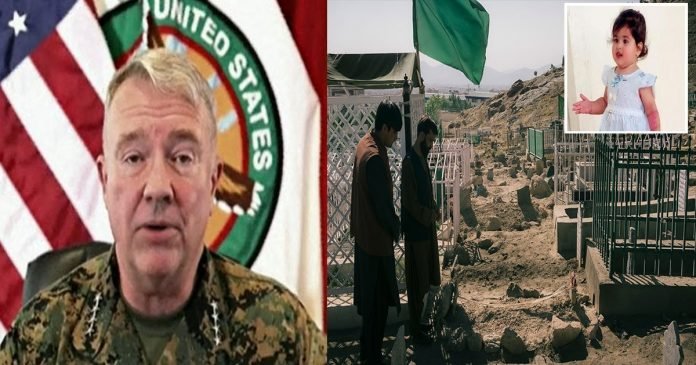 In a U-turn, the United States military admitted that a drone strike that killed multiple civilians in Afghanistan last month was an error.
"The strike was a tragic mistake," Marine Gen. Frank McKenzie, head of US Central Command, told a Pentagon news conference.
The Pentagon said an internal review revealed that only civilians were killed in the attack, not a self-proclaimed Islamic State group extremist as first believed.
In a briefing on Friday, the commander of US Central Command, Gen Kenneth McKenzie, said he now believes it was unlikely that those who died were Islamic State militants or posed a direct threat to US forces at Kabul's airport.
"I am now convinced that as many as 10 civilians, including up to seven children, were tragically killed in that strike," McKenzie, wearing military uniform, told reporters. "Moreover, we now assess that it is unlikely that the vehicle and those who died were associated with [Islamic State Khorasan] or were a direct threat to US forces.
Gen. McKenzie: "I am now convinced that as many as 10 civilians, including up to 7 children, were tragically killed in that strike…it is unlikely that the vehicle and those who died were associated with ISIS-K…I offer my profound condolences." pic.twitter.com/w6M4LEbX3b

— CSPAN (@cspan) September 17, 2021
"I offer my profound condolences to the family and friends of those who were killed. This strike was taken in the earnest belief that it would prevent an imminent threat to our forces and the evacuees at the airport. But it was a mistake and I offer my sincere apology."
McKenzie said it was "not a rushed strike" and efforts had been made to minimise civilian casualties but acknowledged that "a terrible mistake" had been made.
Asked if anyone would be held responsible, he said: "We are in the process right now of continuing that line of investigation."
By the time the American apology arrived, the lives of the Ahmadi family were already upended. And being falsely accused by the U.S. military of ties to the Islamic State was not the worst part of the ordeal.
There was their shattered family house. There were the nightmares, the bouts of crying and the screams triggered by the memory of a U.S. drone strike on Aug. 29 that killed 10 of their relatives, including seven children.
There were fresh fears of persecution by the Taliban after the media spotlight on the family noted that some members, including survivors, worked for U.S.-based firms.
The Hellfire missile — the Pentagon's capstone attack at the end of two-decade war — also killed the family's only breadwinner, Zamarai Ahmadi.
"We didn't have money to bury our relatives," said his 32-year-old brother Emal on Saturday, steps away from the mangled carcass of a white Toyota sedan. "We had to borrow the funds."
Without doubt, the Pentagon's mea culpa Friday — that a series of miscalculations led to the wrongful targeting of Zamarai Ahmadi, an aid worker with a U.S-based group — has lifted a heavy weight off the family.
"The Americans kept emphasizing they killed an ISIS-K terrorist," said Emal, referring to the Islamic State's Afghanistan branch. "Now we are happy they have acknowledged their mistake and confirmed that they killed innocent people."
What the family seeks now is to exit their American-made hell.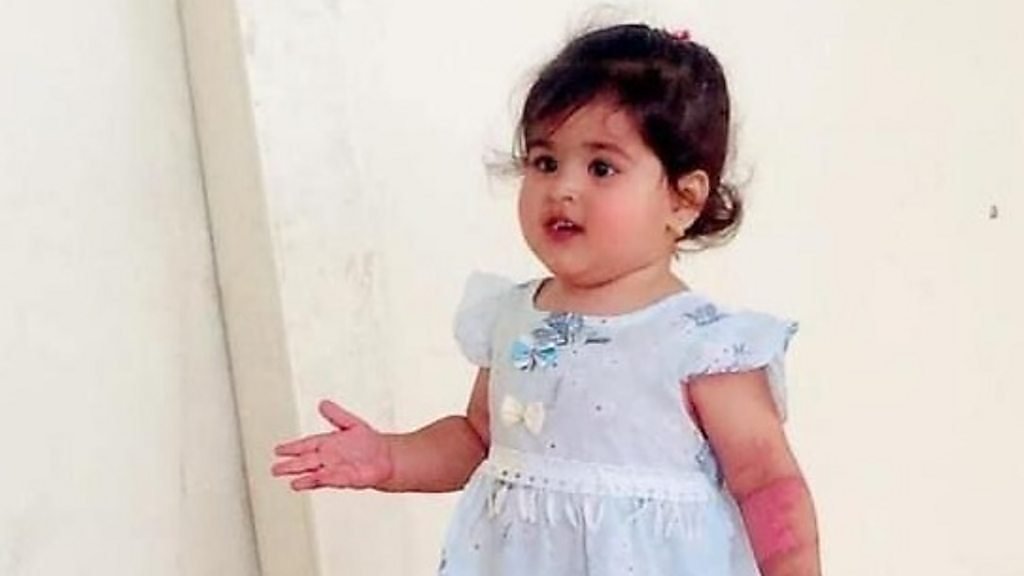 Before last month's drone strike, both Emal and Zamarai had applications in process to acquire special visas to enter the United States because of their work with American companies, said, family members.
In interviews on Saturday expressed no visible animosity toward the United States government for killing their loved ones. But forgiveness may be too strong a word.
Rather, the Ahmadis grasp onto a sense of pragmatism. They want compensation from the U.S. government and help in leaving Afghanistan and getting resettled in the United States or another safe country, family members said.
"You can see the situation in Afghanistan is not good," said Samim Ahmadi, 24, the step-son of Zamarai. "Whether in America or another country we want peace and comfort for our remaining years. Everyone makes mistakes. The Americans cannot bring back our loved ones, but they can take us out of here."
Just before the drone strike, Ahmadi had pulled into his gated family compound, where he and his three brothers grew up in a working-class enclave west of Kabul's airport. Now, they were all living there with their own families. Their kids played with each other every day in the courtyard.
On this evening, several jumped into Ahmadi's car. That's when the missile struck, a pinpoint attack that eviscerated the sedan and sprayed shrapnel into doors and walls, shattering windows.
Zamarai and three of his sons — Zamir, 20, Faisal, 16, and Farzad, 11 — were killed. The three children of another brother — Arween, 7, Binyamin, 6 and Ayat, 2 — also died, along with Emal's 3-year-old daughter, Malika, and his nephew Nasser, 30. A cousin's infant daughter, Sumaiya, was also among thedeaths.
The entire family depended on Zamarai's $500 monthly salary, said Emal. With their house destroyed, the remaining 15 family members moved to his sister's small, four-room home, an hour's drive away.
"Every night we sleep on the roof because there is not enough space in the house," said Ajmal Ahmadi. "For the first 15 days, I could not sleep. I kept having flashbacks of my brother, my nieces and nephews."
The wives of Emal and Romal are more traumatized, said family members. Both women witnessed the deaths of their children. "They have constant nightmares, often waking up screaming at night," said Emal.
His 7-year-old daughter, Ada, still asks when her sister, Malika, will return home.
"I can't bear to tell her that her sister is dead," said Emal. "I've told her Malika is at the hospital and one day she will come back."
Imran, 8, Ajmal's son, recalled how he would ride bikes and play soccer with his cousins. They would pluck fresh grapes from vines or snacks.
"Now," he said, "they are in the next world."
The real legacy of American intervention.
Throghout the US history of intervention in the middle east and Afghanistan, there has been a repeated theme of collateral damage whether from gun hoy apache helicopter crews or trigger happy grunts on the ground. Civilians have suffered for more than combatants.
Whistleblower Daniel Hale was recently sentenced to 45 months in prison 'For Exposing US War Crimes'.
Hale worked with the National Security Agency and the Joint Special Operations Task Force at the Bagram Air Base in Afghanistan, he was responsible for identifying, tracking, and targeting "high-value" terror suspects.
The following year, when he was assigned to the NSA, Hale began communicating with a journalist. In 2014, after Hale had been honourably discharged from the Air Force and started working at the National Geospatial-Intelligence Agency, he shared documents that contradicted the U.S. military's claims that the drone assassination program could kill "enemy combatants" with precision and minimize civilian casualties.
In May 2019, Hale was charged under the Espionage Act for leaking secret documents to a reporter widely believed to be The Intercept's, Jeremy Scahill.
"These documents detailed a secret, unaccountable process for targeting and killing people around the world, including U.S. citizens, through drone strikes".
According to journalist Kevin Gosztola, Hale's whistleblowing enabled The Intercept to reveal that "nearly half of the people on the U.S. government's widely shared database of terrorist suspects are not connected to any known terrorist group".
The US has been carrying out targeted killings with drones around the world for more than 15 years. As the rate of strikes increased through the years so too did the criticisms from rights groups and civil liberties advocates.
Among the most consistent, and vociferous, points of contention has been the legal basis for the counter-terrorism campaign.
Between 2010 and 2020 the Bureau of investigative journalist tracked US drone strikes and other covert actions in Pakistan, Afghanistan, Yemen and Somalia. The comprehensive reporting on civilian deaths helped lead to greater official transparency on targeted killing, and provided the data needed to hold the White House to account.
| Country | Minimum strikes | Civilians dead | Children dead | Total dead | Injured | Total casualties | Ref(s) |
| --- | --- | --- | --- | --- | --- | --- | --- |
| Afghanistan | 13,072 | 300–909 | 66–184 | 4,126–10,076 | 658–1,769 | 4784–11,845 | [12] |
| Somalia | 202 | 12–97 | 1–13 | 1,197–1,410 | 55–101 | 1252–1,511 | [13] |
| Pakistan | 430 | 424–969 | 172–207 | 2,515–4,026 | 1,162–1,749 | 3,677–5,775 | [14] |
| Yemen | 336 | 174–225 | 44–50 | 1,020–1,389 | 155–303 | 1175–1,692 | [15] |
| Total | 14,040 | 910–2,200 | 283–454 | 8,858–16,901 | 2,030–3,922 | 10,888–20,823 | [16] |
Current Statistics 14,040
MINIMUM CONFIRMED STRIKES
8,858-16,901
TOTAL KILLED
910-2,200
CIVILIANS KILLED
283-454
CHILDREN KILLED
The figures above are running totals of US actions and resulting deaths since the Bureau began recording data.
Human rights organisations welcomed the investigation as a move towards accountability but demanded further action.
Brian Castner, senior crisis adviser with Amnesty International's crisis response programme, said: "The US must now commit to a full, transparent, and impartial investigation into this incident. Anyone suspected of criminal responsibility should be prosecuted in a fair trial. Survivors and families of the victims should be kept informed of the progress of the investigation and be given full reparation.
"It should be noted that the US military was only forced to admit to its failure in this strike because of the current global scrutiny on Afghanistan. Many similar strikes in Syria, Iraq, and Somalia have happened out of the spotlight, and the US continues to deny responsibility while devastated families suffer in silence."
Support Labour Heartlands
PLEASE HELP US KEEP GOING AD-FREE
This is a "Pay as You Feel" website.
Hey there! Thanks for stopping by. If you've enjoyed reading the articles on Labour Heartlands so far, We would be incredibly grateful if you could consider making a small donation. Labour Heathlands is not your typical news outlet. We are not here to simply regurgitate the daily news cycle, that's for the rest of them. Our focus is on delving deeper, uncovering the untold stories and shedding light on the issues that the mainstream media chooses to ignore.
Our unwavering commitment to journalistic integrity means that we are not influenced by any external forces. We are not beholden to PR companies, advertisers or press barons, and we refuse to let anyone dictate what we report on. Our editorial independence is sacrosanct, and our only allegiance is to the truth.
While we do not align ourselves with any particular political party, we stand firmly against corruption, injustice and the erosion of truth and the rule of law. We believe that accurate information is the lifeblood of a democracy and that facts are not up for debate.
Once again, thank you for your support – We truly couldn't do this without you!
PLEASE HELP US KEEP GOING AD-FREE