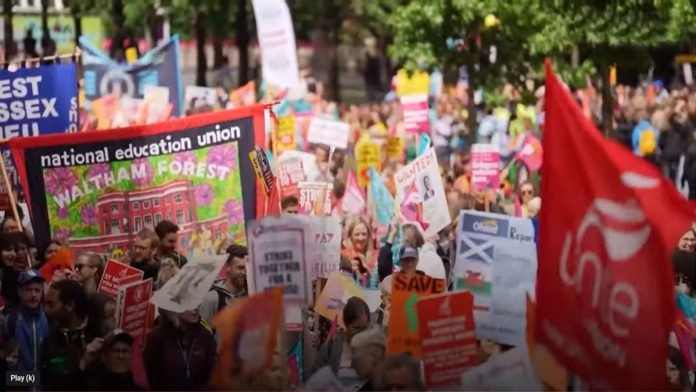 Teacher Strikes in England End with Union Win
The National Education Union (NEU) announced that 86% of their members voted to accept the improved pay offer, with a high turnout of 60%. This demonstrates the resolve among teachers to fight for fair compensation. The NASUWT, NAHT and ASCL unions also voted to accept the deal, showing the power of co-ordinated industrial action across multiple unions.
These unions had been gearing up for an even larger wave of walkouts this autumn, which would have significantly escalated pressure on the government. However, once Rishi Sunak finally agreed to implement pay review recommendations in full, union leaders felt able to recommend accepting the offer to their members.
The sustained strikes by teachers, alongside nurses and other public sector workers, have forced an out-of-touch Tory government to move on their no pay rise agenda and make real-terms pay rises. This shows what organised labour can achieve when united in defence of pay and working conditions.
Education Secretary Mary Keegan hailed the acceptance of the offer as "good news" for teachers, parents, and students alike. The joint general secretary of the NEU, Mary Bousted, expressed her satisfaction with the deal, which is expected to raise the average teacher's salary by £2,500. Although it falls short of all their demands, she emphasized that it represents a significant achievement for a one-year pay award.
However, despite the acceptance of the 6.5% pay rise, NASUWT's general secretary Patrick Roach pointed out that it still fails to adequately address the impact of over a decade of real-terms pay cuts. Consequently, he did not rule out the possibility of future strikes, especially concerning ongoing issues related to workload and working hours.
Joint NEU general secretaries Dr Mary Bousted and Kevin Courtney said: "Members have spoken very clearly and in great numbers. The NEU submissions to the STRB went a long way towards changing the Government's position on pay and funding. The strike action taken by our members also shifted the dial, securing the highest pay award for over thirty years. Members should be proud they have also secured extra funding for schools."
They added: "The Government should be in no doubt that we will hold its feet to the fire on delivering for teachers and support staff on workload and funding and continue to represent the profession in future STRB consultations.
"It remains the view of the NEU that school and college funding is far from adequate. It remains a commitment of the NEU to campaign for further increases in teacher pay."
What pay rises will public sector workers get?
Millions of public sector workers will get pay rises that will be backdated to April. The increases are as follows:
Police – 7%
Prison officers – 7%
Junior doctors – 6% plus £1,250 bonus
Consultants and other doctors – 6%
Armed Forces – 5% plus £1,000 bonus
Teachers – 6.5%
The government previously announced that other NHS workers including nurses and paramedics would get a 5% pay rise this year.
This whole episode highlights the vital role of trade unions in standing up to unjust employers, mobilising members and winning concessions through mass collective action. It's a stirring example of what the labour movement at its best can accomplish for working people.
The National Education Union (NEU), the largest teaching union in the UK, received an overwhelming mandate from its members to accept the pay offer. This decision was followed by the NASUWT and NAHT unions, which also accepted the deal earlier this week, with the Association of School and College Leaders (ASCL) having accepted it in July.
The pay dispute saw NEU teachers in England strike on eight separate occasions since February, causing widespread school closures. The unions had been calling for above-inflation pay rises, which would be funded through additional government support to protect school budgets.
The agreement reached between the unions and the government was recommended by the School Teachers' Review Body after a previous offer had been rejected. The deal, which includes "wider reforms" to reduce staff workload, was announced on July 13.
As teacher strikes also took place in Scotland, Wales, and Northern Ireland, similar pay-related concerns were raised by educators in these regions. In Scotland, the EIS, SSTA, and NASUWT unions resolved a year-long industrial dispute with councils by accepting a 7% pay rise in March. Meanwhile, most schools in Northern Ireland faced closures during recent strikes, with unions demanding a 6% pay increase for 2021-22 and inflation plus 2% for 2022-23.
In Wales, the NEU agreed to an 8% pay offer for 2022-23 and a 5% increase in annual pay for 2023-24. However, the NAHT rejected the offer, citing concerns about funding. Throughout the strike action, NEU support staff members in England also voted in favor of the pay deal.
As the dust settles on the strikes, teachers in England can now focus on their primary goal—providing students with a world-class education. However, the unions' ongoing commitment to securing fair pay and improved working conditions demonstrates their determination to continue advocating for educators' rights in the future.
Support Labour Heartlands
WAIT! BEFORE YOU GO
PLEASE HELP US KEEP GOING AD-FREE
This is a "Pay as You Feel" website.
Your support for Labour Heartlands is greatly appreciated. As an independent nonprofit news outlet, we rely on our members to hold the powerful accountable. Our kind of reporting is essential to democracy, but it is not easy, cheap, or profitable.
To continue providing impactful journalism, we need your help. It's getting really hard for us all. Becoming one of our donors. It's simple and doesn't have to cost a lot. With as little as £2, £3, or £5 a month, you can support the journalism you rely on.
While we do not align ourselves with any particular political party, we stand firmly against corruption, injustice, and the erosion of truth and the rule of law. We believe that accurate information is the lifeblood of a democracy and that facts are not up for debate.
Your contribution, no matter how small, goes a long way in helping us continue our mission. Together, we can make a difference.
Thank you, The Labour Heartlands Team
PLEASE HELP US KEEP GOING AD-FREE